"The older generations should apologize to the children for causing extensive damage to nature. Yes, we are responsible; it is time for you children to take the baton from us, start dialoguing with us, repair the damages, exercise your rights and be the architects of the newer world. Your next generation will only praise you and live in harmony. The resources are all yours and you have control over them and do not allow the greedy to exploit", addressed Dr. John Arokiaraj, Zonal Manager – South to the district level children parliament conference at Chengalpattu held on February 4, 2018.
He shared with the children that if we are transformed then the world will be transformed. The contribution of children parliament members in creating community awareness through rallies against the indiscriminate usage of plastics and clearing the debris after cyclone Vardah were well appreciated by all.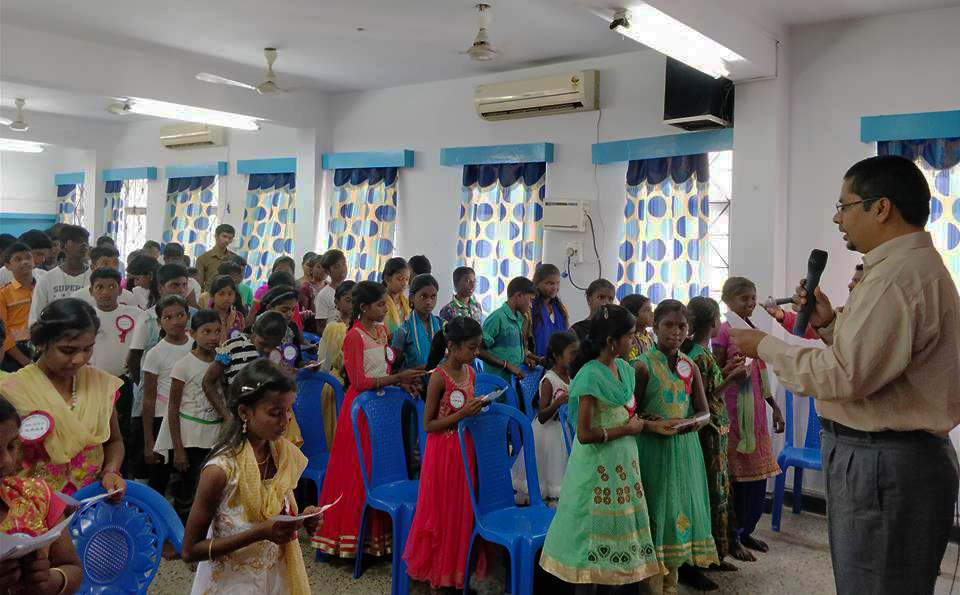 Organised by Caritas India partner Chengalpattu Rural Development Society (CRDS), 124 children representatives from Children Parliament participated in the one-day conference. Dr. John asked all the children to pledge to protect and nurture the culture and environment, fight against injustice, casteism, and corruption and uphold human values.
Quality of life and standard of living of vulnerable children communities suffer due to lack of systematic development which has caused a vacuum in the overall development. The purpose of Children Parliament is to open children's minds to new possibilities for using their voices to achieve change in their schools and communities.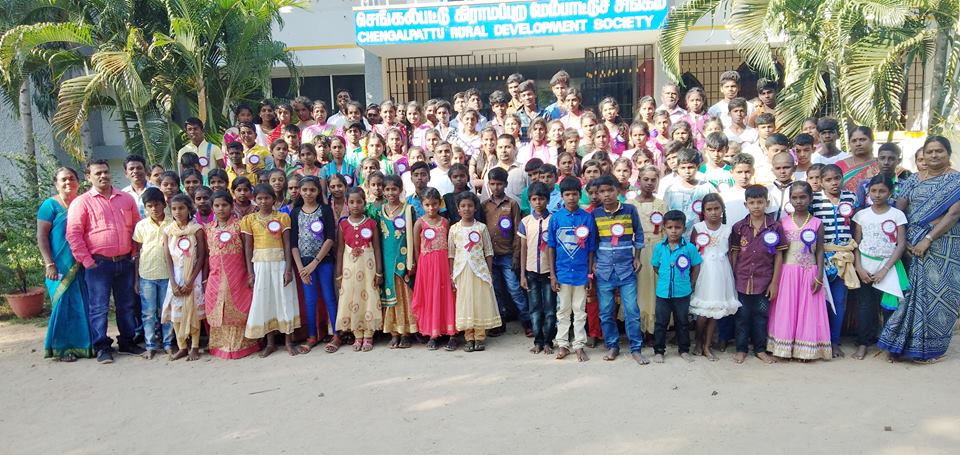 An educational process is a tool for both exposing young people to other points of view and giving them an opportunity to debate. The premise of the initiative is that members become not passive learners or observers but, rather, take active roles in learning about and participating in the development process on their own.  To make it a reality, CRDS has formed Children Parliament in Kancheepuram district under Caritas India supported Udhayam Eco DRR programme.
Prof. Andrew from Loyola College, Chennai explained about the UN Convention on the Rights of Child that upholds that every child has a right to life, good health and Education. These Rights are also enshrined in the Constitution of India. Yet despite many constitutional provisions and recommendations, the scenario of child development is very grim and this is blatantly evident in urban and rural areas of Tamil Nadu.
"Being a children parliament member is a good experience", said Shruti, a class 7th student from Melacherry. She shared her learnings saying, "Life is beautiful, pay attention to your elders, ask questions, clear queries, hate negativities, make promises, expose ideas, observe others, remain motivated and above all be concerned about your environment".
Many children were unanimous in saying that they will respect their teachers but will not tolerate Corporal punishment in schools. They said, "We will hold campaigns to get the attention of public to protect children from the evils of child abuse and insist on the importance of right to education."
"The destiny of our nation, society, future and happiness are all at our hands. We can decide" said Major Diwakar who is currently working in Sikkim with Indian army. By sharing his personal experiences, he motivated the children how they should set targets in life and strive tirelessly towards the achievement.
Ms. Annie Rose, TASOSS programme officer facilitated the election of ministers for the district level children parliament leaders. She reiterated the roles and responsibilities of various ministers and the sanctity of democracy.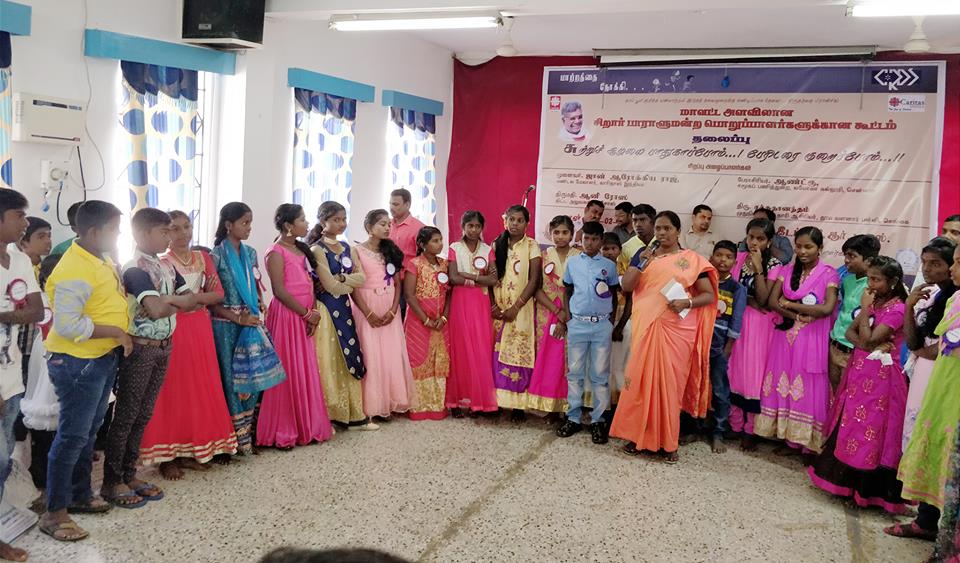 There was a 30 minutes folklore performance by 10-member children cultural troupe named "Vadakkucheyyur Pudhumuga Kalaikuzhu". The Director of CRDS, Fr. Benjamin with overwhelming satisfaction said that his dream is being realised. "I am able to form a traditional Parai Isai troupe with the committed team" he observed. He also released two short films on environmental sanitation documented by Mr. Sachidanand, a senior teacher, volunteer of CRDS and mentor of Children parliament.
The impact of Caritas Eco DRR programme on child development was earlier explained by Mr. Vijay, CRDS programme manager.