Pan Asia Farm Fest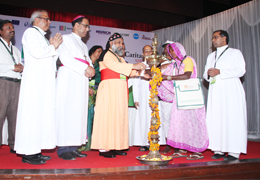 Pan Asia Farm Fest (PAFF) was organized by Caritas India on March 25-16, 2014 at New Delhi. The event was attended by more than 500 farmers and development professionals including 35 participants from various parts of Asia.
The proceedings during the first day of the event were inaugurated by His Grace Anil Couto, Archbishop of Delhi. This was held at the Diocesan Community Centre. Ms. Vandana Shiva, an eminent environment activist, and anti-globalisation author delivered the keynote address.
"Greenovations" – An exhibition displaying the innovations and best practices of various farmers and partners through 31 exhibition stalls were organized as a side event. His Excellency Lumen Monteiro, Chairman, Caritas India inaugurated the exhibition.
The technical sessions of the conference were organized in plenary and parallel sessions. One of the major attractions of the event was the farmers' session where farmers shared their stories of change. Various approaches and strategies followed by Caritas India in the sector were also shared during a dedicated session.
As part of the open mike discussions, farmers from various parts of the country urged the need to form a National Farmers Forum. Farmers have requested Caritas India to organize more such events at regional and national level.
A public function was organized during the second day of the programme to commemorate the 2014 International Year of Family Farming. Caritas India is among the very few organizations in India which were part of the global campaign to declare 2014 as International Year of Family Farming. His Beatitude Moran Mor Baselios Cardinal Cleemis inaugurated the campaign in the presence of a farmer family. Symbolically they have committed to promoting Family farming on behalf of all who were gathered for the programme. The farmer couple along with their children was facilitated during the occasion.
Dr. Devender Sharma, eminent agriculture policy analyst, in his keynote address, expressed grave concern over the global conspiracy for the corporatizing agriculture sector and stripping farmers of their wealth of agriculture.
During the event, six farmers from across India were felicitated for their innovations and farming successes. Three knowledge products of Caritas India in the form of booklets were released during the occasion.
A woman farmer read out the farmers' charter finalized on the basis of the recommendations that emerged from the deliberations of the first day which was organized in the run-up to the farmers' convention.
Caritas India is committed to taking forward the recommendations of the farmers to form and functionalised the National Smallholder Farmers' Forum. The proposed forum will have a federated structure starting from the Panchayat level to the National level. In order to begin the work, Caritas India will start working with the existing Farmers' Collectives and District Forums and these institutions will be strengthened through partners and farmers to advocate for more smallholder farmer friendly policies and developmental interventions.
Continue reading →