Mounting figures of communicable and non-communicable diseases is very alarming for the people of Uttar Kannada in Karnataka. Karwar Diocesan Development Council (KDDC) analyzed that lack of safe drinking water, pollution, alcoholism, chemical farming, unhealthy practices related to lifestyle and food/nutrition are the main causes of deteriorating health.
The organization with the support of Caritas India decided to improve the health and sanitation status of this vulnerable population in Uttar Kannada under the title 'Suraksha'. They prioritized their intervention on livelihood and wellbeing, alcoholism, migration, marketing of agricultural produces in the Shirwad village situated 6km away from Karwar.
Participatory development is the most important approach towards enabling communities to help themselves and sustain efforts in development work. Therefore, KDDC conducted meeting with the various stakeholders in Shirwad Panchayath under Karwar district to get their full support and cooperation for Suraksha programme in Shirwad Panchayath. Anganwadi teachers, President and the elected members of Shirwad Grama Panchayath, ANMs of Shirwad, staff members of Shirwad Primary Health Centre, SHG members, staff members of other like-minded NGOs, members of the local youth club, ASHA workers of Shirwad Panchayath participated in this meeting.
Project Manager of KDDC, James Fernandes explained the purpose of the meeting and expectations of the participants. Stressing on the role of the volunteers in the programme he invited them to become volunteers for the programme. These volunteers can be from local communities, elected representatives of panchayats, municipalities, legislative assembly or parliament along with supporters for educational, religious and network NGOs.
James also facilitated the group in taking decisions on baseline survey and organizing a mega health check-up camp in the month of June 2018. The participants agreed to join their hands in doing the survey and conducting a medical camp. For the success of an initiative, it is very important to know whether (and how) a stakeholder can act, how he/she can be involved, and how much capacity he/she has to contribute.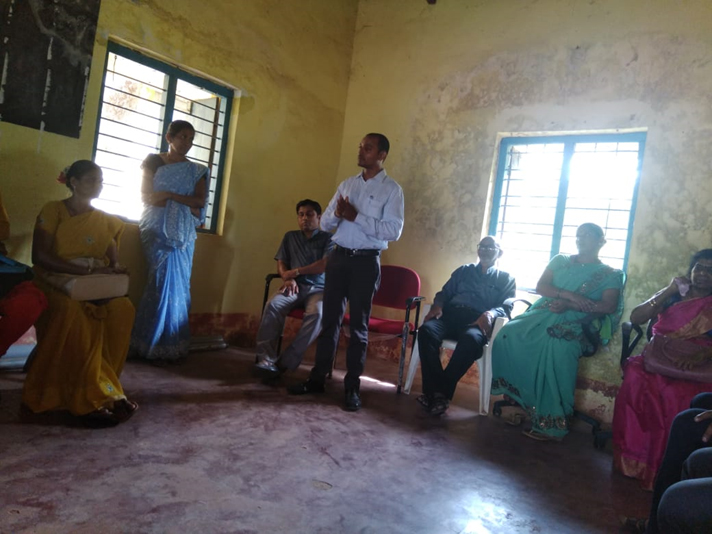 Robert D Souza, Caritas India's state officer, shared about Suraksha programme and its components which includes promotion of volunteerism, awareness programmes, dissemination of government schemes, local resource mobilization. He motivated stakeholders to take part in all the programmes of Suraksha. Also, he appreciated the efforts of KDDC for bringing so many stakeholders in a single platform
Robert appreciated the efforts of KDDC for bringing so many stakeholders in a single platform under Suraksha programme. Since its inception KDDC in 1978, the organization is on a mission to restore the dignity of the poor and the marginalized & nature through rights-based approach and promotion of eco­friendly practices. The organization also has a relative advantage in terms of first-hand understanding of the socio­economic realities of the proposed area of intervention and this would help it to plan the execution of the project activities accordingly.