Since we learned to prepare local seeds out of production, we (all members) stopped buying costly seeds from the market and by using our local seeds we found this to be more resilient and require less irrigation and other cultural practices as compared to the hybrid/ high yielding seeds. I personally would like to thank SAFBIN, Caritas India and JDSSS for their concern to make us enable us to restore these seeds for our food and nutritional security. Bramha Bai & Dev Kali, Member of Seva Samoh, Baigakheda.
Agrodiversity is a topic of increasing discussion given worldwide concern over climate change, productivity, food security, and sovereignty. Many tools and strategies exist to enhance agro diversity, one of which is the saving of ancestral seeds, mostly based on traditional practices to maintain quality, purity and germination capacity. A high socio-ecological linkage shaped the type of agro diversity that is most suitable to human consumption patterns and agroecological adaptation of crops.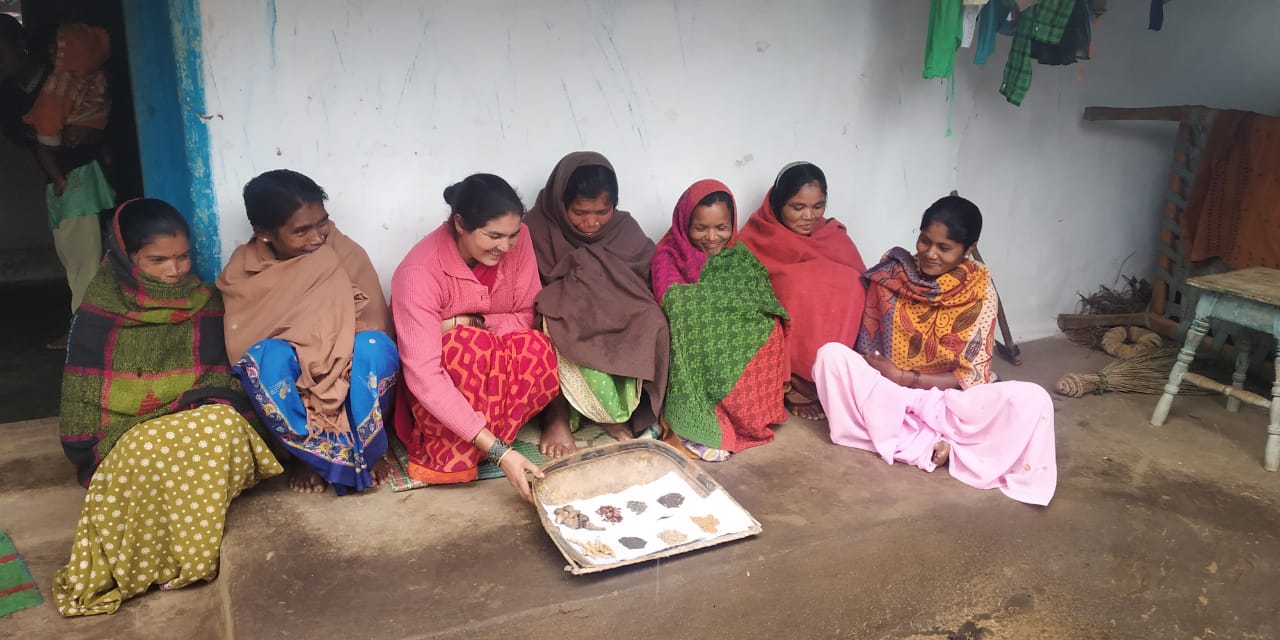 Seed saving is a set of practices oriented towards the conservation and use of genetic material within a political and socio-economic approach that is sustained on memory, heritage, and ancestral practice. These human practices have been occurring historically for at least 13,000 years, contributing to the evolution of crops according to natural environmental and social dimensions across the globe.
Seed saving is more than a careful selection of seeds with the desired traits but also includes seed exchange strategies for disseminating, exchanging, and perpetuating the genetic material. In addition, seed saving has three functions:
Fostering social bonding among community members and families
Maintaining seeds at the household level or in community seed banks for preventing loss of genetic material in stress periods
Defining and tracking of genetic diversity patterns.
In contrast to this, Caritas India in coordination with her implementing partner Jabalpur Diocesan Social Service Society (JDSSS) under Smallholder adaptive Farming and Biodiversity (SAFBIN) promoting women to take this noble initiative forward for saving their traditional seeds. The women of Baigakheda belong to Seva Samoh of Mandla district (comprising 15 members) have saved 18 types of traditional vegetable varieties as of now (i.e. Spinach, 4-5 leafy vegetables, Fenugreek, Radish, Pumpkin, Tomatoes, Brinjal, Bottle Gourd, Pumpkin, Amaranthus, Ridge Gourd, Bitter Gourd, French Bean, Cowpea etc.). These women are popularly known as Seed Savers and by creating this impact, other two groups (i.e. Vikas & Unnat Samoh) has also started saving of traditional seeds at their local level.
By conserving traditional seed, the efforts gap between restoring biodiversity and improving agricultural productivity can be bridged (SDG 2, 2.4, 2.5). The conservation methods can restore biodiversity loss (SDG 15, 15.5) while peasants and farmers empowerment can be implemented, which can support the efforts of eradicating poverty and hunger (SDG 1, 2). By improving conservation management and assistance to increase farmers access and rights to get and plant the seeds can save local knowledge, increase community resilience and insure agriculture productivity (SDG 1.5, 2.a, 15.6, 15.c).