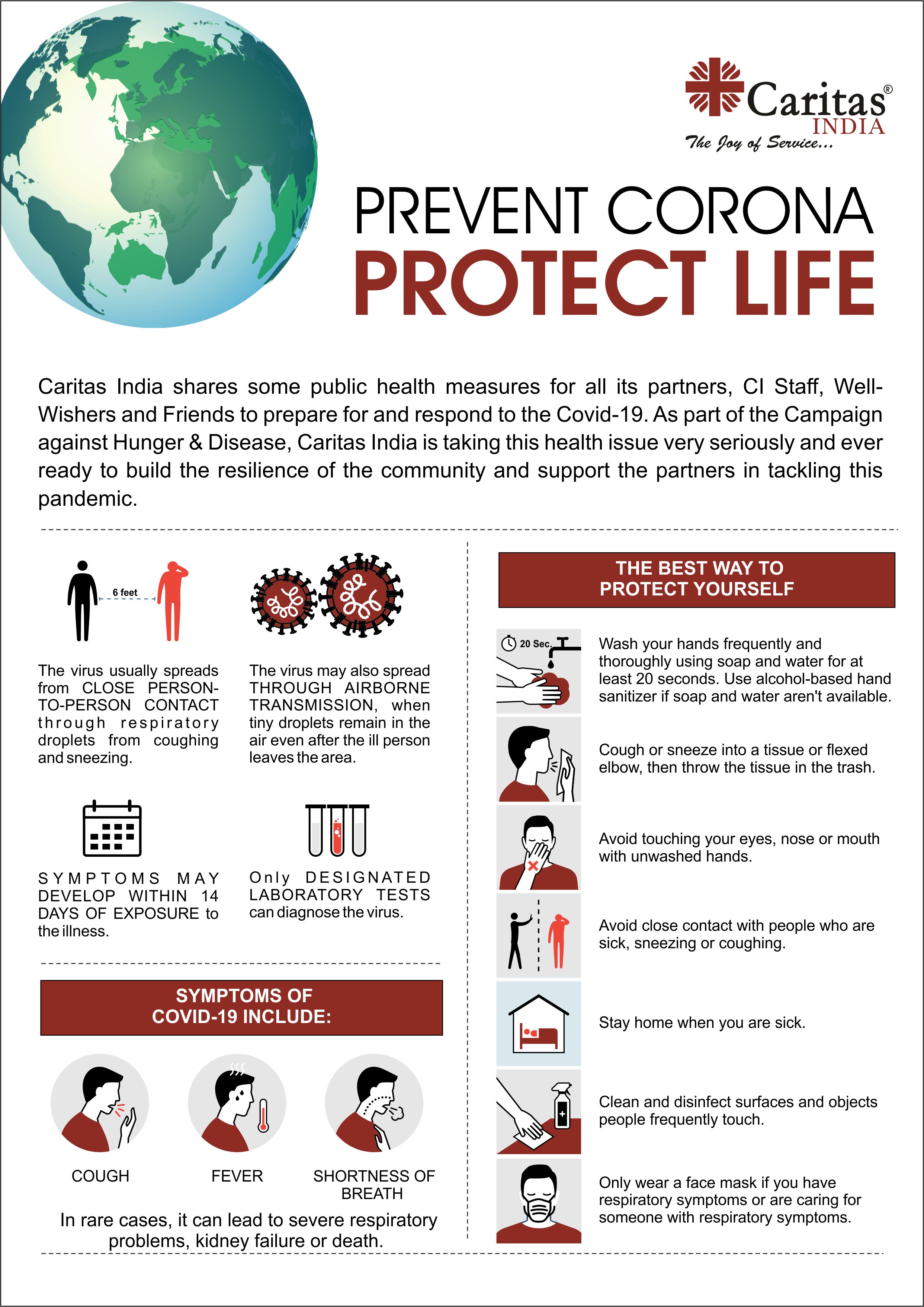 According to the statement released by WHO on March 13, 2020, the global number of confirmed cases of COVID19 has reached to 1,32, 758. The World Health Organization (WHO) reminds all countries and communities that the spread of this virus can be significantly slowed or even reversed through the implementation of robust containment and control activities. Over 100 countries have now reported laboratory-confirmed cases of COVID19.
Caritas India would like to express our heartfelt solidarity with all families who have either lost a loved one or are affected by the Coronavirus in different parts of the world. We earnestly make an appeal to all to adhere to the compliances as may be issued by the Government.
As an Organization, Caritas India has been recognized for its efforts in building resilience in the face of disasters and emergencies. We also complement all the efforts undertaken by the health agencies towards strengthening the resilience in the context of this special situation. We encourage all staff members in Caritas India and all partners associated with us to follow and adhere to the following simple precautions that can make a big difference:
Health Advice
Keep workplaces clean and hygienic
Promote regular and thorough hand washing; wash hands with soap and water for at least 20 secs. Use an alcohol-based sanitizer only if soap and water not available
Cough and sneeze into your elbow or a tissue
Actively encourage sick employees to stay at home
Avoid close contact with people suffering from acute respiratory infections
Travel Advice
Advise to limit / minimise international travel particularly to countries where the COVID-19 is spreading
Consult the national / international travel advise before proceeding on official travel
Be aware of the travel restrictions and health screening measures for travellers entering / exiting some of the affected areas / countries
Check with the local partners alternatively the partners may check with the CI staff on the local ground situation before proceeding on travel
Work out plans to reschedule visits as may be possible
Attending / Planning Meetings and Events
Check for advice from the authorities in the community where the planned meeting / event is to be held
Develop and agree on a joint preparedness plan to prevent infection
Pre-order sufficient supply of tissues / hand sanitizers for participants
Advise participants if they are not well to not attend
At Caritas India, we are mindful of the situation and closely monitoring information as may be shared by health authorities. Therefore, while undertaking all necessary caution, we would also like to request all staff members and partners to exercise good prudence on the information being circulated on social media.
Caritas India is ever committed to work in tandem with the health advisories and willing to extend its support as and when needed. We also encourage all our partners to be part of this awareness building process to educate the masses in dealing with this pandemic.