Farmers income can be raised by adopting organic farming and using bio manure prepared locally through crop residues, stubbles, straws, animal slurries, silage effluents, weeds etc.
Two newly opened bio manure production centres at Vastapur and Solamahu in Amravati, Maharashtra are producing quality vermi compost to cater this need.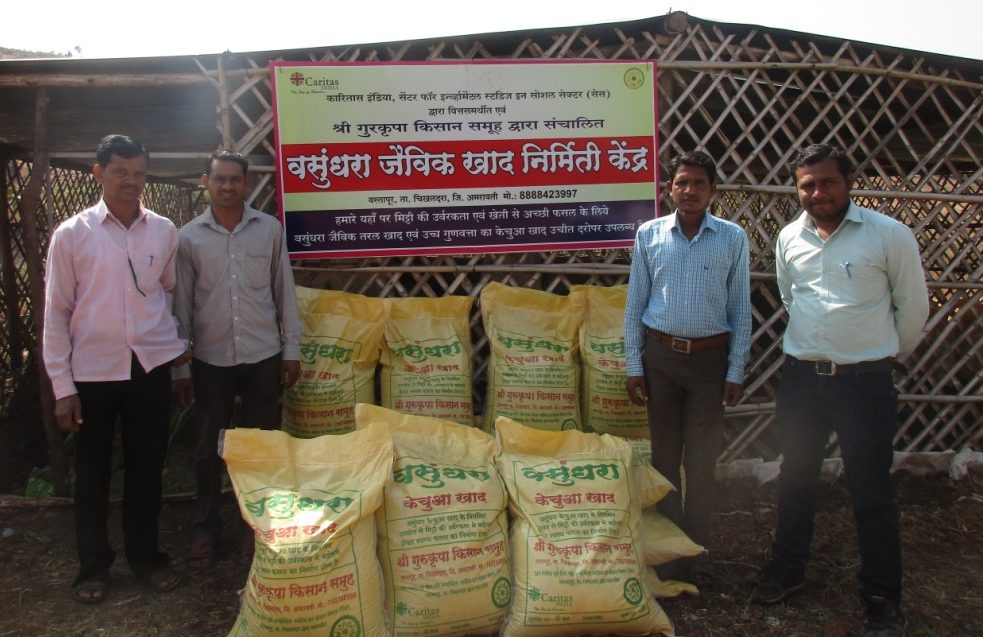 Managed by Gurukrupa youth group and Ma Durga Adivasi Youth Group, the centre has produced 50 quintal of vermin compost from the bio manure production centres recently.
Vermicomposting transforms energy-rich and complex organic substances into stabilized humus through the action of earthworm. It not only decompose a huge amount of organic wastes but also help to maintain higher nutrient status in composted materials.
"Vermi compost is suitable for organic farms that grows orange, vegetables, pulses and several cash crops and food crops" informed Mukund Deshmukh, Social Development Officer of Centre for Environmental Studies in Social Sector (CESSS), Caritas India.
Much impetus was given by CESSS to adopt organic farming to fight climate change and improve food production shared Mr. Mukund. The idea behind developing bio manure production centre was to cater the local need and provide alternate source of livelihood to the unemployed village youth of the target villages.
Youth groups were formed and linked to the banks and ATMA agencies to avail government schemes. The technical support received from CESSS helped youth groups to develop vermi compost and other bio manure.
The centre has sold 25 quintals of vermin compost to an orange grower farmer and one gram panchayat for the ongoing Govt. plantation program at the rate of Rs. 750 per quintal and received Rs. 18750.
31 farmers have purchased liquid manure and pest repellent for Gram, Wheat and vegetable from nearby 14 villages. These farmers are receiving technical support from CESSS to practice sustainable agriculture practices in their field.
They are following different ratio of dilution as per the requirement of present crops situations. Generally dilution ratio is 1 liter liquid manure in 14 liter water for spraying purpose.
In future, these bio manure production centres will be developed into alternative earning sources for farmers and unemployed youth.