India is home to 39% child population which is the largest child population in the world (Census 2011). The Indian Constitution ensures the right of all children 6-14 years to free and compulsory education and prohibits child labour for which it has put in place the required policy frameworks and laws.  Despite the laws, country is grappling with multidimensional factors that push children to join workforce prematurely. Eight million children were working in rural areas and 2 million in urban areas, of which 4.5 were girl children and 5.6 male children in the age group of 5 to 14 years until the Census of 2011. West Bengal occupies 7th position out of 10 Indian States that are hotbeds for child labour. Against this backdrop, Caritas India organised the two-day State Level Consultation to End Child Labour in Kolkata, on February 27-28, 2018, with the objective of taking stock of the situation of Child labour in the State, sharing the good model approaches to protection and rehabilitation of child labourers, and creating a collective resolve and action agenda for ending child labour in the state.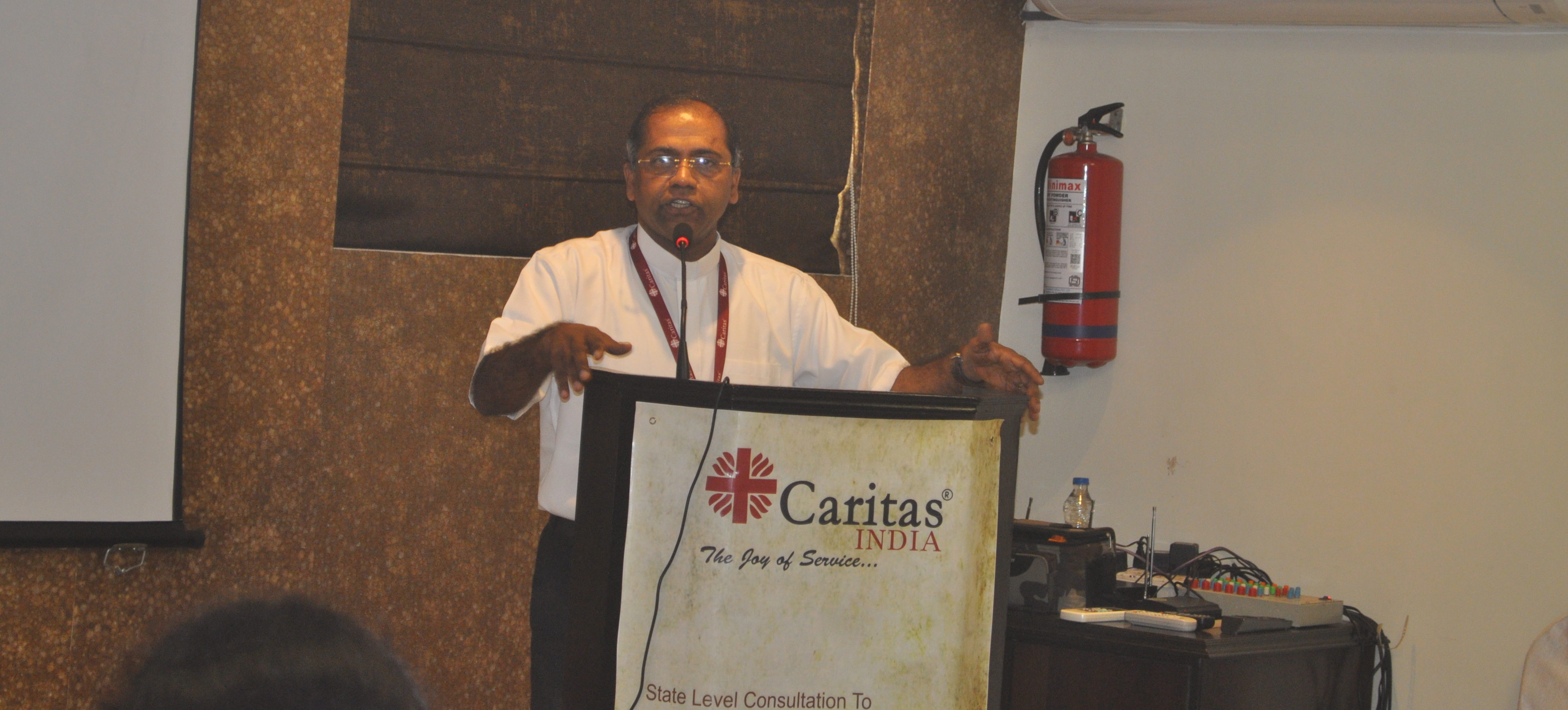 "Every Child is meant to learn and not to earn", implored Fr. Paul Moonjely, Asst. Executive Director, Caritas India, expressing the willingness of Caritas India to partner with organisations working to combat child labour in the state. West Bengal is both a source and destination point for poor children being trafficked for cheap labour.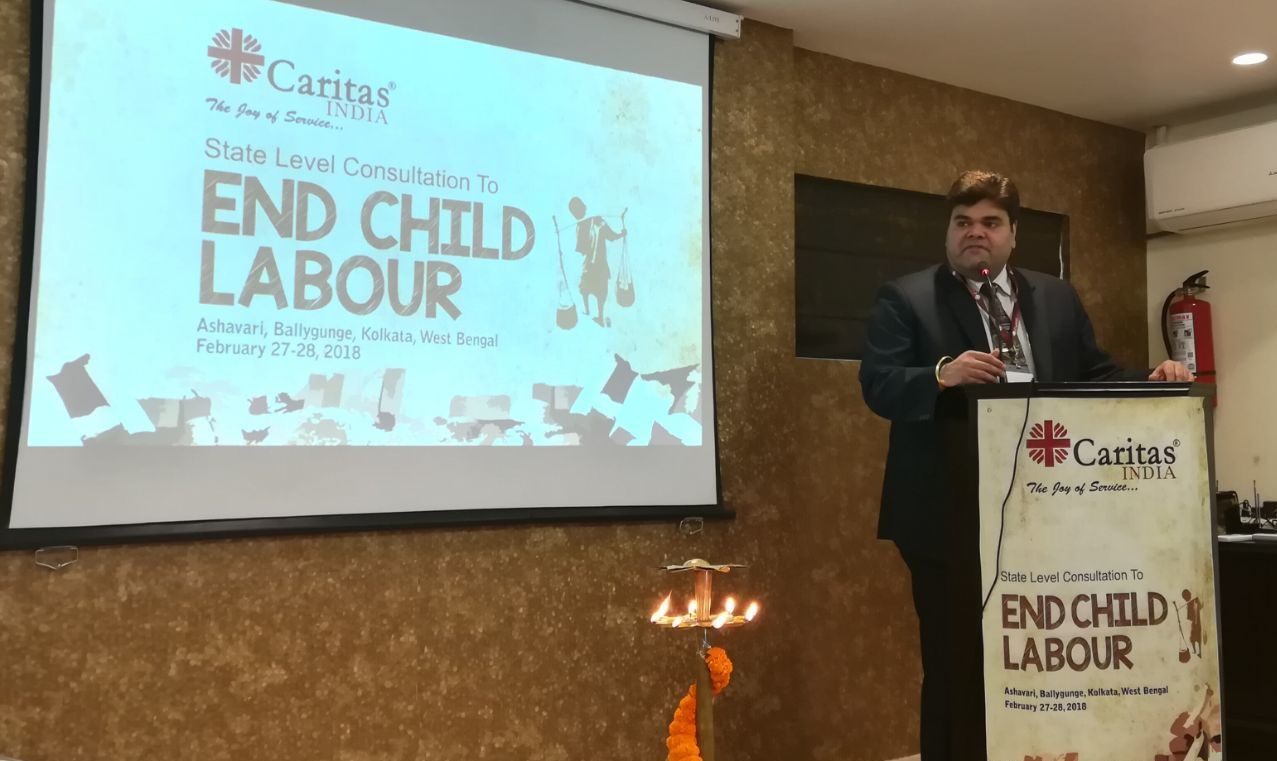 The Government has revamped the National Child Labour Project (NCLP), and established Child Labour Protection Cell and State Resource Centres among other measures for dealing with this difficult situation, enlightened Mr. Anubhav Chandra (IAS), Secretary, Department of Labour, whilst regretting the prevalence of child labour. Best practices on curbing child labour from other parts of the country need to be studied, adapted and replicated in West Bengal. The mindset of the people needs to change to end child labour was his impassioned plea to the gathering while delivering the inaugural address and committing cooperation in ways possible to end child labour.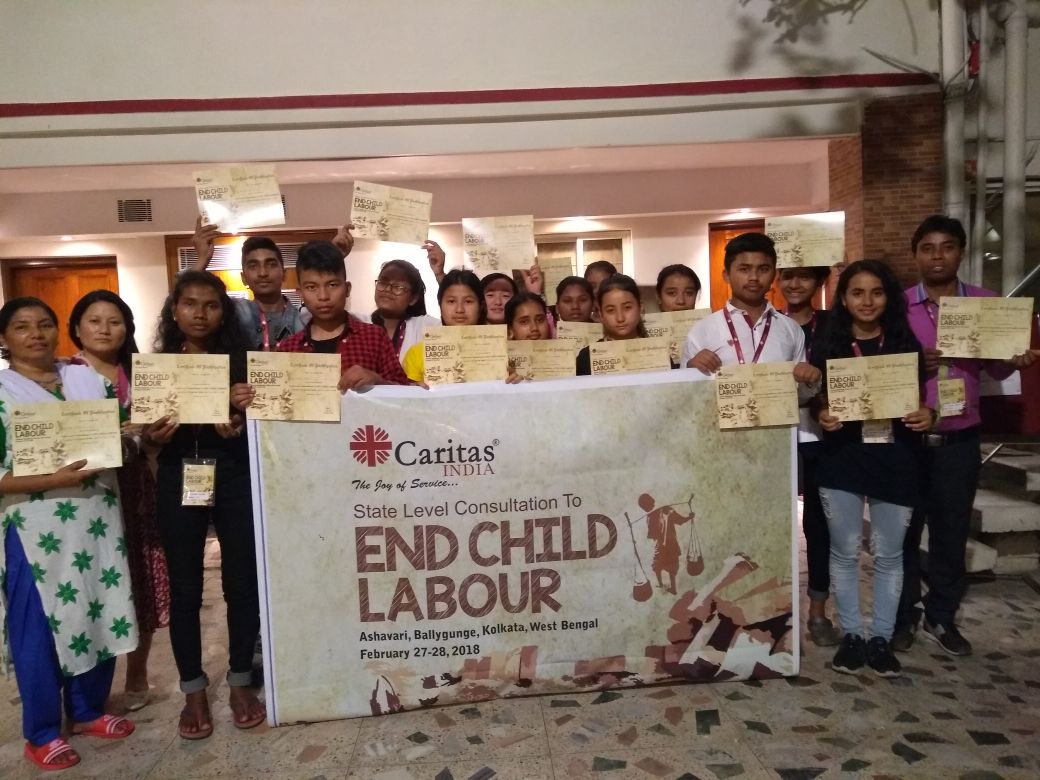 The aspirations of children for child labour free society, and efforts made by the children through Children's Clubs (under a Caritas India programme) resulting in declaration of Child Labour Free Zones in 16 villages in Kalimpong and Wards in Darjeeling are some commendable initiatives and best practices by children that need to be replicated, shared Miss Pranisha Lepcha, Vice President of Children's Club, Darjeeling, in her keynote address. Monitoring the implementation of ICDS and Mid-Day-Meal schemes in villages and schools respectively; mass boycott of all enterprises including hotels (as in Kalimpong) employing children; and formation of Children's Clubs across the state were the key recommendations made by Miss Lepcha.
While the State Government has taken steps to hold the bull by the horns, Child Protection cannot be addressed in isolation, and requires collectivisation of children, parents, and convergence between Government and Civil Society, underlined Mr. Alok Goswami of SANLAAP.  Intervention models like that of Bal Suraksha Abhiyan (BSA), Anugyalaya Diocese Social Service Society (ADDSSS) of Darjeeling and Kalimpong districts, and Child in Need Institute (CINI), whereby the communities, rural and urban local bodies, and service providers have been engaged with are practical models of convergent multi-actor actions to end child labour.
Vulnerability mapping in child labour prone pockets helps identifying the root causes and kind of interventions needed, even if the situations, patterns, and factors remain more or less same. Besides, rescue and (re)admission of child labourers in schools doesn't guarantee their safety from relapse into child labour, intervened Ms. Lee Macqueen, Manager-Advocacy & Child Rights, Caritas India. She emphasized on the necessity to ameliorate school environment and make them safe and discrimination free for children facing identity (caste and religion) based discrimination and ill-treatment, especially children from Scheduled Caste communities, preferring to drop out than continue in a hostile school environment. She also drew attention to the phenomenon of non-registration of child births in the country (only 41%, according to UNICEF), which denies them identity and makes child labour invisible. She went on to urge the delegates to hold on to the vision of ending child labour and not settle with just 'reducing' it, which will eventually determine the force behind collective action.
School curriculum for rehabilitation of children under the NCLP needs to be overhauled too as children coming from other states face language barrier in the medium of instruction, highlighted the speakers from Child in Need Institute. The vulnerability of South 24 Pargana to trafficking of children for various purposes, and employment of children in brick kilns, bidi factories, zari (embroidery) enterprises were brought to the attention, the agricultural sector apart, which nationally employs about 70% child labourers in India in the age of 5-17 years.
Education to employability, poverty eradication, and alternative livelihoods need to be worked upon simultaneously.  Strengthening access to welfare schemes in order to ensure the families are able to self-sustain would undermine the push factors ensuing in child labour, together with formation of village and block level vigilance committees (of CSOs) and activation of child protection committees (under Integrated Child Protection Scheme) to track children's movements at local levels. Here, the children of Children's Clubs presented their interventions and processes they adopted in creating awareness about child labour and coordination between Children's Clubs and Vigilance Committees (composed of village adults).
The Child Friendly Corner at Ultadanga Police Station in Kolkata intervenes to help children in need of care and protection and those in conflict with law. However, inadequate orientation on child-focused laws enacted and amended lately coupled with scarcity of human resource poses challenges to effective implementation of legal mechanisms, submitted Mr. Faiyaz Ahmed, Sub-Inspector, Ultadanga Police Station, Kolkata. The ChildLine aspires to have child labour free country and not just police stations, remarked Ms. Meghalee Gohain of ChildLine India Foundation, which works with the police and CSOs. Addressing especially the children on 1098 service, she also informed about the internal dialogues happening on amending certain laws to make them consistent with the age of 18 years as set by the Constitution and United Nations Convention on Rights of Child.
West Bengal ranks 7th out of top ten states having a high prevalence of child labour, remarked astonishingly the Archbishop Thomas D'Souza of the Archdiocese of Kolkata, in his valedictory message. Laws need to be applied consistently and justly in an unbiased manner, accompanied with the change in mindset that condones child labour. School children could play a great role in preventing and checking child labour around them. It is a collective responsibility of everyone to ensure child labour free society, and schools can play a great role by reaching out to their neighborhood, and even surveying the neighborhood with the help of older children to check child labour. Collaborative action alone can create a child labour free society and the Church and Caritas India with all actors are committed to it for enabling a happy childhood, he said.
The consultation witnessed a confluence of civil society organisations; Government officials as above, including Member, State Commission for Protection of Child Rights, Child Welfare Committees and District Child Protection Officer of Kolkata, and children of the Children's Clubs in Kalimpong and Darjeeling districts formed under a Caritas India programme supported by Caritas Germany, implemented by BSA and ADDSSS. The recommendations and suggestions for Action Agenda 2018-23, facilitated by Mr. Rajesh Updahyay, HoD, Caritas India, would be organised for planned interventions in days to come, but in response to one of the immediate recommendations, Caritas India would create an e-group platform for facilitating a knowledge sharing on best practices. The Consultation Declaration for 2018-23 can be read here.