On dated 9th March 2019, the 3rd Phase of 'flood rehabilitation' programme was officially get launched at Gagultha Monastery, Champakulam, Alappuzha in a joint venture of Sagakshetra cultural & charitable center, United Way Bengaluru and Caritas India.
The programme was inaugurated by Hon. Minister for Public works and Registration, Shri. G. Sudhakaran. Out of 300 households(beneficiaries), a total of 273 households participated in the inaugural ceremony. It also felt the presence of the representative from all three organisation and from Caritas India, Ms. Siby Paulose, the programme officer, attended the programme.
At an initial stage, the programme has a limitation to support just 200 households but because of the extreme effort and tremendous support extended by the local community and project team in mobilizing the local resources and fund from the community, programme extended its help and support to 300 HH's rather than 200 HH's. This itself speaks about the glory and success of the flood relief program.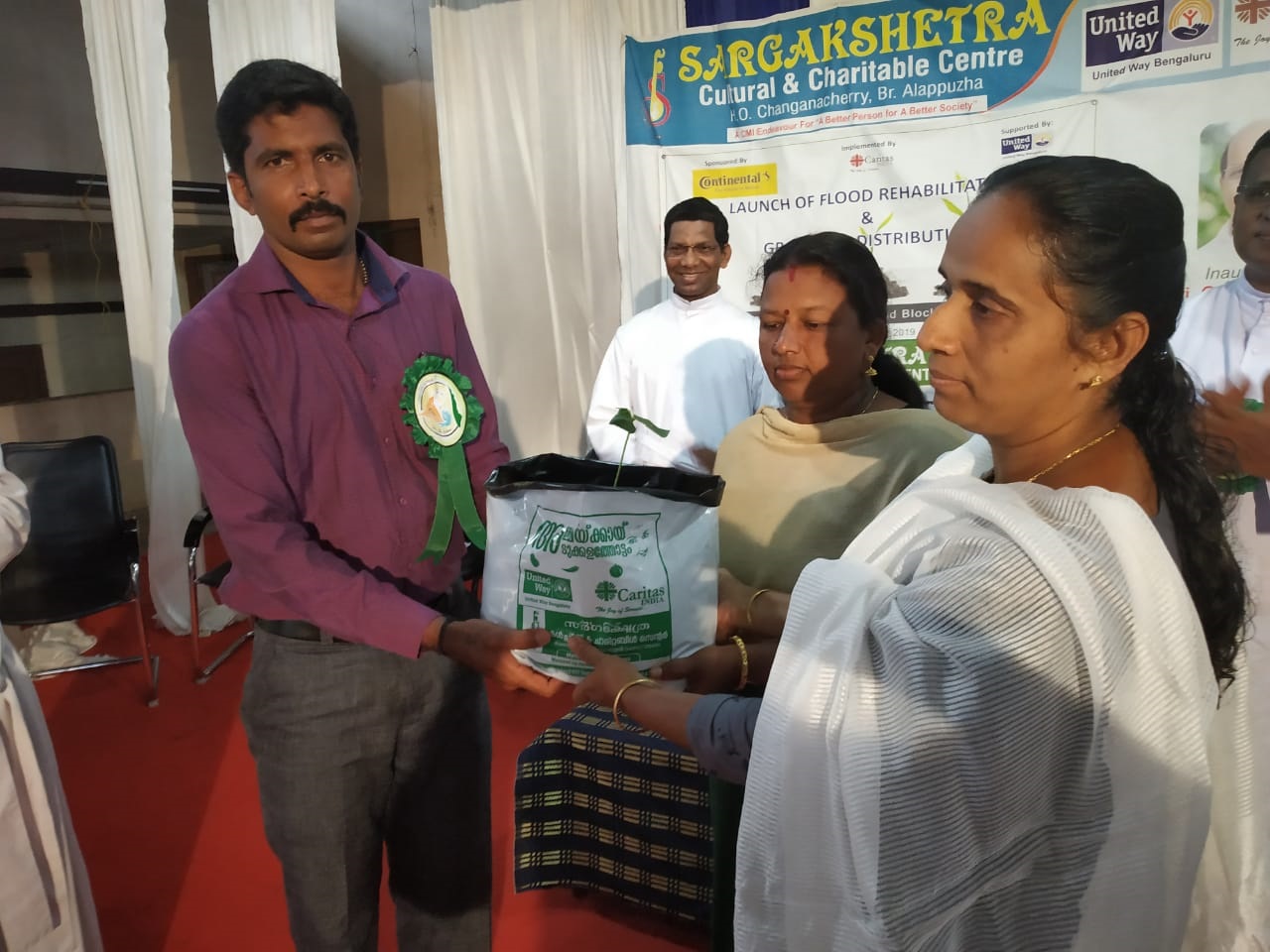 At the launch, pipe compost kit for waste management was inaugurated by the donor agencies representative and also grow bags were distributed among the beneficiaries, these bags contain the organic manure, a complete diet/nutrient supply for plant to grow, it is a mixture of azolla, Kozhi valam, (Azadirachta Indica) neem, bone meal, red soil, biogas slurry, coir pith etc.  The programme distributed 4 different varieties of sapling to each household and each HH's received 15 such grow bags. Total 4500 such bags were given to the 300 HH's.
The programme in the past (initial phases) helped in the refurbishment of certain panchayats, schools, Anganwadi's and 800 plus families. The activities taken in the programme were: Pipe compost method for waste management, giving nutrition kits to support kitchen garden, distribution of chicks & Ducks for livelihood, creation of biodiversity park and supply of water purifier for safe drinking for the beneficiaries.