Caritas India's DRR-Navajeevan programme is on progressing through various community participatory sessions at the grass-root level through 31 DSSS Partners across Kerala. As part of this Ernakulam Social Service Society under the Arch Diocese of Verapoly organized an interface meeting with the PRI members as well from the community members from all selected ten wards in Kadmakkudi Panchayath. Fr. Martin Azhikakathu, Ex.Director, ESSS, Fr.Mertin Dzilva , Asst. Director, ESSS,  Mrs.Shalini Babu, Panchayath President, Vipin Joe, Programme Coordinator DRR and Ms. Sobha Jose, Manager, C.I, Kerala programs and also members from various wards have actively participated in the interface session.
Fr.Martin also introduced the "Gruha Suraksha"  Insurance Scheme which is an action initiated as the learning outcome from the magnitude of damages that happened to houses during the 2018 flood which could not be compensated with relief ex gratia even today to the majority of the flood-impacted communities.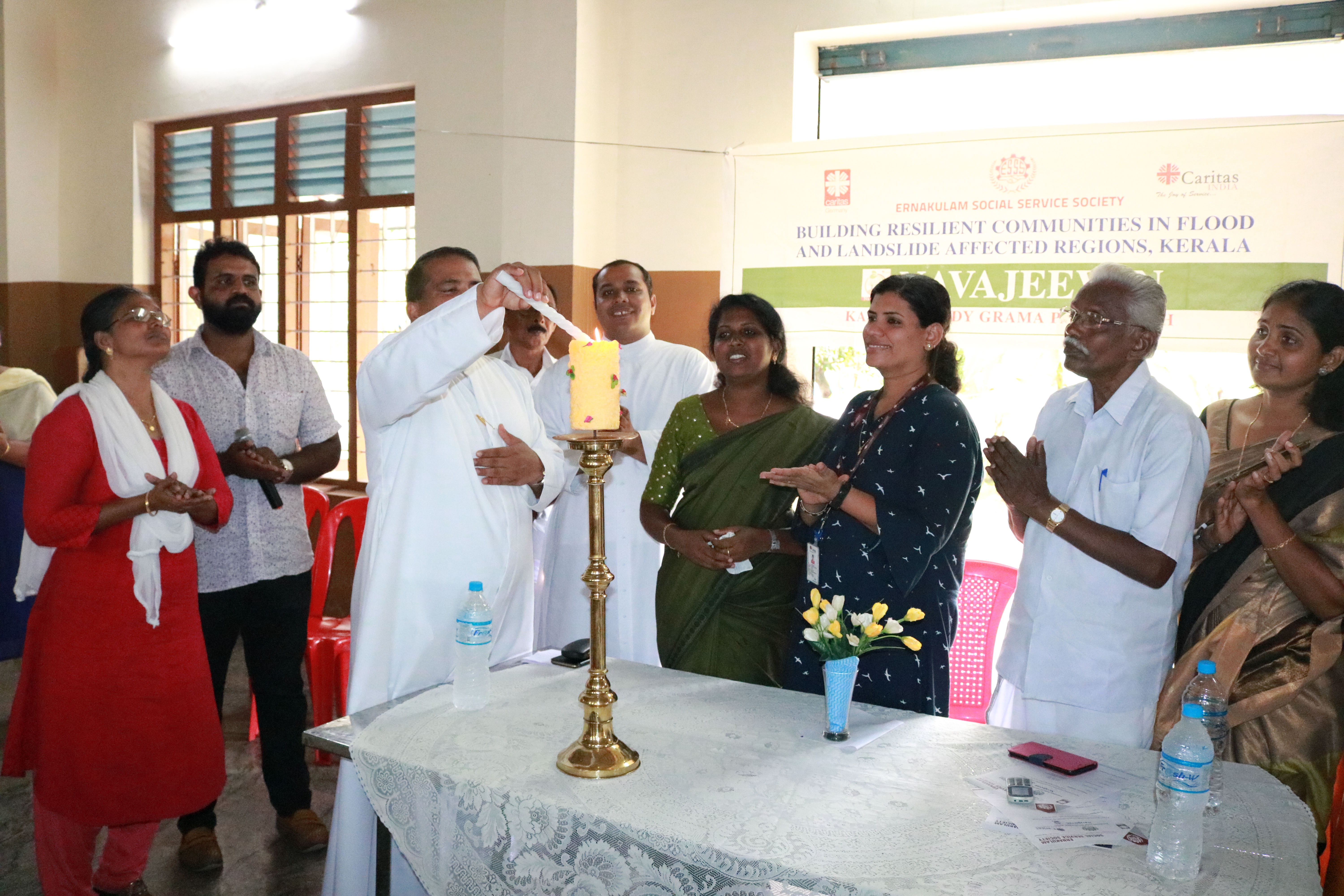 Ms Sobha Jose has given a one-hour orientation on the significance of the DRR-Navajeevan Programme, the concept of Disaster Clinics, roles, and responsibilities of each PRI members as well the communities in developing village Level Disaster Management Committees, Task Forces in detail by clarifying concerns and queries of the participants. Participants had a lot of concerns regarding how this programme can enable the communities to become resilient. The participants also have a discussion on what is Disaster Clinics and how can they activate the same every ward in order to have a system in place to address any form of disaster effectively within their community itself. The point of discussion also focused on how can engage volunteers effectively at the community level to strengthen the programme effectively. It was more of reflections on their capacities as well vulnerabilities as small island communities mainly depending on water transport, already impacted very badly during the flood in 2018 and also had similar torrential rains  in August 2019 all leads to needs to have a strong plan at their community level to get ready to face any challenges in any form of disasters. All are agreed to communicate the same in their families and communities back to build a collaborative programme at the grass-root with active participation by including people from all walks of life. The programme closed with a decision to have immediate follow-up and action plans at the ward level to accelerate the process of developing village Disaster Management Committees(VDMC).