Caritas is distributing food to survivors of Kerala floods, declared as the Indian state's worst in living memory. Through the solidarity and support of International and national stakeholders, Caritas India shall be providing food, clean water, shelter and assistance on livelihoods to over 50,000 families in the next one year.
The Kerala floods have left over 486 people dead, thousands marooned, forced 1.45 million people from their homes into relief camps. The damaged caused by the floods total over US$2.84 billion. Declared as the worst flood in a century, the people of Kerala have never faced a deluge of this magnitude before.
Over 57,024 hectares of farmland was submerged and 26,000 houses severely damaged, where 11000 houses were fully damaged and one of the state's three international airports at Kochi was inundated by floodwaters. It's the first time in the history of the state that its highland, cities and lower plains were hit by floods. All 14 districts of the state were affected and were placed on high alert. According to Kerala government sources, One-sixth of the total population of Kerala had been directly affected by the floods. Over 12,84,997 people had to take shelter in 5645 relief camps in flood-hit Kerala. High range areas are also affected with landslides in more than 900 locations in Idukki and Wayanad districts. The heavy flow of muddy waters in low lying areas of Thrissur, Ernakulam, Alleppey and Pathanamthitta districts led to the submergence of thousands of houses.
Our Reach in Kerala and Karnataka
Caritas India has reached out to 10821 families with the following in the districts of Alleppey, Kottayam, Wayanad, Idukki, another 5000 families of Pathanamthitta, Thrissur and Ernakulam will
be reached out in the next 10 days.
Caritas India has reached out to 1500 families in Kodagu district, Karnataka.
Food Items
(Food kit for households (family size 5) 1 kit consists of- 10 kg rice @ 40 2 kg daal@200, 1 kg salt@20, 1 kg oil,@110 1 kg soyabean@120, 4 packet glucose biscuit)@10)
WASH and NFI
(Bucket with Lid 20 Ltr, Plastic Mug 1 Ltr, Antiseptic 100 Ml, Soap 125 Gm, Washing Soap 150 Gm, Tablet 10 Tablet per strip, 100% Cotton cloth 4 Mtr, toothpaste and toothbrush, Bedsheet, blanket, mosquito net, sanitary napkins, candle, matchbox and utensils)
As on September 05, 2018, Caritas India has supported Kerala with an amount Rs. 5,46,72,519 in Cash & almost Rs. 1,00,00,000 in Kind.
Caritas In Unison With The Partners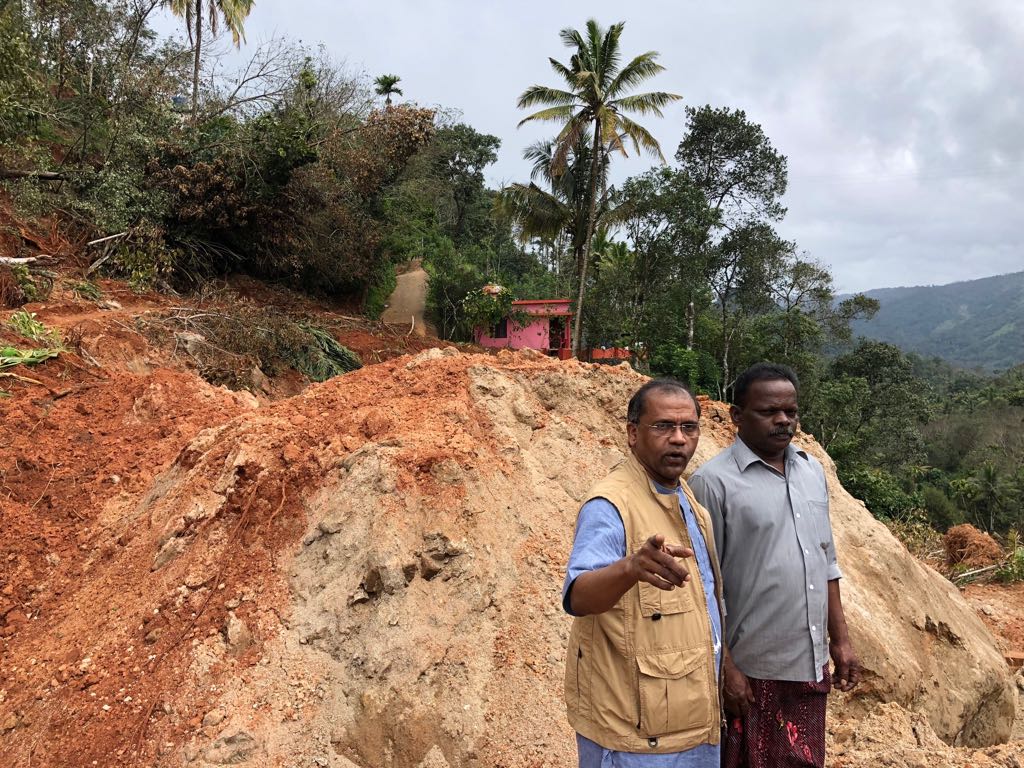 The Executive Director Fr. Paul Moonjely personally visited the affected districts of Idukki, Ernakulam, Kottayam and Thrissur. He interacted with the local bishops, partner directors and the local communities, taking stock of the situation, the extent of damage and the possible measures to be rolled out. He also participated in the coordination meeting organised by KCBC Executive Committee.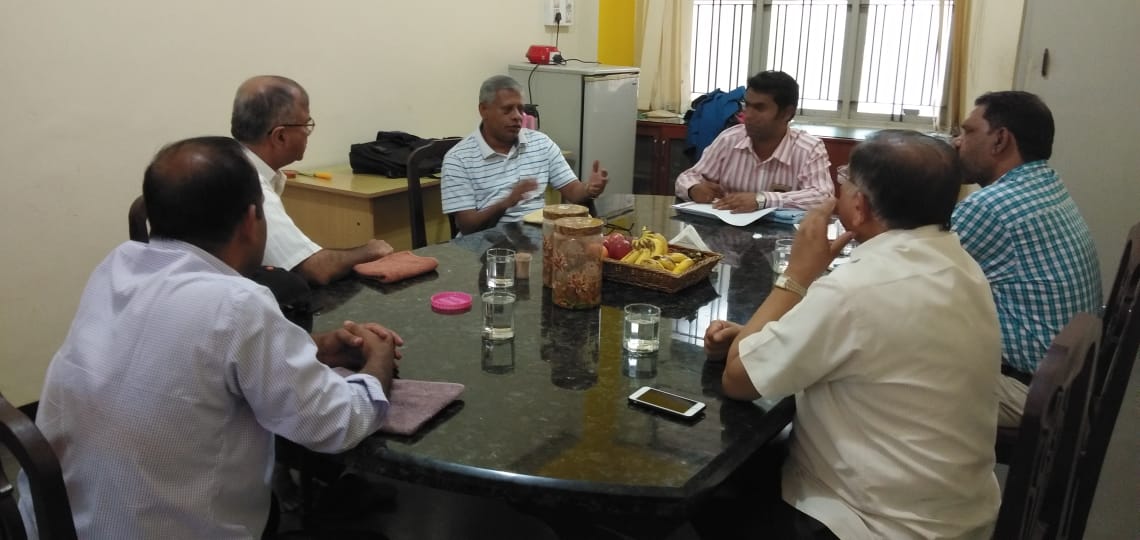 The Assistant Director Fr. Jolly visited the affected districts of Wayanad, Thrissur, Palakkad and Ernakulam. He also interacted with the local communities, assessed the damage situation, met the local government officials and other stakeholders on the ground for relief operations.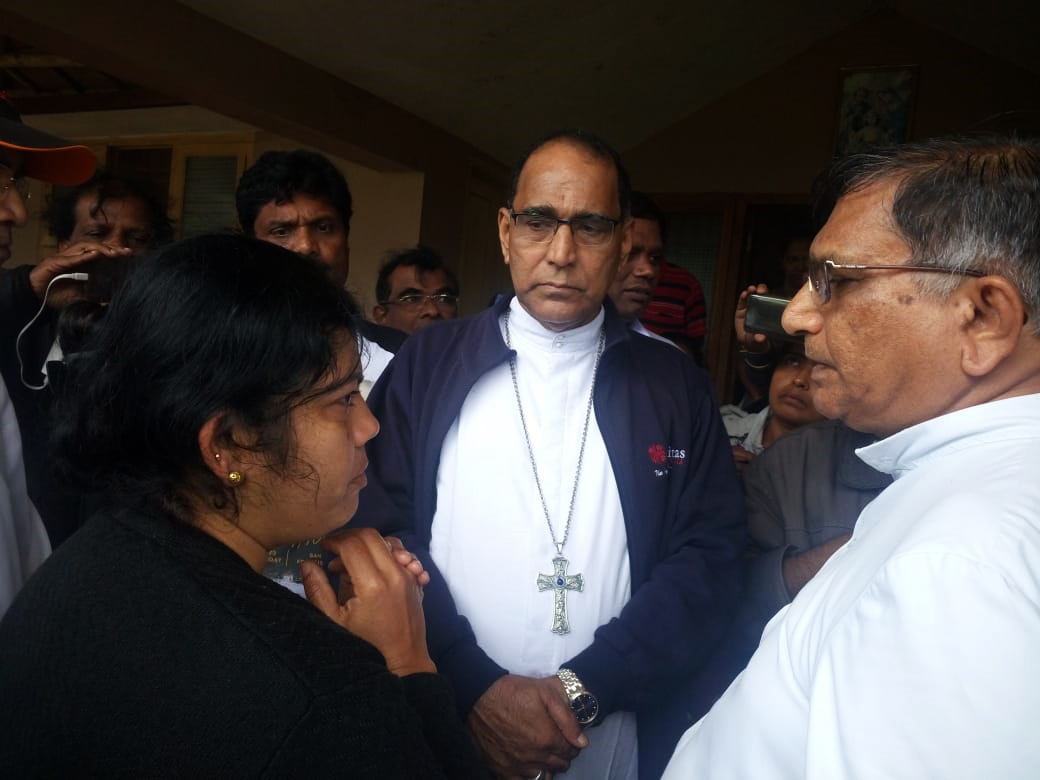 The chairman, Bishop Lumen visited Kodagu, Wayanad, Kottayam and Pathanamthitta. He expressed his solidarity with the grieving communities and also assisted in distributing relief aid to the affected families.
INVOLVEMENT OF CHURCH IN KERALA
| | |
| --- | --- |
| Priests | 4094 |
| No. of People in the camp | 10,80,700 |
| Amount spent for Relief | Rs. 40,00,00,000 |
| Help desks opened by DSSS | 192 |
Volunteers
| | |
| --- | --- |
| Priests | 2891 |
| Religious | 6737 |
| Youth | 69821 |
| Laity | 99705 |
Infrastructure Support
| | |
| --- | --- |
| Torres/Tipper | 437 |
| Boats | 440 |
| Country boats | 329 |
| Other vehicles | 1516 |
Coordination
On August 24, 2018, Caritas India in association with Kerala Social Service Forum, organized a joint meeting with the Partner Directors of Kerala along with other stakeholders and civil society organizations to understand the damage situation and how Church is responding with relief to reflect on what we could do to strengthen the process of building back better. The fact that Church could stand together in the situation of crisis is a matter of immense joy.
Caritas India, is coordinating with local agencies and INGOs present in the area following the updates from SPHERE India, district administration, and the existing state team in Kerala. Caritas India will also coordinate with local relief committees in the targeted villages to ensure village coordination is in place and the project continues to be relevant and meet the needs of the community throughout the response. Caritas field team is coordinating and updating the Additional District Commissioner, District Collector.
ONWARD PLANNING FOR RECOVERY
Caritas India shall engage in the following for the coming days.
Scientific assessment of the structure of houses is required to know if it can be repaired or rebuilt before making an investment.
Adopting a right based approach and ensure the all affected families get their share of resources available from the Govt. like support for Housing.
Household Survey in collaboration with local panchayat to avoid duplicacy and identify those not yet supported.
SECTORS OF RECOVERY
Shelter- reconstruction and repair
Livelihood restoration
Health(palliative care)
Waste Management
OTHER ACTION PLANS PROPOSED
Caritas along with the diocesan partners has initiated the following:
Standard Operating Procedures will be followed in our intervention.
Idukki based relief & rehabilitation initiatives are urgent
A comprehensive approach in our intervention is needed
Proposed to start insurance for farmer's crops.
Counseling & service of Befriending team
We shall associate with the Govt. in damage assessment & collecting data.
DSSS will participate in all IAG for better Coordination of efforts
Facilitate the goodwill of non-affected people & mobilize more internal resources
A non affected parish will handhold a flood-affected parish for the coming year.
Follow the common guidelines from KSSF
Documentation & maintain transparency in fund utilization
CLUSTER-BASED INITIATIVE IS INTRODUCED
Wayanad Region
Idukki Region
Ernakulam and Kottayam cluster will be initiated later.
VOLUNTEER MANAGEMENT
Volunteer management cell has been set up at the national level. Volunteers shall be registered, oriented on the modalities of volunteering. The PEACH trained volunteers and Ashakiranam volunteers along with the Parish Council and local Panchayat will help the Diocesan partners in the identification and finalization of beneficiaries
MONITORING
A joint team will be established where Caritas, and partners representatives will jointly review the progress of the project at the state level. The mechanism for joint monitoring at the field level will be strengthened in line with the district and block levels and between the partners and local Government officials and elected representatives.
Kodagu Landslides
Caritas India started her intervention through contacting the local partner organization, Organization for Development and Peace (ODP), Mysuru. The personnel of Caritas India did joint needs rapid appraisal (JNRA) visiting the most affected 6 villages of Kodagu District.
Caritas contacted different corporates, donor agencies to get their support for immediate relief work. As a result, we mobilized support for 1500 tribal families with Food items (community kitchen) and NFI worth Rs. 30 lakhs. Another, 500 families will be supported with WaSH and NFI worth Rs. 10 Lakh.
WaSH kit and Food Items (community kitchen):
Food items
| | |
| --- | --- |
| Rice in KG | 500 |
| Dal in KG | 50 |
| Oil in Ltrs | 20 |
| Sambhar Powder and Salt in KG | 10 |
Sanitary Kits/ Family Kit
| | |
| --- | --- |
| Sanitary pads | 2 |
| Soaps | 2 |
| Candles and match boxes C-10 + Mbox-2 | 7 |
| Blanket | 1 |
| Nighty for women | 1 |
| Undergarments Male – No's | 2 |
| Undergarments Female No's | 2 |
| Lungis for Men | 1 |
| Towel | 1 |
| Cotton, Dettol, Goss, Betadine/ Tincher, ORS, Tooth Powder | 1 |
| Packing Sack | 1 |
| Bleaching powder – 1 kg | 1 |
These items were distributed to purely tribal communities of Somavarpet and Virajpet taluk. As per the guidance of United Way Bengaluru, the leaders of Large Area Mulitipurpose (LAMP) Society (This society is of tribal people) identified 1037 beneficiaries and the rest 463 beneficiaries identified by ODP Mysuru. These 1500 families were from 29 different villages of Somavarpet and Virajpet taluk.
Caritas India's upcoming plan for Coorg: 
Caritas India plans to take up bridge support to 500 families currently in the relief shelters with conditional cash transfer to their bank accounts
Caritas India plans to take up shelter and livelihood support for the most vulnerable flood victim families of Coorg.