Recurrent flooding have intensely compounded the existing social vulnerability of people across the floodplains of the river Brahmaputra, among which women seem to bear the major brunt. However the role which women play in flood risk management has been largely masqueraded by dominant male centric narratives with regard to institutional planning and mitigation measures. A recent visit to the flood prone districts of Bishwanath and Dhemaji districts of Assam  brought to the fore the critical role local women have been playing to cope and adjust to flood risks, invariably contributing to the health and well-being of their families..
Raising Vegetables in Grow Bags a succour during Floods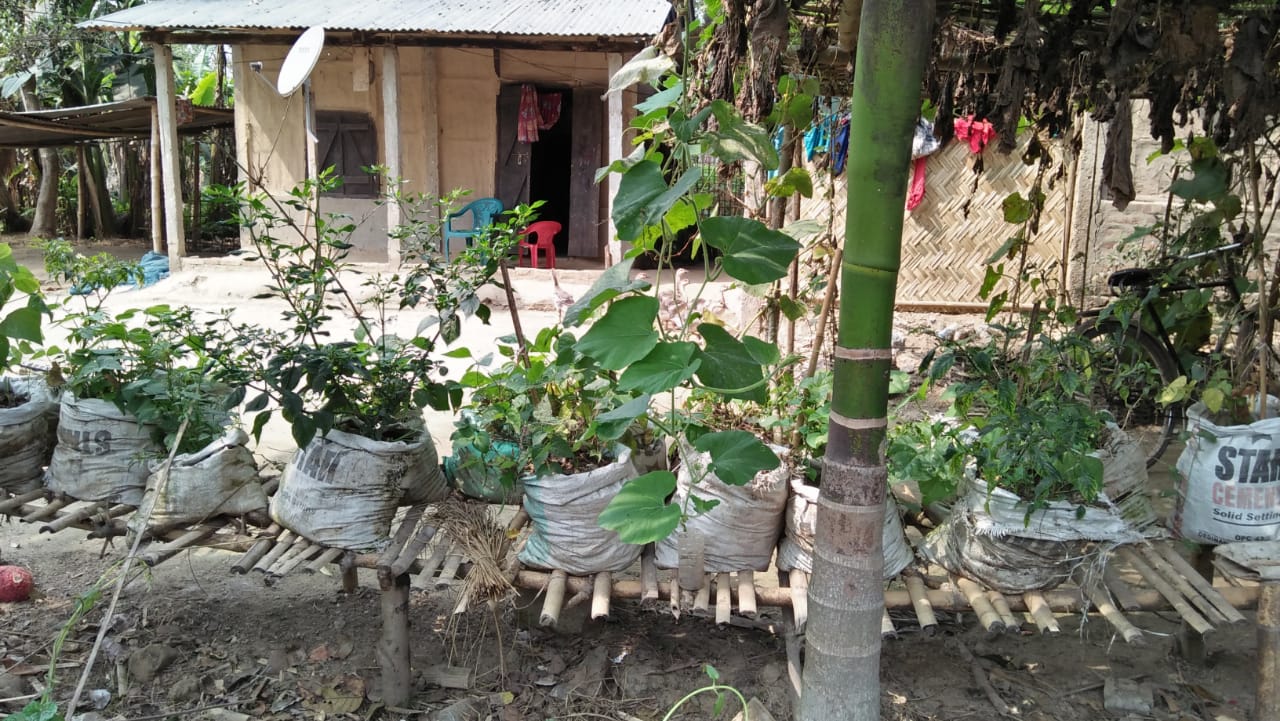 Nutritional gardens on a raised platform is gathering popularity in the flood prone areas of Dhemaji, Lakhimpur and Bishwanath. Women grow seasonal vegetables such as  brinjal, beans, coriander, chilly along with a variety of gourds, legumes and greens on cement bags and tubs which are then perched atop the chang-ghar. In places devoid of stilt houses, these bags are raised on a make-shift bamboo stilt with a height depending on the water level.
Atleast 18 women from Deonabari village in Bishwanath district grow their own vegetables in the backyard on bamboo stilts to meet the nutritional requirements of their family. Almost every household in Sissisumoni grow atleast 8 to 10 varieties of vegetables for their yearlong consumption. In an area which is routinely affected by floods and sand deposition, growing seasonal vegetables and greens is an acute problem as most of the plants perish due to days of waterlogging. Disruption of transportation during the floods further deters the households from meeting their dietary requirement.
"I am happy to have planted these vegetables in my backyard, it  doesn't require much of labour or money and my family has the choice to have freshly prepared food devoid of pesticides and chemicals", remarks Pronoti Lahon from Deonabari.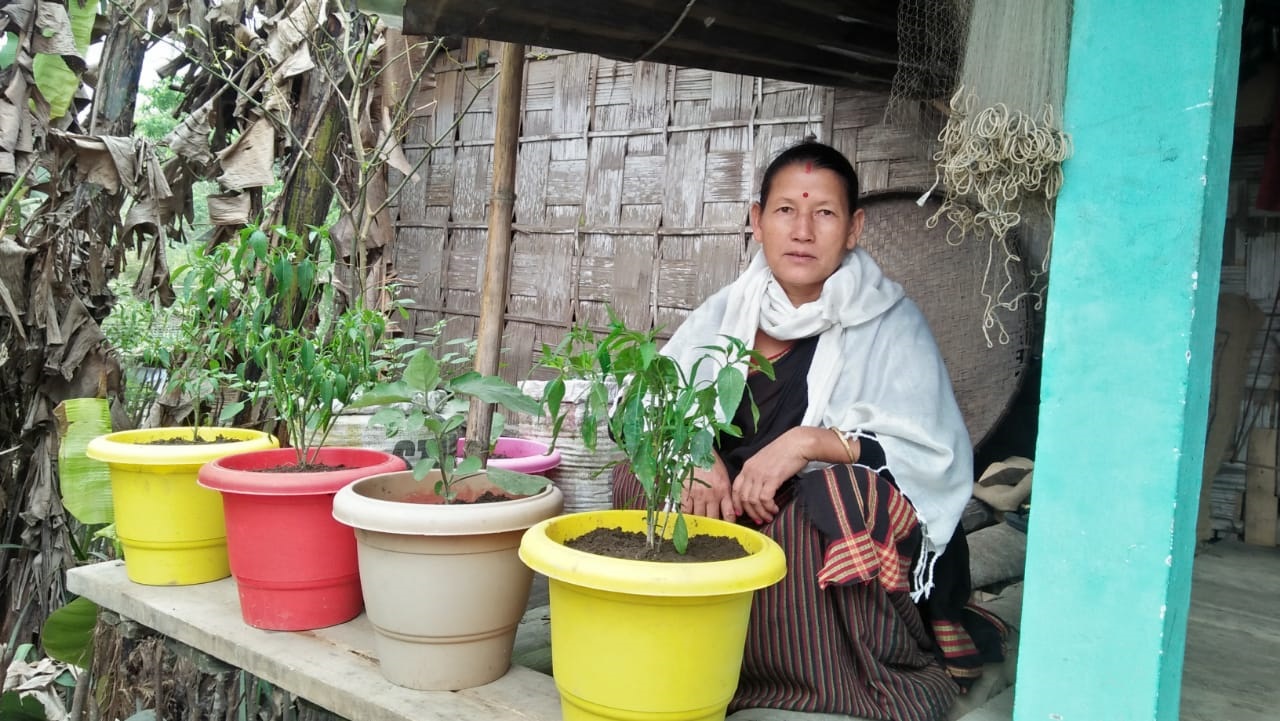 "I have planted enough vegetables so that it sustains my family during the flood, atleast I can pluck brinjals and chillies from my own garden", states 26 year old Kankan Pegu.
Micro Planning strengthening women's group to mobilize resources for income generation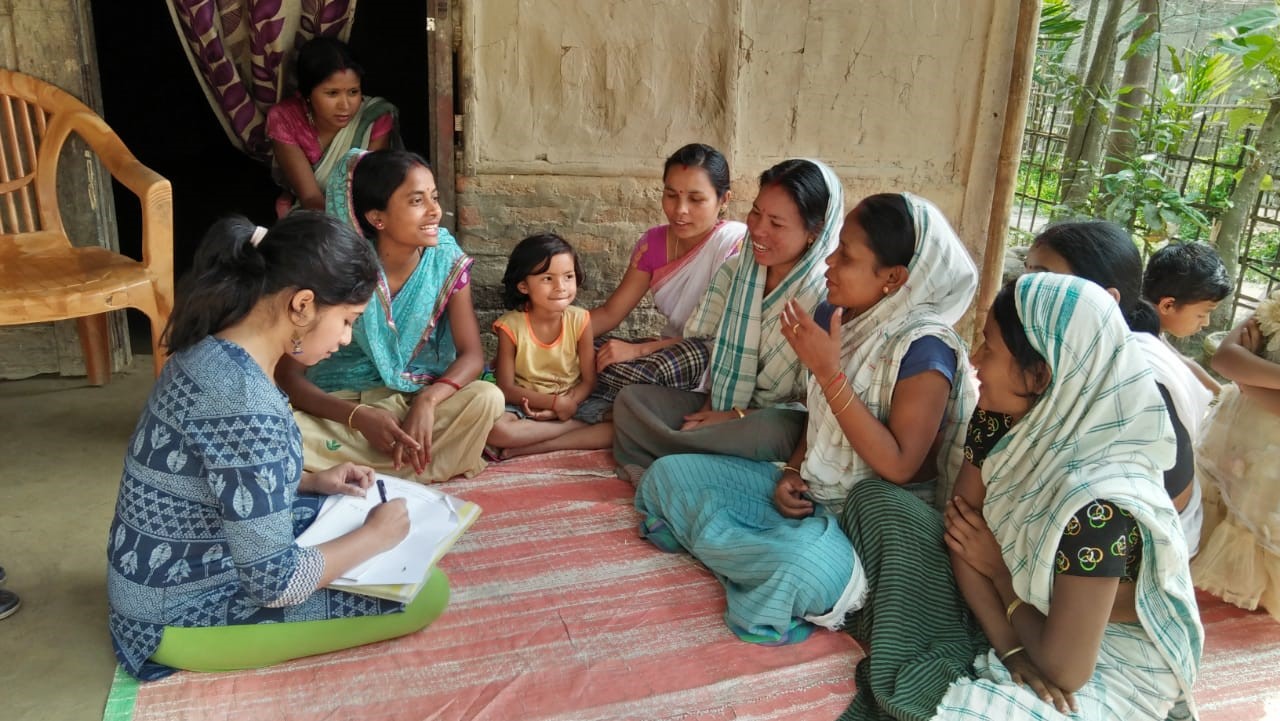 Jayabati Boro Gogoi, 27, is one of the six women from Deonabari who are planning take up goatery as an income source. Her group, which is yet to come up with a name of their own had come up with the idea after attending a village level meeting organized by the staffs of Tezpur Social Service Society (TSSS).
"Marcus  Da of TSSS had emphasised on the need for women to become self-reliant and spoke of a number of activities which we could take up. He also assured us of technical support through linkage with KVK, that was when we decided to take charge," quips Purobi, 24.
Equipped with necessary knowledge from a close acquaintance from the village, the six women have started saving money and resources to pursue their dreams. They meet once in a week to plan their activities and collect their weekly share, a paltry sum of Rs. 20 per member. The group has already managed to collect an amount of Rs. 600 over the period of five weeks and is looking forward to increase the share which will be used in the coming weeks to construct the shed.
Accessibility to neighbouring Arunachal Pradesh, which is merely 6 kms from the village offers a potential market for the women who dream of achieving big in the otherwise male oriented market scenario.
Caritas India with its partners Women Development Cell and Tezpur Social Service Society is working towards enhancing resilience of communities in flood prone areas across Brahmaputra Basin, prioritizing on sustainable and diversified livelihood practices