Mujhe mere logo k liye kaam karna aur unka gyan badhana achha lagta hai aur Sabal ka poshan mitra banker mujhe ab gao wale aur jyada manne lage hai ( I love to work and sensitize my people, now after becoming the Sabal nutrition friend, I am getting more respect from my community ) says, Rajkumar.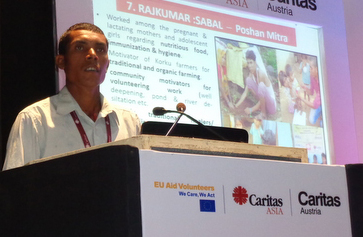 Rajkumar Patil has been appreciated for his contributions to volunteer for Sabal as a Nutrition Friend during Caritas India's All India Conference on Volunteering for Change. Rajkumar Patil is now an active member of Sabal programme. Inspired by the concept of Sabal and motivated to work for his own community, the 21-year-old from Gram Mohanyadhana joined Sabal and took the challenge to transform his community situation which is majorly infamous for malnutrition prevalence.
Along with his studies, Rajkumar never fails to contribute his time equally in the Sabal initiatives to support the front-line worker Mr. Manang – Nutrition Health Worker of Spandan one of Caritas India Sabal Partner. Rajkumar every day after his studies hold interaction meeting at the village square with the farmers sensitizing them on the nutritional values of the millet and motivate them to cultivate millet in their fields during the upcoming season. He regularly shares about the various initiatives that have been started by Sabal and how the programme helps the farmers who are interested to grow the millets like Kutki, Kodo, Jowar etc by supporting them in mobilizing the seeds from the seed banks strategized at the cluster level. Now the farmers have started to consult and seeking the knowledge of Rajkumar whenever they need help.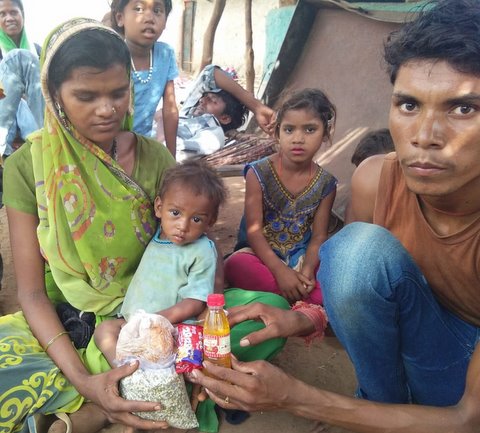 He also helps the health worker on regular profiling of the children and distribution of the nutrition supplements to the severe children. He keeps a check of the families with young infants and toddlers who come back from migration and inform the NHW about such families so that the child is immediately linked with the Anganwadis for regular entitlement. Timely nutritional counseling of the mothers, support to the Anganwadi workers and promotion of MUAC (mid-upper arm circumference) tape among the faith-based healers are few other contributions of Rajkumar.
Rajkumar is one of 184 such volunteering initiatives who is actively engaged it Sabal initiatives.