"The diverse and dynamic role of volunteerism in promoting the Sustainable Development Goals merits strong support from Governments and other stakeholders. On this International Day, I thank volunteers for their efforts to leave no one behind" – UN Secretary-General António Guterres
International Volunteer Day (IVD) mandated by the UN General Assembly, is held each year on 5 December. It is viewed as a unique chance for volunteers and organizations to celebrate their efforts, to share their values, and to promote their work among their communities, non-governmental organizations (NGOs), United Nations agencies, government authorities and the private sector.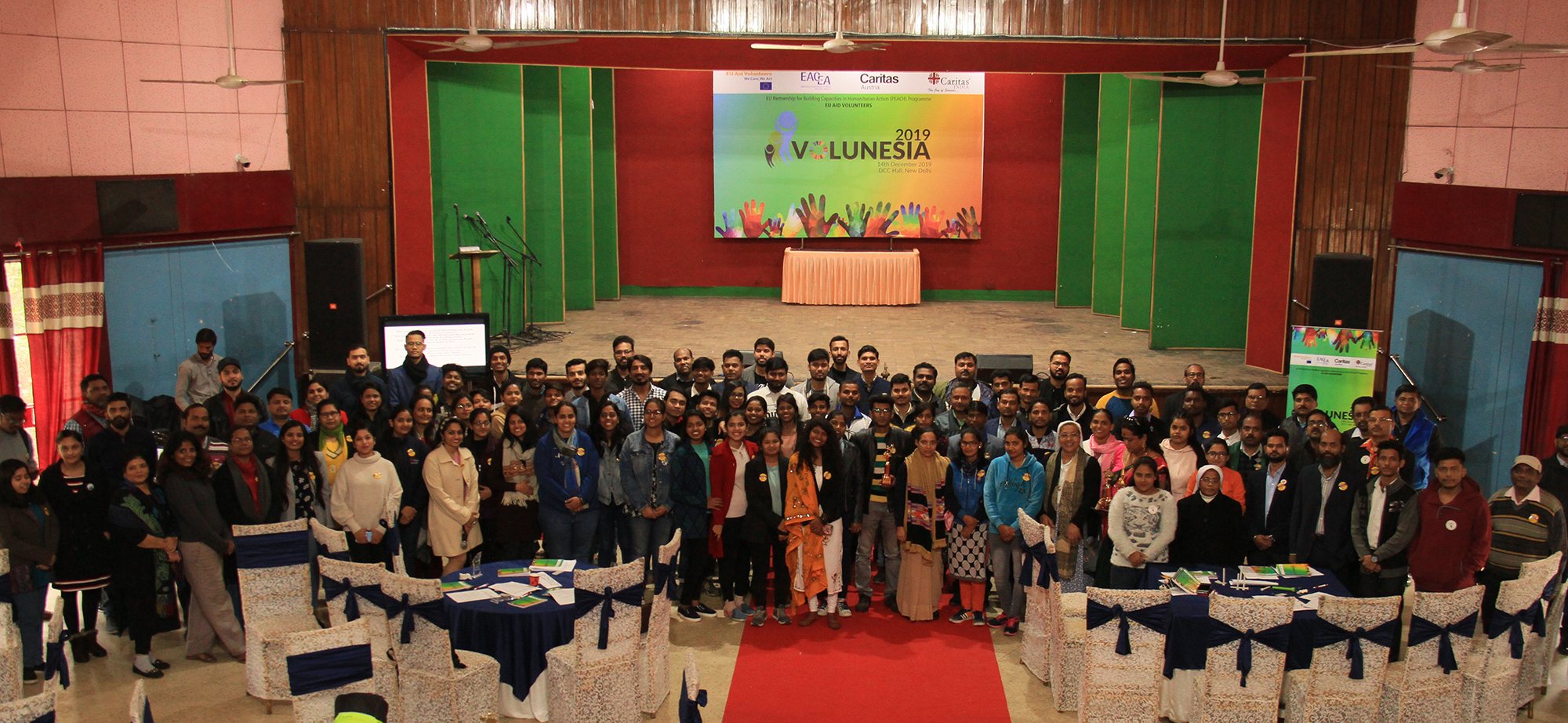 Caritas India celebrated and acknowledged the spirit of volunteering at VOLUNESIA 2019 at New Delhi, Ahmednagar and Kerala. Volunesia – the moment when you forget you're volunteering to change others' lives, because it is changing yours.  Volunteering has always been a core area for Caritas India. Large number of volunteers have always been engaged in various relief and rehabilitation activities post any natural disaster and health emergencies across the country. Since the implementation of the current strategic plan of Caritas India volunteering being one of the pillars; volunteers are being oriented and trained across the nation on different capacities. Volunteers commonly known as Caritas Samaritans have been actively engaged in various volunteering activities such as cancer awareness campaign, tree plantation drive, climate action pledge etc. Volunesia 2019 was dedicated to such exemplary initiatives undertaken by Caritas Samaritans.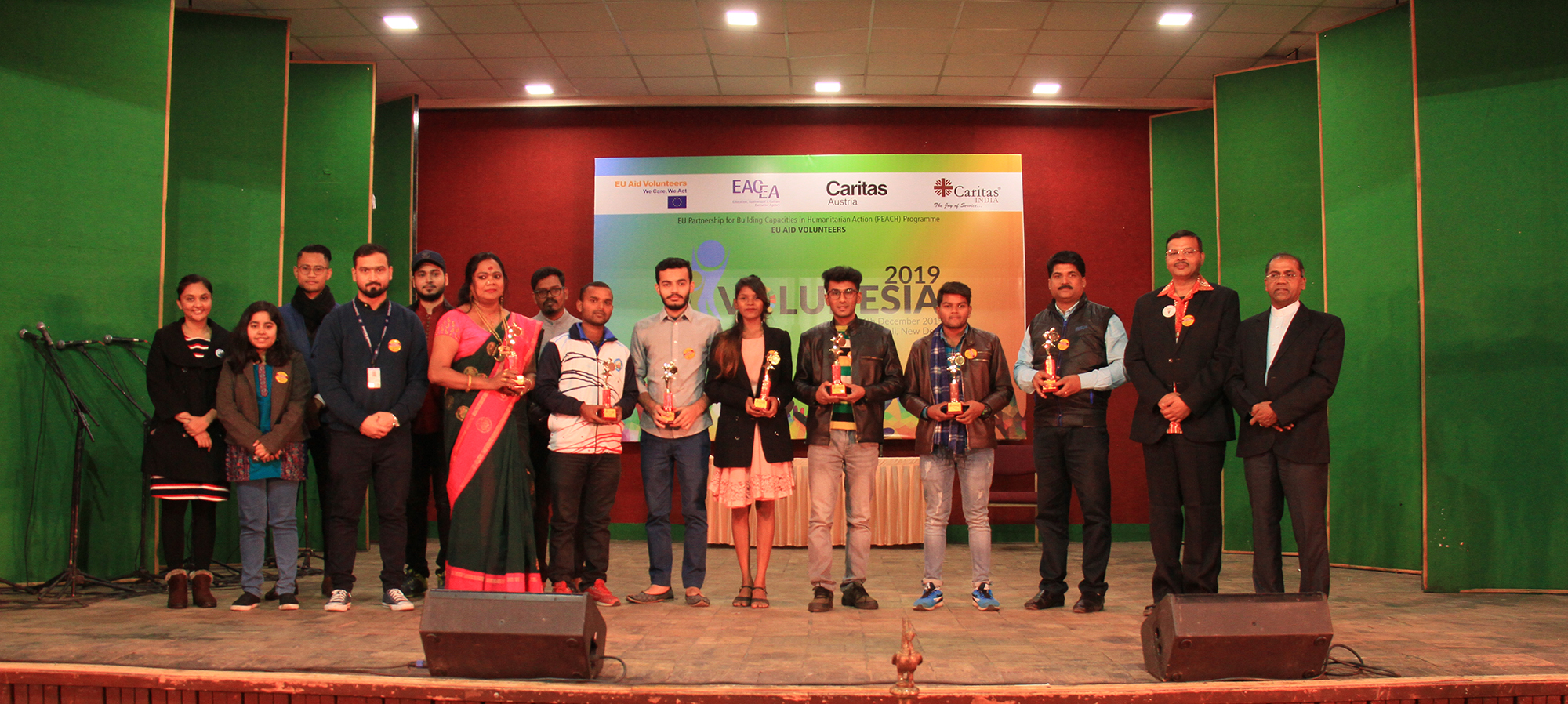 Volunesia 2019 at the National Capital centred around felicitating the contributions of volunteers across the northern region by awarding them under the categories: Humanitarian Aid Disaster Risk Reduction (HADRR) – Ambassador of Resilience, Climate Adaptive Agriculture and Food Security – Life Jacket Awards, Health & Nutrition – Poshan Award, Migration & Anti Human Trafficking – Hope, Child Rights – Bal Shurakshak Award (Bal – Children; Shurakshak – Saviour), Environment – Stewardship Awards, Women Empowerment – Chain Breakers. Guest of Honour, Auxiliary Bishop of Faridabad Diocese, Most Rev Jose Puthenvettil graced the occasion with his presence and motivating the young Caritas Samaritans with his inspiring words. Volunteering organisations and institutions such as United Nations Volunteers, Integrated Volunteers Network, NineisMine, Jesus & Mary College, Delhi University collaborated with Caritas India to add value and part take in the appreciating the Caritas Samaritans.
Being part of Caritas India as a Caritas Samaritan is a learning process, through multiple activities and initiatives undertaken as a volunteer has always given me the satisfaction and happiness and in turn helped me to grow into a responsible citizen; I am also thankful for appreciating and acknowledging my efforts – Alma Xalxo, Caritas Samaritan, Delhi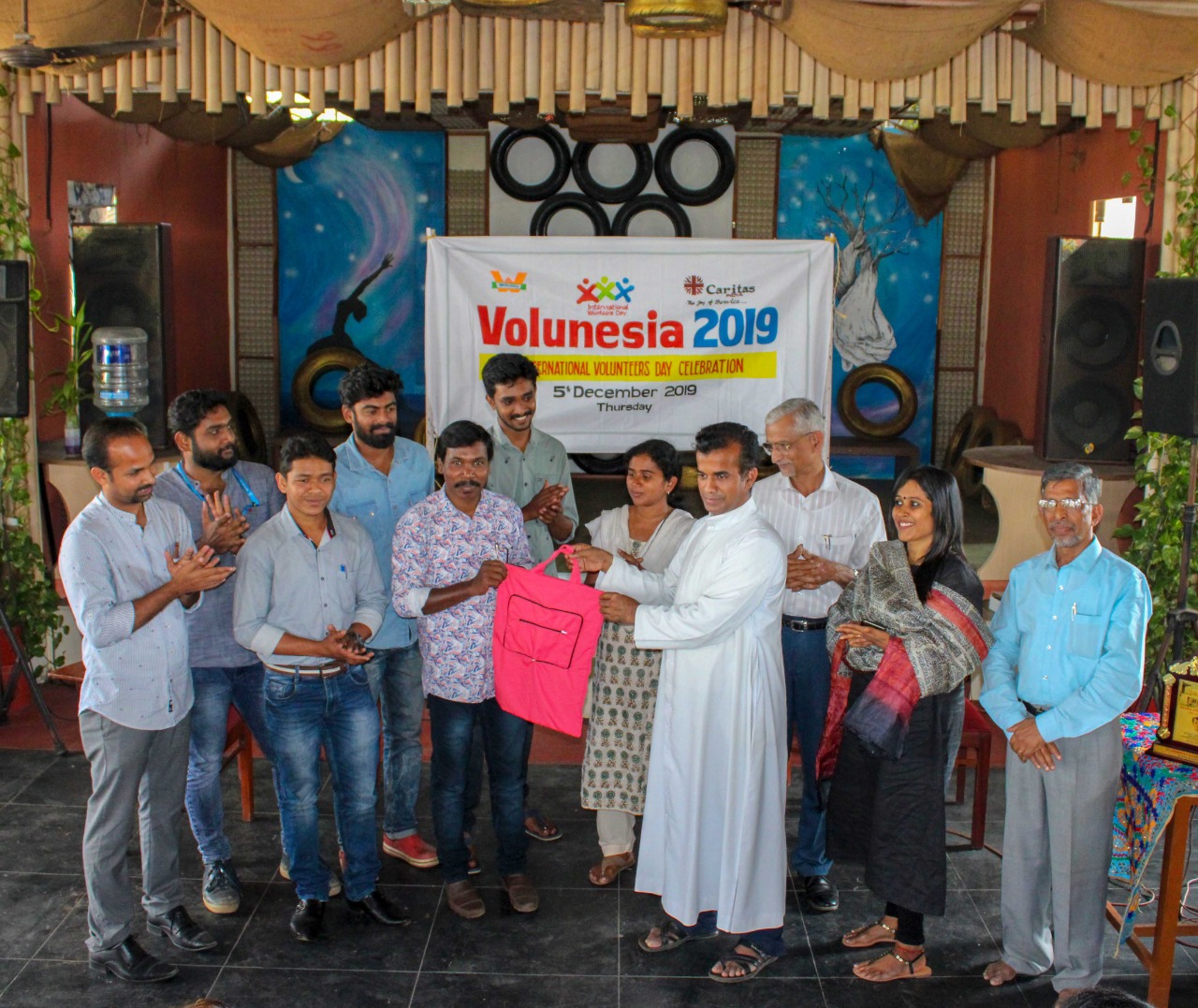 The celebrations in Kerala focused on the volunteer led campaign by Sahrudaya (Welfare Services Ernakulum), as a part of the Save Earth campaign, initiated the Green Bag Revolution by providing the reusable, eco-friendly non plastic bags. The green bag revolution of Sahrudaya aimed at providing the reusable bags to the households and to reach one lakh households by 2020. The green bag revolution is not merely the distribution of reusable bags but also the promotion of such bags for avoiding the use of plastic carry bags. Green bag revolution is aimed at making a better environment for the future.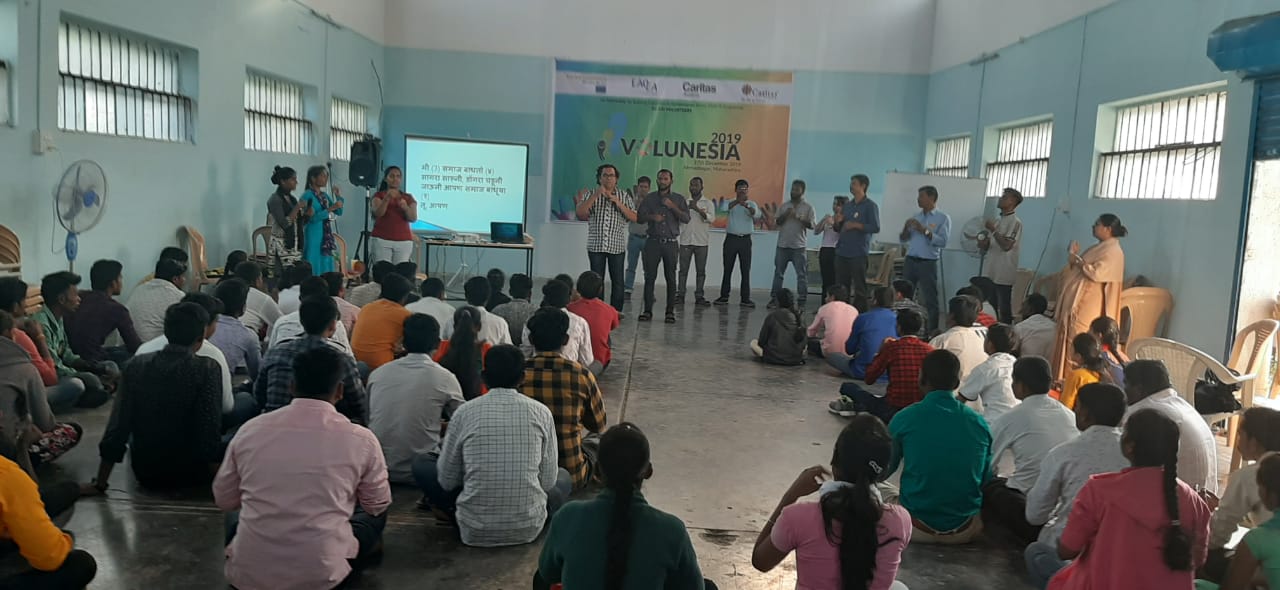 Ahmednagar, Maharashtra brought in over 100 Caritas Samaritans under one roof to rejoice in the spirit volunteering. Caritas Samaritans from Sindhudurg, Khadki, Vasai, Ahmednagar gathered at the Bosco Gramin Vikas Kendra(BGVK) to celebrate and acknowledge the need of volunteering in the country. The day was packed with fun filled art activities such as poster making, traditional cultural dances, talent exhibition. Fr George, Director, BGVK also challenged the youth to look beyond themselves and to take initiatives in their villages and their neighbourhood. The programme ended with all the volunteers taking and oath to become effective and efficient volunteers to contribute effectively to the betterment of the society.
All three celebrations in the country acknowledged and appreciated the efforts of more than 300 Caritas Samaritans.