"We are made in the image of God.  Being born as human being is more precious than the status acquired after our birth. It is unjustified to call cold-blooded murders of people as honour killing. No individual or society has the rights to interfere with the fundamental rights of another societal member. Killing is sin and it is a shameful act violating the human rights" said Most.Rev.Neethinathan, Bishop of Chengalpattu Diocese during his presidential address. He was addressing 1200 women leaders who have gathered to celebrate International Women's Day on the 8th of March 2019 at Madurantakam organised by Chengalpattu Rural Development Society (CRDS). The topic for discussion was "Honour Killing and Social Evils".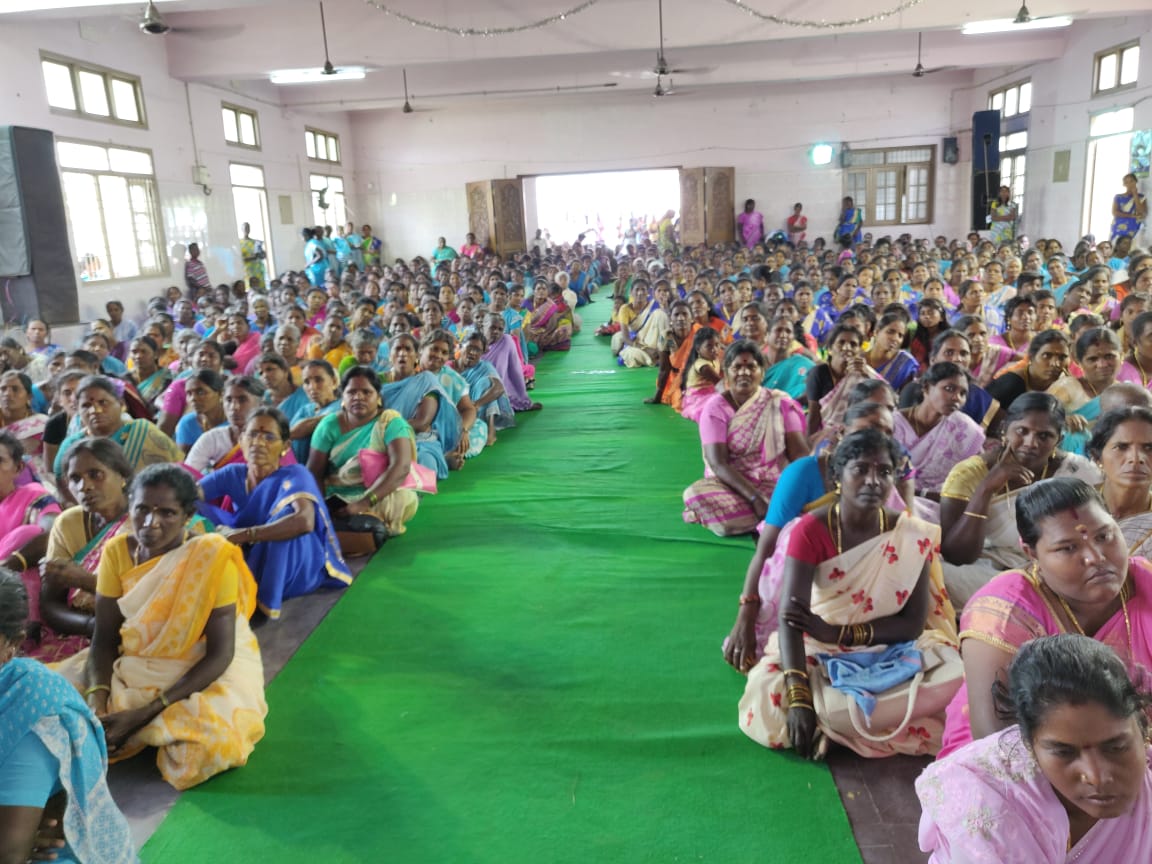 "The beauty of life lies in its evolution. Like butterflies, women also undergo a life cycle and let us not invade their autonomy to shape their lives to suit our wish" said Fr. Backia Regis, the Vicar General of Chengalpattu Diocese.
While delivering his speech on the day's topic, Dr.John Arokiaraj, Caritas India Thematic Manager – Dalit Rights and Development said "Let us break the ecosystem in which "honour" crimes take place and we need to effectively combat patriarchal crimes against women's autonomy. In India, we need stringent laws to tackle these inhuman acts. Any attempt that perpetuates control over women's sexuality and choices for maintaining status quo should be thwarted." He explained how honour killing violates article 14 ( Right to equality), article 15(1) (Right against discrimination), article 15(3) – Special provisions related to woman, article 19 (Freedom of Expression) and article 39 (f) ( Directive Principles of State policy).
All the speakers highlighted that community co-operation is the most needed one for the successful implementation of any law and to mitigate honour crimes so as to ensure gender equality and protection for all women. NGOs and local community as a focused unit can address this issue effectively. The misconstrued perceptions, mentality and social outlook of the people must be changed. Education plays a greater role in enhancing positive thinking among human beings.
Politics should never be allowed to enter families and media must refrain from "sensationalising" of such heinous crimes. What we see or hear is only a tip of an iceberg and there is a greater conspiracy hidden underneath this social evil. It is time for us to be more analytical in addressing this issue said Fr.Albert Thambidurai, Director of TASOSS.
Participant women leaders took pledge to strive for equality, gender justice, upholding human rights, girl children education, and women leadership. Fr.Benjamin, Director of CRDS and organiser of this event,  narrated a real-life incident where vengeance outplayed humanity by eliminating a man even after 8 years of his inter-caste marriage. He said that the time has come for us to put a full stop to this heinous crime. The student cultural group 'Uyir' performed folk arts to create awareness on the topic among the participants. Women groups and individuals who exhibited leadership through excelling performances were recognised with awards.