Inadequate rainfall has added misery to the agriculture which is the only source of livelihood for the people of Vedandankulam village of Ariyalur District in Tamilnadu. Dalit families are the hardest hit as their livelihood depends on farming as they do not own land or works as daily wage laborers. "I need not look for daily wages. I have learned to generate employment for myself and I can employ few others paying just wages" says Abhishekarayar from the village.
Having received training on various marketing strategies, Abhishekarayar now cultivates Marigold flowers in his 20 cents of land from the loan of Rs. 10,000/- taken from his SHG.  He could harvest flowers from the 50th day onwards and market them at Shrimushnam town located 2 km away. He gathered 50 to 60 kgs of flowers every alternate day and earned Rs. 30 to 50 per kg. He could cultivate these flowers for 3 months during which period he earned Rs. 60,000/-.
Abhishekarayar is planning to go for multiple cropping of flowers and vegetables. He says, "We are always thinking what we don't have and in the bargain, fail to think the enormous opportunities that are available to us. Kumbakonam Multipurpose Social Service Society (KMSSS) has given me the right orientation and confidence in life".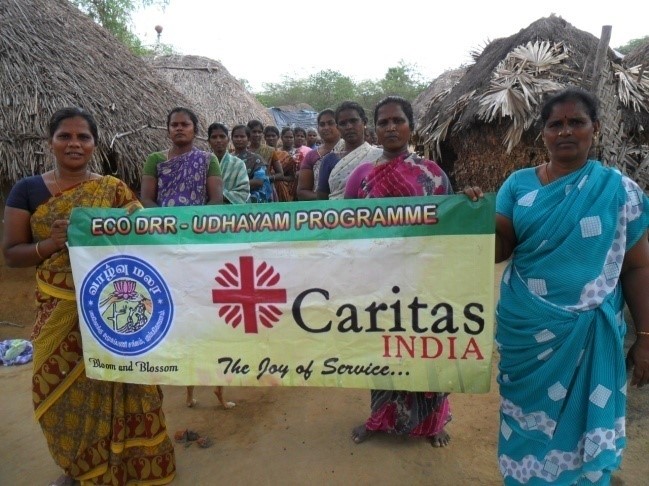 Since July 2016, Caritas India has been working in this area with its implementing partner KMSSS through Udhayam – ECO DRR programme. KMSSS has designed its response plan with the major focus on reducing future vulnerabilities, especially for the Dalit communities. The principle of inclusiveness encompasses the comprehensive recovery towards building resilience to the future shocks. It has adopted 3-pronged strategies of Institutional strengthening, Capacity building for co-existence and Recovery to Resilience.
Farmers clubs were formed in 10 villages with 10-15 members. They are given training on organic farming at Anbhagam, Keelaneduvai.  Cholanmadevi KVK imparts training on farming methods, conservation of water sources and alternate skill development. 110 soil and water samples were tested at Swaminathan Research Center, Thiruvaiyaru. Remedial measures for soil and water conservation are given prime importance.
Farmers have become aware of marketing strategies for their produce and they are initiating co-operatives for bypassing the middleman so as to get a competitive price for their hard-labored produce.
The group members from all the 10 villages place their thankfulness towards Ms.Marie from Udhayam programme coordinator for her untiring efforts.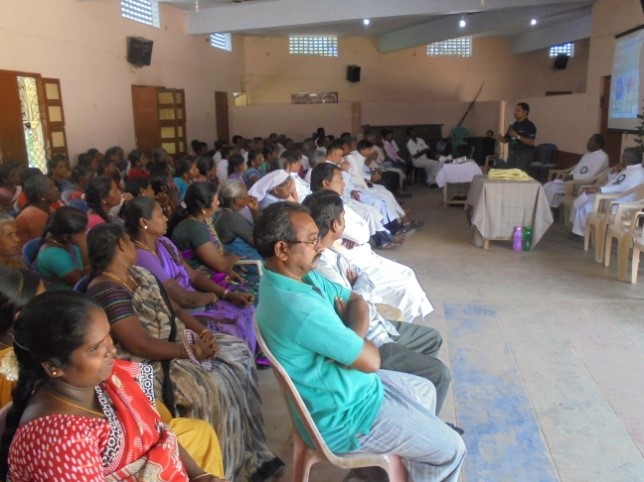 This was all possible through the leadership of Fr. Robert, KMSSS Director and personal involvement of Fr. Antonydoss, KMSSS Joint Director with constant guidance given by Dr. John Arokiaraj, South Zone Manager, Caritas India. The formal orientation on programme components and concepts coupled with periodic field accompaniments have created a sense of ownership among the various stakeholders.