The name Tripura is sometimes linked back to the Tipras or the Tipperahs, a Central Asian people who first settled in the area around 8000 BC. They called themselves the 'Children of the Water Goddess'. Even today, in many Tripuri dialects, 'Tui' means water and 'Phra' means God. Yet, great floods have swamped the state in 1962, 1983, 1999 and 2004.
Background
Legends claim the Kingdom of Tripura existed in 3200 BC, even before the time of the Mahabharata. The Rajmala, a chronicle of Tripura's kings written around 1500 BC and stone pillars from the Ashokan empire dating back to 250 BC also mention the kingdom. For centuries, the Manikya dynasty of Tripura ruled from the Bay of Bengal in the south to the Brahmaputra river in the North and west and the Rakhine state of present-day Myanmar in the east. The state later fell to the Mughals, the British and finally acceded to the Republic of India.
Tripura is India's third smallest state, covering an area of 10,491 sq km. It shares an international border with Bangladesh towards its North, South and West and imports a huge quantity of goods from that country. To the east, it is flanked by the Indian states of Assam and Mizoram. Only one highway – National Highway 8, connects the state to the rest of India. There is also a domestic airport in the capital Agartala and rail links to Assam and Bangladesh. It is one of India's most literate states – more than 94% of its people can read or write.
In 2011 the state had 3,671,032 residents, constituting 0.3% of the country's population. But since almost half the state is covered in forests, population density is high in the habitable zones. More than half the population is involved in agriculture – growing paddy, sugarcane, pulses jute, jackfruit and pineapples. The main cash crop of the state is rubber. The main organized industry here is brick making and tea gardens. Fish farming in small ponds is also popular. Tripura has massive reserves of Natural Gas and the government of India runs drilling rigs in the state.
The population is mixed – Bengali speaking immigrants are now in majority and share space with various indigenous tribal populations.
The flood of 2018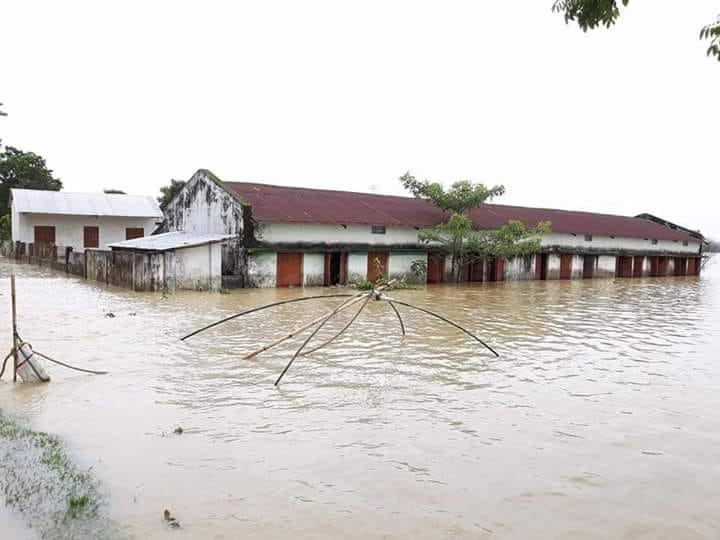 Common people say this is the worst flood they have seen in Tripura in the past 30 years. There have been two cycles of destruction in the state this year. In May, massive winds of up to 150 km per hour and pre-monsoon showers destroyed homes, flattened crops and uprooted trees. While relief work for that was still going on, heavy rain occurred in the state again in June. Some areas received more than 270 mm of water in a single day. Landslides took place across the state, national highways and connecting roads were blocked. On the night of 12th June, water levels in a number of local rivers suddenly began to rise.  Experts have not yet been able to identify why this happened – theories like a cloudburst or an unscheduled opening of a minor dam gate have been proposed – but nothing has been conclusively proved.
For a few hours that rainy night – many people in the interior regions of the state tried to salvage whatever they could from their homes. by moving documents and belongings to higher ground. But as the waters came roaring in, they had to abandon much of what they own.  In the space of one hour, water levels in some rivers rose by almost 4-8 feet. Traveling at enormous speed, the water washed away cows, goats, chicken. Heavy trees were uprooted. Tin-roofed mud buildings came crashing down. More than 50,000 people were rendered homeless.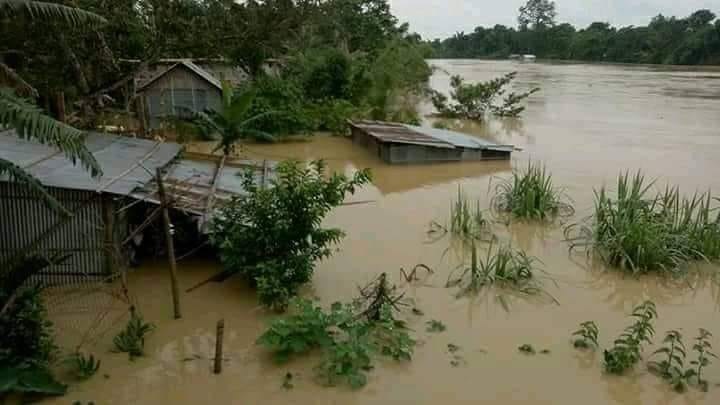 Waters kept rising in different parts of the state throughout the week. The government provided electricity was shut down, because of fear of electrocution. Cell phone batteries drained within a few hours – as a result in many interior regions of the state no one could call outside agencies for help for up to four days. State transport buses were stuck on the road with passengers for at least 48 hours.
Food grains had been washed away or completely soaked in mud. In some areas, villages on higher elevations were able to supply stranded people with food. Water in wells and tubewells turned muddy and changed colour. But locals were forced to boil that water and drink – there was no other option available for some time. Many complained of dystentry and stomach problems after having such water.
The state government kicked into action as best as it could. Military, para-military and civilian teams including those from the  National Disaster Relief Force (NDRF), Tripura State Rifles (TSR), Assam Rifles and Border Security force (BSF) fanned out into the worst affected areas – evacuating many in inflatable rafts and boats.
The situation right now
It is more than ten days since the waters have receded. But they have left a long trail of destruction in their wake. At the peak of the flood, almost 50,000 people were rendered homeless. More than 180 relief camps were set up by the government across the state. Milk for infants is a luxury. Drinking water is provided via tankers. In some areas, government schools have been converted into makeshift camps, with many families living together in a single classroom. Food is shared.
Because of the discomfort in the camps, many people have chosen to go back to their villages – despite having their homes completely destroyed. Neighbours help them and accommodate them at home wherever possible. Some villages have started digging out belongings and reconstructing their homes, with whatever material they can salvage. Many children are in shock. This is the first major flood they have seen in their lives and they still find it hard to talk about it.
It is important to remember that this is only the beginning of the rainy season. Without proper planning, cases of malaria and dysentery will begin to rise.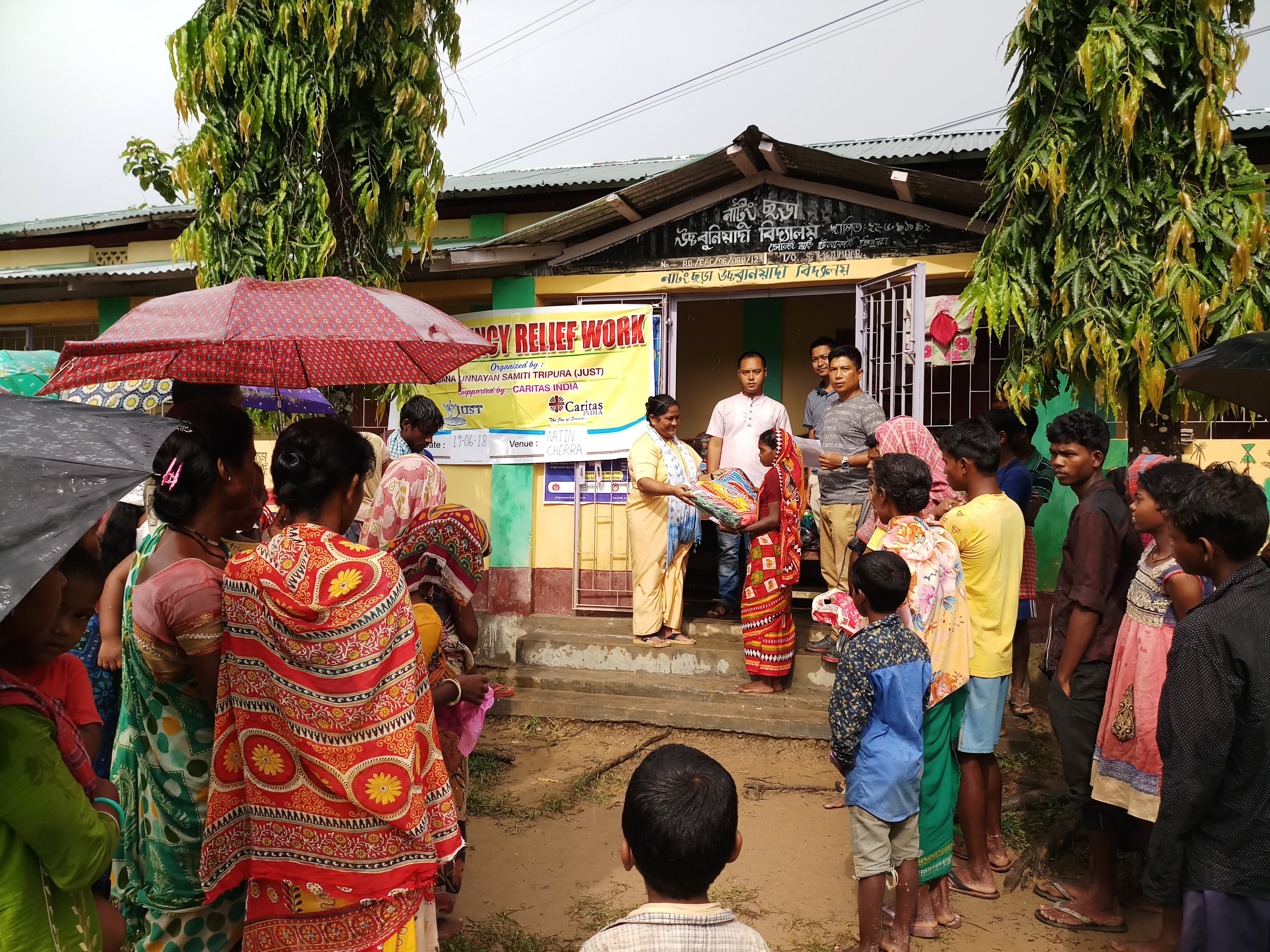 People are desperate for any help they can get. Caritas India and its local partner in the state – Jana Unnayan Samiti Tripura (JUST) are Catholic organizations. But since love has no religion, they have been reaching out to people wherever possible – including in Hindu temples. They have been distributing blankets, floor spreads, bed sheets, kitchen utensils etc to the needy. Wherever distribution is carried out – crowds of people gather. Almost everytime – the material available for distribution falls short of the actual number of needy. There have been multiple instances where small arguments have broken out – the people are desperate and it pains them to go home empty-handed.
But there is another side to the story. Caritas India and JUST teams visited many villages where houses have come crashing down, crops devastated, fish ponds destroyed. People have had their entire belongings either washed away or buried under many feet of silt. Agriculture has been destroyed and will take many months to yield income again. Despite having borne nature's fury and being stripped of everything – these people are still warm and welcoming. They insist on offering all visitors a strong cup of tea. At least one villager told us "Whether we get any relief or not is immaterial. You people have come from so far away to ask if we are all right. Just that, is enough for us."
A Bishop Appeals
The Bishop of Agartala, Bishop Lumen Monteiro is also the chairman of Caritas India. He has issued a personal appeal for help in relief efforts in the state.
"I've been here myself for 25 years and have never seen anything of this nature. The flood has displaced over 30,000 people. They are now living in shelters, particularly in the northern districts of this state. We as a church, through the help of Caritas, have been able to offer some relief to those who are in need. They would like to go back home. The government and some other agencies are taking care of their food & shelter temporarily. But they would like to build up their homes and get any help they can, to get back home. Through the help of Caritas and our donors, we have been able to give them some support – food, tin roofs – anything that will help them get back on their feet, taking care of their houses.
To all our donors and to everyone who likes to help people who are suffering – we would like to say that what you give, goes a long way when it comes down here. All the way from your pockets, into our social service society. With the help of Caritas India, we are able to reach right down to those who are most deserving and in need. At this moment of time, it is very difficult to identify who are the deserving ones. But all those who are affected, we have been trying to help them. And as we have been covering this through our media, these relief operations that we have been doing through camps these days, by giving people some kind of amenities and some kind of help, you will see that we have reached out to quite a lot to those who are in need. There is much more to do. And our hands are also tied. We appeal to all people of good will who would like to continue to give. I am the bishop of this diocese. Lumen Monteiro is my name. And the diocese works through its social service wing called Jana Unnayan Samiti or JUST. Our director Fr Jeevan through the help of Caritas India, of which I am also the Chairperson – we are working right down at the grassroots. We thank all those who are supporting us. We ask God to bless your generosity. To bless you all. We will continue to do what we can, in the best way that we can. Thank you once again. God Bless you all."