Northeast India is facing one of the worst crisis due to flash floods triggered by heavy rains in the region. Thirty districts are majorly affected in Assam, Manipur and Mizoram due to this incessant rain. According to the third situation report of Caritas India on July 11, 2017, around 16 lakh people are directly affected in Assam. 1,40,837 hectare of crop area is submerged under water and loss of 8,82,315 livestock is reported.
In Assam alone, more than 16 lakh people are affected in 2053 villages. According to the estimate 540 houses were completed damaged and 16 houses partially damaged. Morigaon, Lakhimpur, Dhemaji, Biswanath and Golaghat are the most affected districts with major crop and livestock loss. State Government has opened 208 relief camps for the people residing in 2498 villages and provided Rice, Dal and salt to the to the camp inmates. At present, the whole upper Assam (23 out of 27 districts) is flooded due to the release of water from NEEPCO dam in Arunachal Pradesh.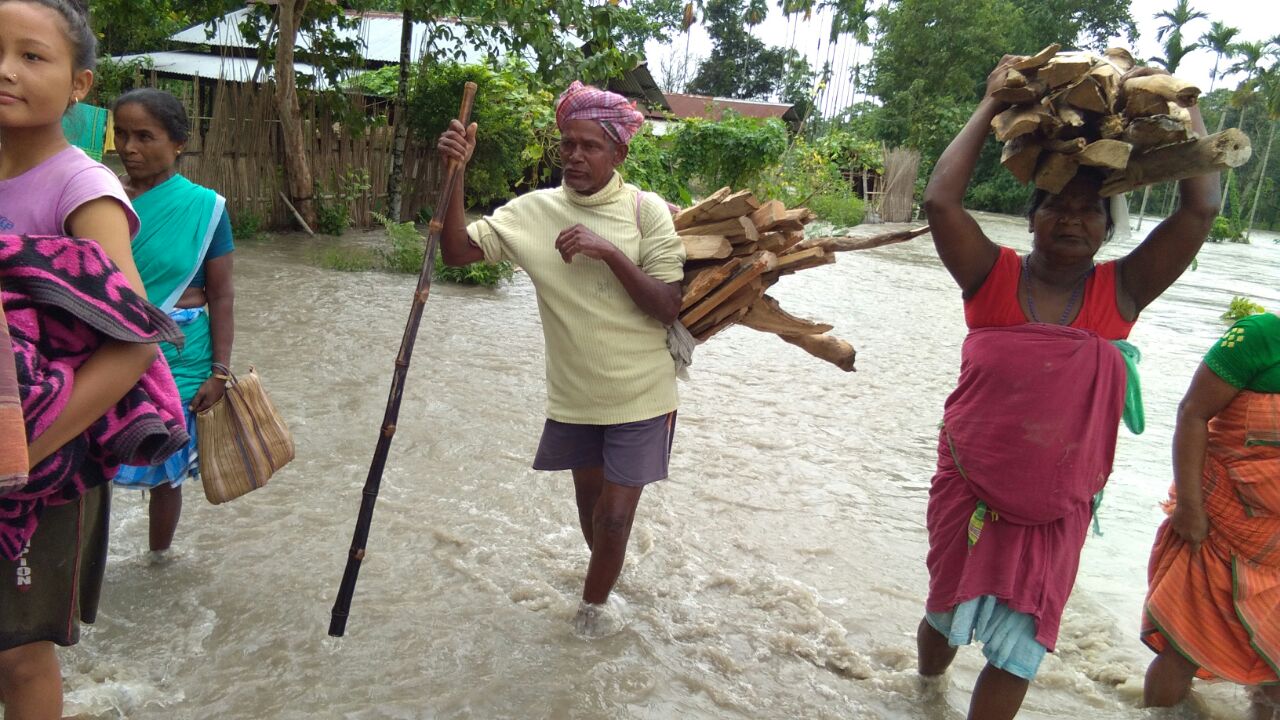 The floods in Mizoram is one of the worst in the last 50 years and caused major destruction in different parts of the state, especially those living at lower level.  Officials informed that over 2,000 families have been affected by flood in different parts of Mizoram. Over 600 houses have been submerged due to inundation of Tlawng River and Khawthlangtuipui River in Mizoram as incessant rainfall hit the state since 12th June 2017. Recent flood rains triggers by flash flood in many parts of Manipur affected many areas in the valleys and caused landslides in the hills.  People in the valley were left homeless with no adequate food and drinking water. On 3rd July, 2017 the state government declared the present disaster as 'State Calamity' following a review meeting chaired by the Chief Minister of Manipur.   At present, the flood water have receded but the people are still struggling to bring their life back to normalcy.
Emergency response team of Caritas India made an initial assessment of the situation and planned its response from the very first day. Caritas India focused its intervention in the most affected district of Lakhimpur in Assam.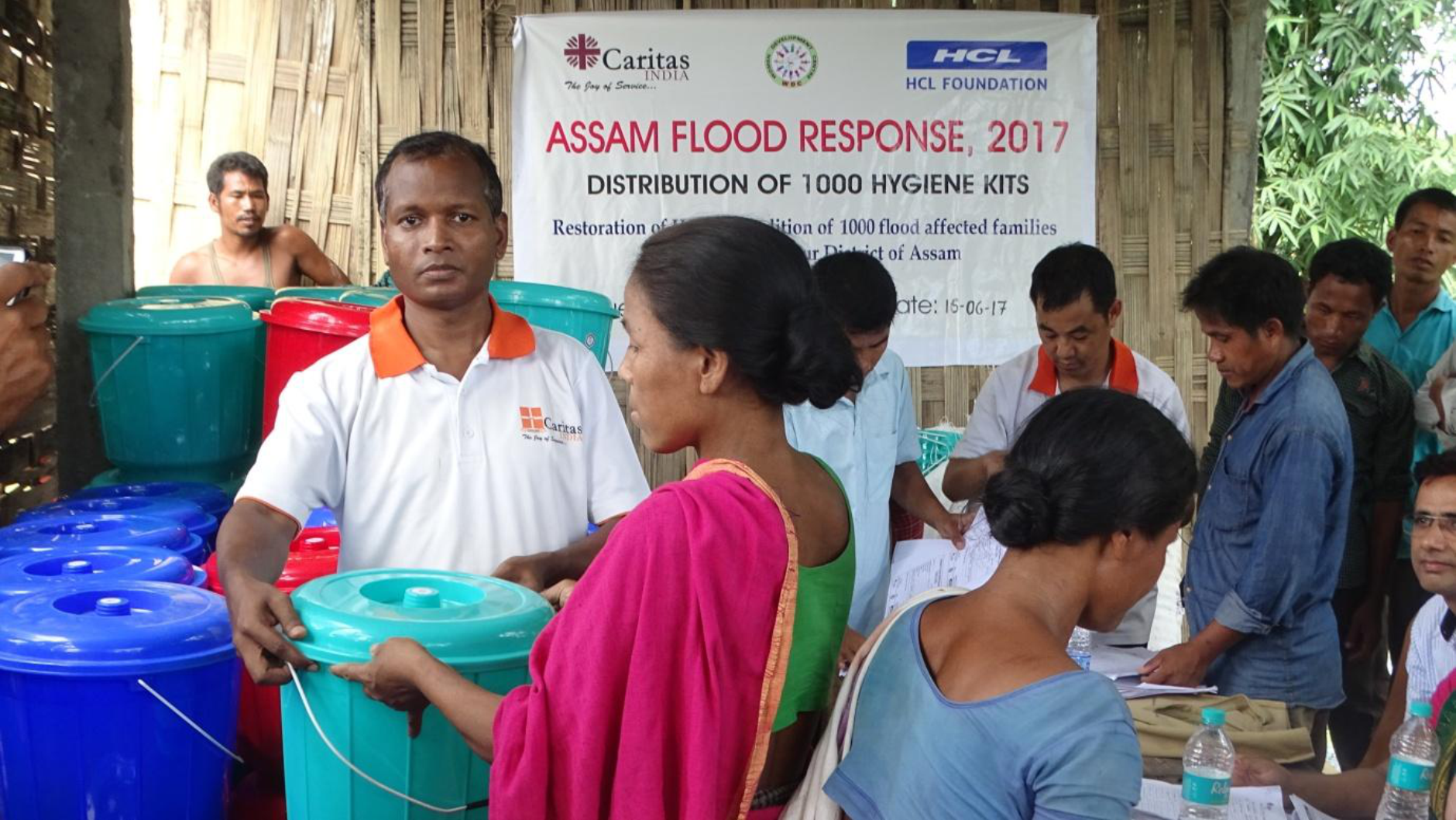 Caritas India in collaboration with HCL Foundation organised health camps and treated more than 800 patients at Nowboicha Block under Lakhimpur district in Assam. Hygiene kits were delivered to 1000 families to meet their basic needs. In addition to this, 2000 mosquito bed nets were supplied to 1000 families who are vulnerable to mosquito bites as there is huge amount of water stagnation in different places. Under the START fund response, Caritas India and CAFOD is supporting 1600 families with WaSH and unconditional cash transfer in the Lakhimpur District.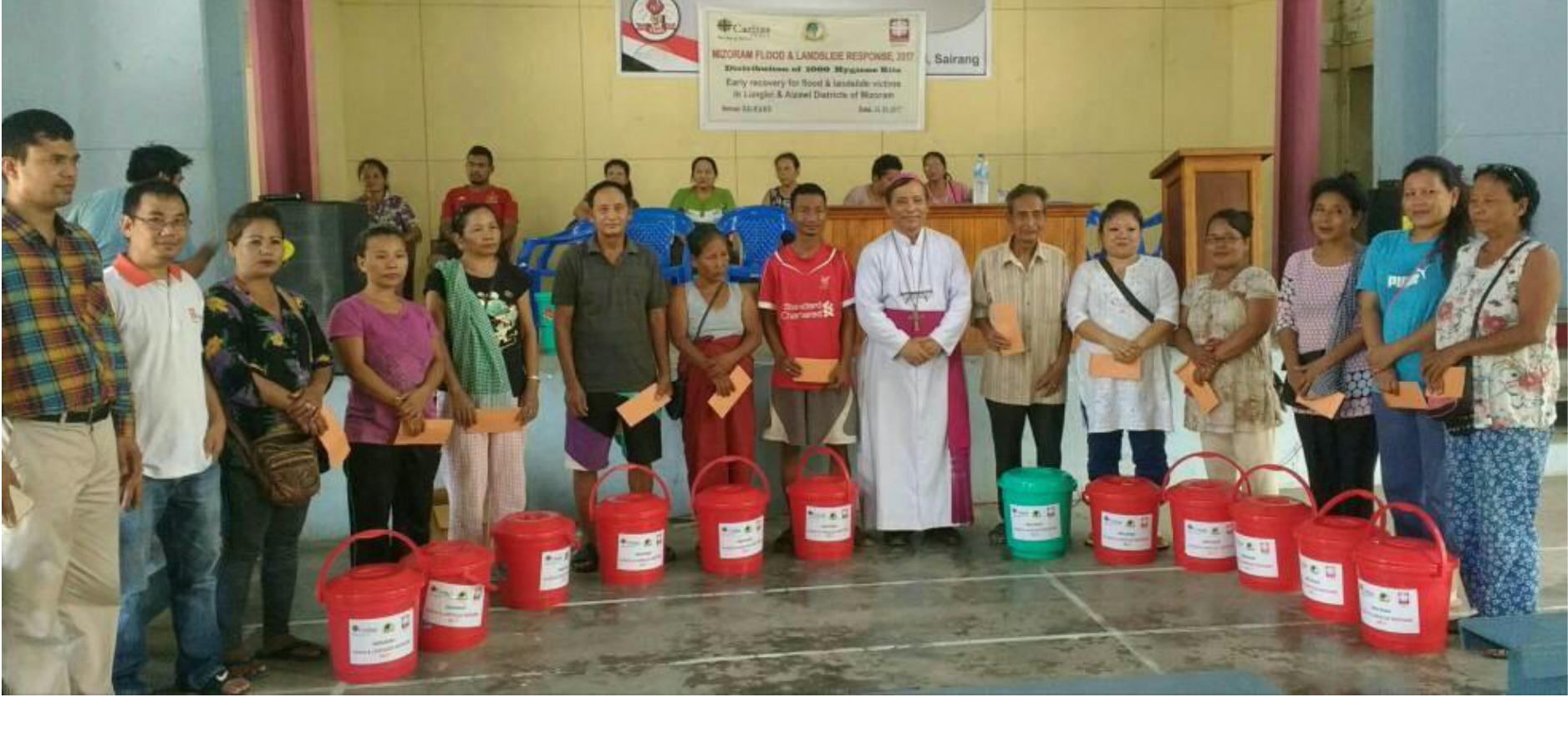 In Mizoram, Caritas India with the funding from Caritas Germany had extended its support to 1000 household with Hygiene kits in Aizwal and Lunglie district. 300 households were provided unconditional cash transfer in Tlabung areas under Lunglei district of Mizoram.
Caritas India and its local diocesan partner in Imphal is the convenor of Inter Agency Group-Manipur and is also part of the Joint Rapid Need Assessment team in Manipur.
Shelter, clean water and sanitation were identified as priorities for thousands of people who are homeless due to the flood. Displaced people need tarpaulins and emergency shelter kit as they are left in open. Due to the water stagnation, there is higher chances of mosquito bites so mosquito bed nets are another need fpr the people. WaSH, Public Health, Food & Nutrition, Education and Protection are some of the burning needs that is emerging very fast.