India has the highest population of hungry people. As per the hunger statistics, every year 25 lakhs and every day around 7000 people die due to hunger. It is also evident that majority of people i.e. 70 percent of the world's poorest people live in rural areas and almost 50 percent of hungry people belong to small farm families. There are 121 million agricultural land holdings out of which 99 million belong to small & marginal farmers with the average size of land holding of 1.42 ha and 0.39 ha respectively (Agricultural Census 2010-11, released in 2015). Contributes 70 percent to the total production against 44 percent in land holdings. In terms of production, small and marginal farmers also make larger contribution to the production of high-value crops. They contribute around almost 70% to the total production of vegetables, 55% to fruits and 54% to wheat against their share of 44% in land area (Birthal, 2011).
The sector, however, is characterized by traditional methods of farming, low level of access to quality inputs and information, frequent weather disturbances and minimal adoption of modern farming techniques.  Problems related to food and nutritional security are complex and interconnected with stagnant farm income, lacking farmers' access and control over farm resources, reduced small-farm resilience and increasing vulnerabilities to climate change, inadequate attention of support from policy and research.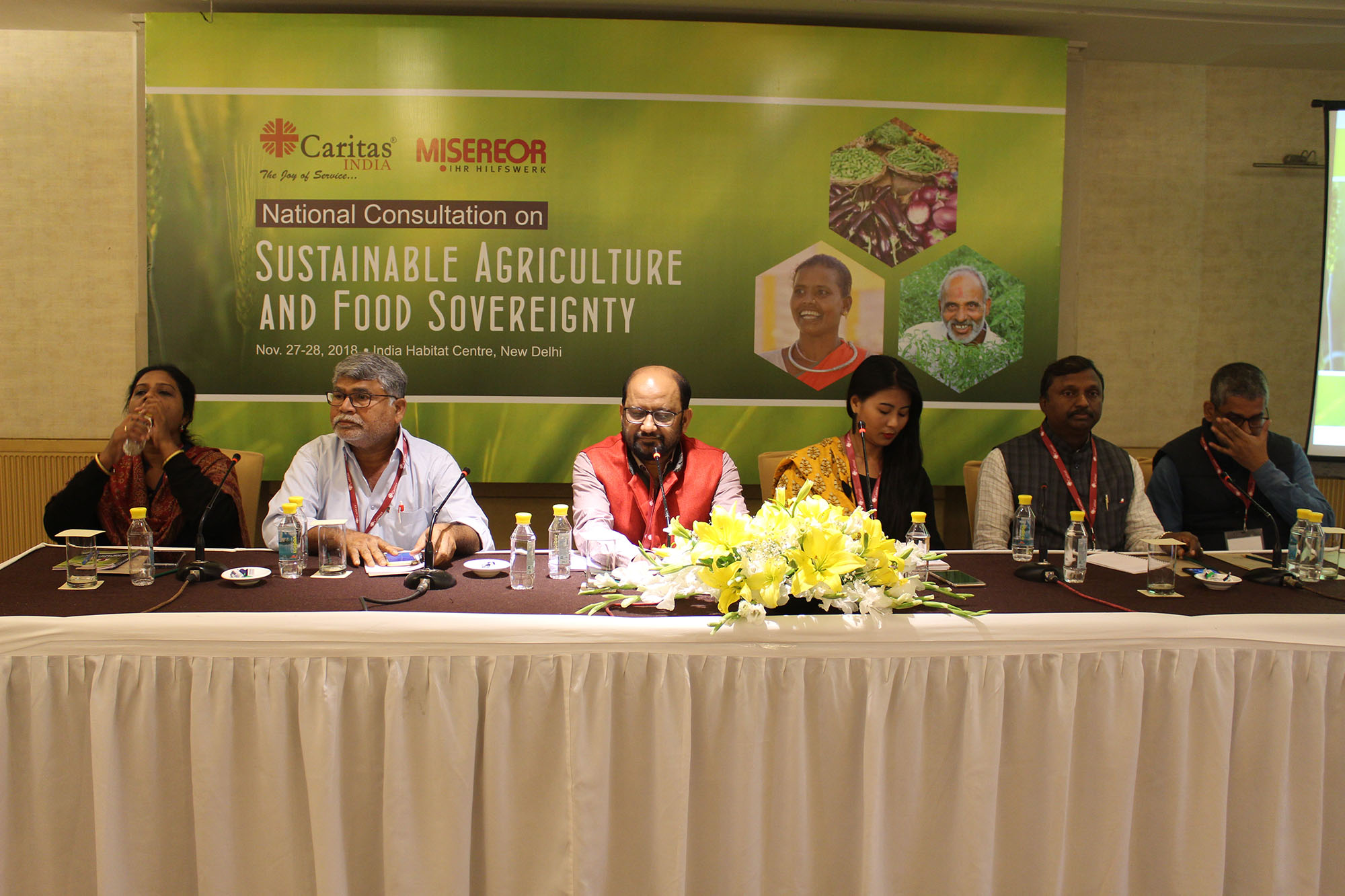 Based on above, regional level consultations at Telangana, Assam, and Jharkhand have been organized with the key objective of strengthening the linkages among CSOs at the regional level by involving all important stakeholders and to evolve a roadmap to address important issues in sustainable agriculture and food sovereignty.
In connection to this, Caritas India organised a National level consultation as a culmination of above three regional consultations at India Habitat Centre on 27th & 28th of November 2018 with the specific objectives;
To provide a mutual learning and sharing platform to CSOs working on issues related to Sustainable Agriculture and Food Sovereignty.
Evolve strategies and actions to strengthen food sovereignty for marginalised communities in India
To create the foundation of an All India network on 'Sustainable Agriculture and Food Sovereignty"
Representatives and farmers friends from 52 civil societies and NGOs participated along with other dignitaries and share their experiences on the common important issues and role of CSOs/NGOs facilitation at various level through the concerted effort for the formation of a network.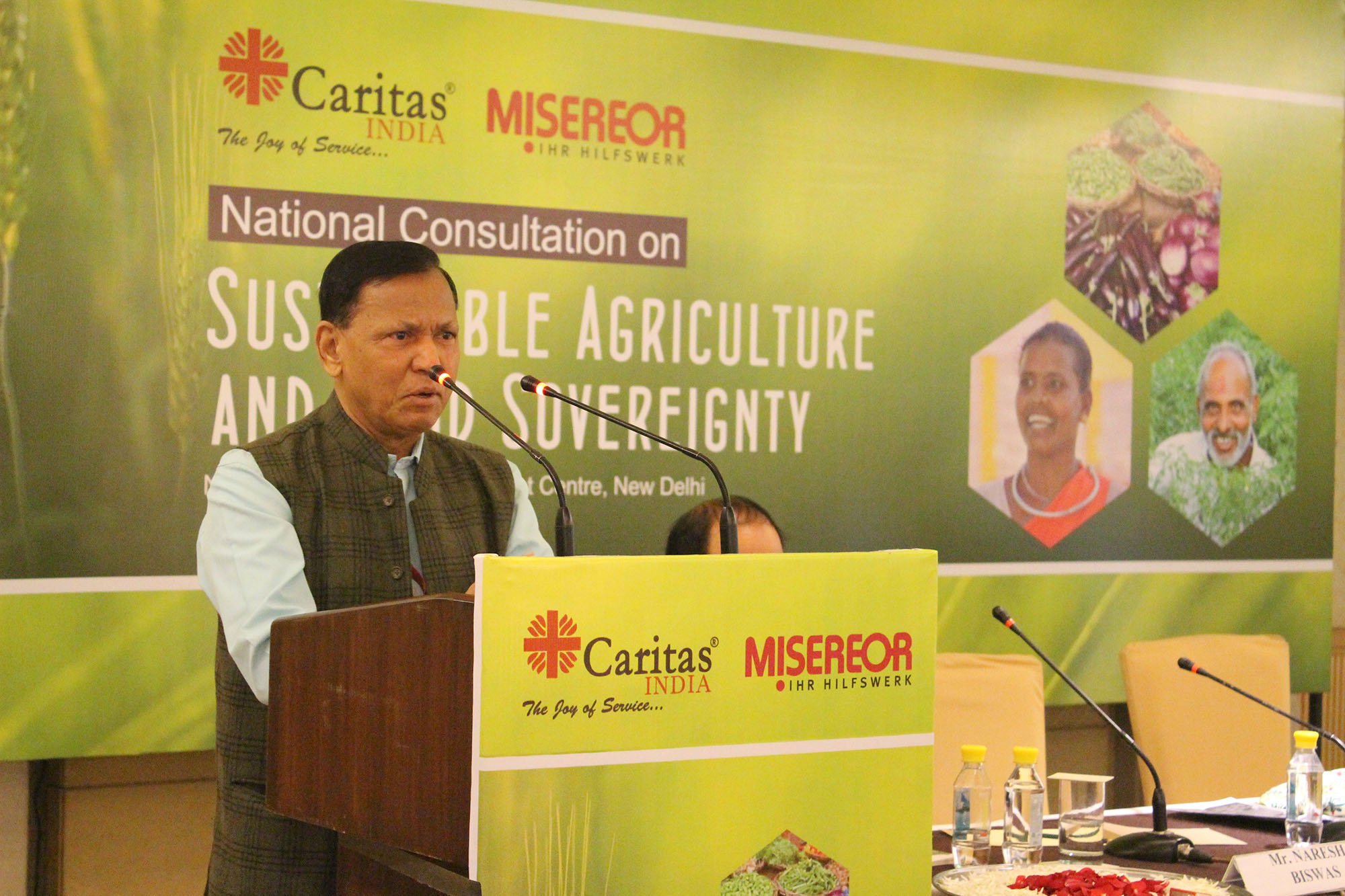 "It is important to bring back the integrity of agriculture by reviving traditional farming systems and conserving traditional seeds that will eventually lead to the agriculture sovereignty of smallholder farmers. Yes, time to be united for smallholders to raise voice on land security, equal rights, and gender equality to engage duty bearers for smallholder friendly policy change", Says Dr. T Haque, honorable Chief Guest for the occasion, who is a recognised agricultural economist, served as Director, CSD prior to which he was Chairperson, Commission for Agricultural Costs and Prices, Government of India.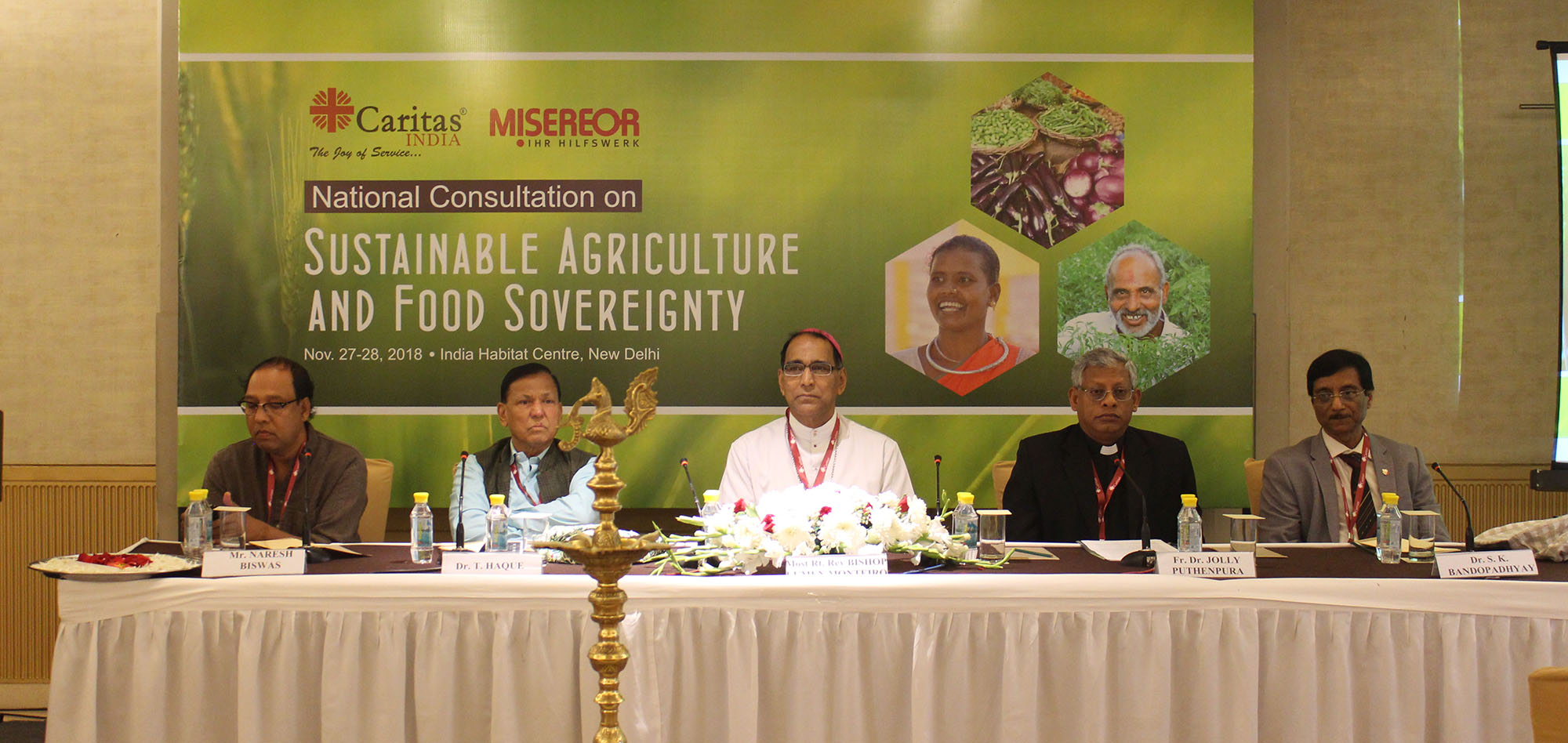 Most Rev Bishop Lumen, Chairman Caritas India, Fr. Dr. Jolly Puthenpura, Asst. Executive Director, Caritas India, Dr. S K Bandyopadhyay, Head, National Innovation for Climate Resilient Agriculture (NICRA), ICAR, New Delhi were among the dignitaries to encourage the smallholder farmers and civil societies.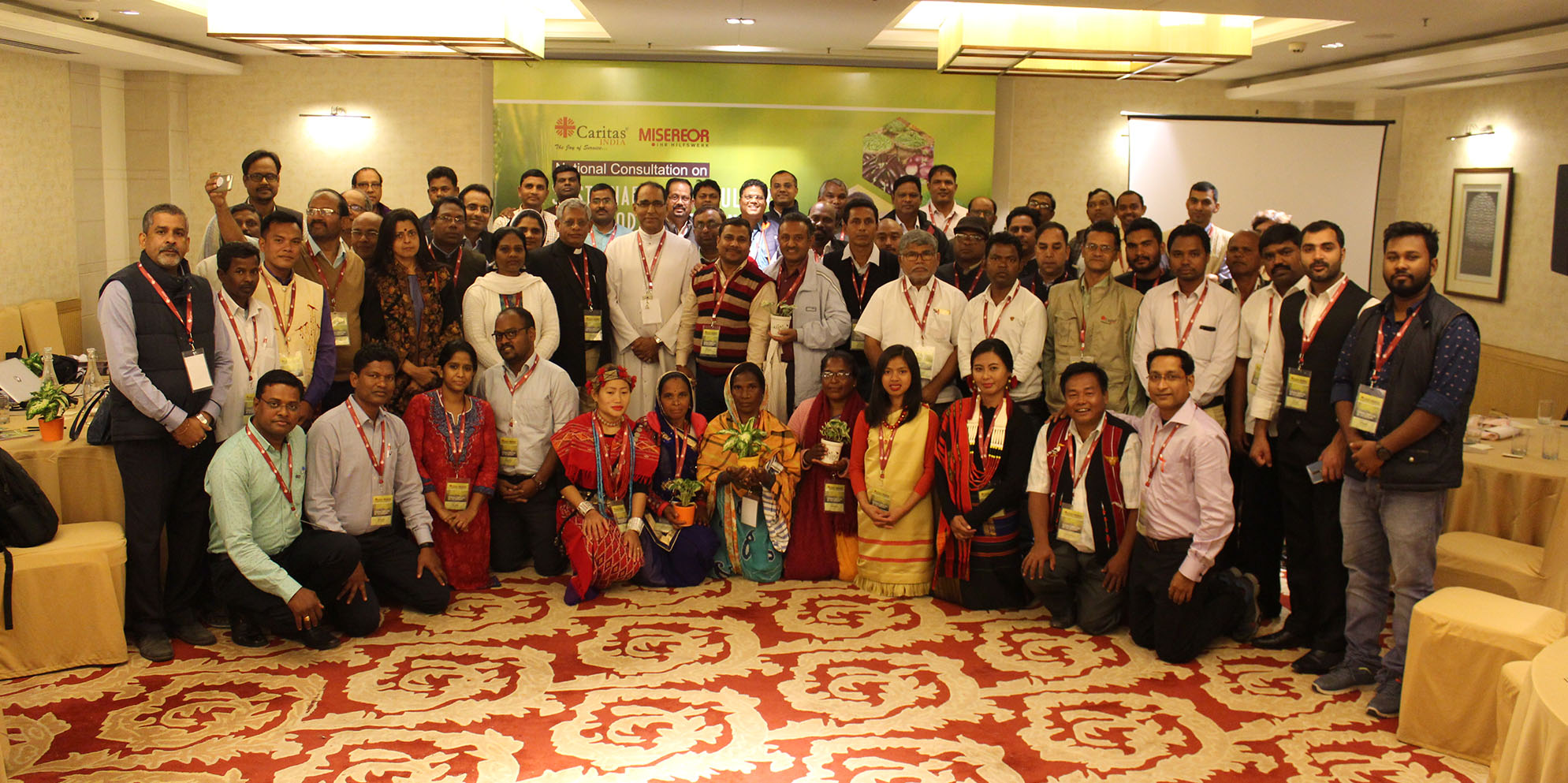 As a follow, up of the consultation it was proposed that presently we have three kinds of structures i.e., Farmers producer's organizations/federations, network of small holder farmers though very informal and network of like-minded organizations which mostly exist at district and to some extent state level. These networks need to be activated and hand holding support should be given by NGOs in the next one-year period. The process can be started with our CARITAS INDIA natural partners first and beyond that.  Our partners have good strength across the country which needs to be mapped. At the national level too, CARITAS INDIA can play a bigger role once these networks are strengthened and take up issues on smallholder farmers. A work plan would be developed by CARITAS INDIA and shared with all for better understanding and ensure implementation of the same through its regional base.