India economic survey 2018 says that agriculture employed 50% of the Indian workforce and contributed 17-18% to the country's GDP. With the production of agriculture activity of $375.61 billion, India is the 2nd largest producer of agriculture product and accounts for 7.39% of total global agricultural output.
Despite all the contributions, the smallholder farmers who constitute about 80 % of the country's farmers contribute 41% towards the national grain production. Unfortunately, despite this valuable contribution they fail to receive the desired value of their products and struggle for their survival.
Collectivization of producers, especially small and marginal farmers, into producer organisations has emerged as one of the most effective pathways to address the many challenges of agriculture but most importantly, improved access to investments, technological blending in line with small & marginal farmers, input provisions and markets.
The agricultural scenario in Gumla district of Jharkhand was flooded by several difficulties — fragmented land holdings, erratic rainfall, geographical remoteness, lack of knowledge about the latest technologies, recommended practices and monopoly of inputs traders. From sowing to produce & marketing, the issues that small and marginal farmers faced were many.
To address this, Farmers Producers Organization (FPO) Project was initiated in May 2018 with support from National Bank for Agriculture and Rural Development (NABARD) RO by Caritas India for promoting and nurturing 5 farmers Producers Organizations in Palkot block of District Gumla. This is a build on the program out of the Agrarian Prosperity Program (APP) experience (supported by SCIAF Scotland to Caritas India) to consolidate farmers alliances/groups (more than 800 farmers) into 5 FPOs initially and convert them into business models with necessary technical and handholding support. Key produces like Tamarind, Lac, Jackfruit, millets/local rice and vegetables which are produced/collected in good amount but fetch poor return in terms of benefit to farmers.
In coordination with NABARD, Caritas India ensured capacity building of Five CEOs where faculty from BIRD, NABARD helped them to learn on FPC management and Bookkeeping procedures followed by a training cum exposure visit of 25 Board of Directors (BoD) members to Jagdalpur, Chhattisgarh on tamarind, poultry (kadaknath rearing), millet & dal processing.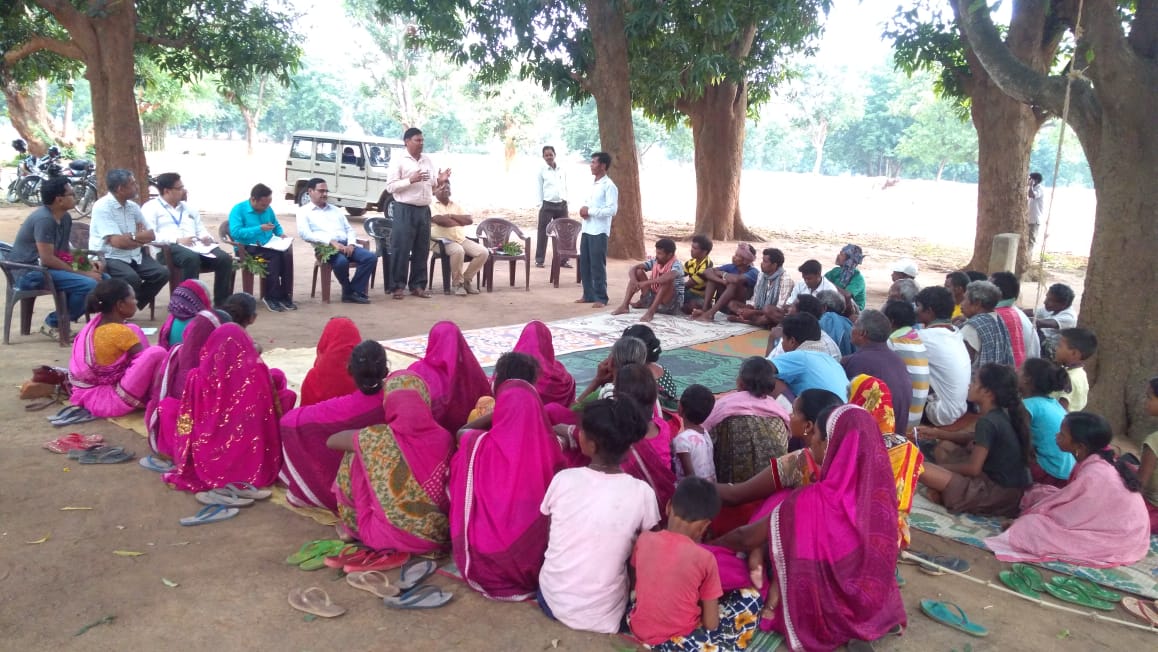 Mr. A. K. Padhi, the Chief General Manager (CGM), NABARD, Jharkhand along with other team members from NABARD and District officials Dr. B. Oran, Director Agriculture Training and Management Agency (ATMA) Gumla, Mr. S. K. Sai, Lead District Manager (LDM), Gumla made an assessment visit to Shristi Farmers Producers Company Ltd. at Orbenga Village. Shristi Farmers Producers Company Ltd. comprises of 152 members from Orbenga and Tapkara village of Gumla, Palkot block of Jharkhand. CEO, Prabal Kerketta shares, after getting into FPOs now we aggregate and sell in the market and get higher returns. They are also collecting 500 from every member as membership fee. The FPO is producing millet (Madua), Tamarind, Mahua and planning to process Jackfruit.
A total of 87 farmers including 26 women members along with community leaders of the two villages were present during the meeting. Farmers shared their progress, equity mobilised, and profit made through organized selling of key produces i.e. tamarind, millets, jackfruit, etc along with presenting their records.
The ATMA Director and LDM, Gumla shared possibilities of supporting the group through various input provisions, farm equipment, and other facilities which can be made available for value addition and realization of a better price in future. Presently, the group has made organized selling of Tamarind: 3700Kgs, Mahua: 1000Kgs and Jackfruit: 3500Kgs and made a profit of nearly INR 22000 on an average for each produce. Delegates were expressed their satisfaction towards overall progress made and informed about the potential to convert these FPOs into high-cost business models in the next phase with further guidance and support from NABARD.