Moringa (Drumstick tree) is rich in Vitamin C, Calcium, Protein, Vitamin A and Potassium. Caritas India Sabal programme is promoting moringa to fight malnutrition among Korku tribe of Khalwa and Melghat regions of Maharashtra and Madhya Pradesh.
Known for its poverty, hunger, malnutrition and mass exploitation, the community faces numerous socio-economic challenges in the day-to-day life. Sabal has been toiling hard to transform set age-old belief of the tribe regarding the various nutritional things gifted by the mother nature like moringa.
Sabal has been continuously campaigning during its village conscientization drives and breaking common myth associated with 'magic of moringa'. This tree is very much helpful in fighting malnutrition among the children, mothers and the adolescent girls. Every part of the plant is very useful and is highly rich in nutrients.
Every 100gm of Moringa leaves consist of 9 times more protein than curd, 7 times more vitamin C than oranges, 4 times more vitamin A than carrot, 15 times more potassium than the banana, 25 times more iron than spinach and 17 times more calcium than milk.
Sabal programme follows a religious custom during all its meetings to ensure that the mothers and children are taught about the value of moringa inclusion in their daily diet. Many women came forward to demand the saplings to be planted in their backyard.
Jeevan Vikas Sanstha (JVS) staff Hemant Alokar & Rupesh Ingle approached the Social Forestry department with the request to provide moringa saplings for the community. Somehow moringa is not in the interest list of the department to increase green cover under their initiative and the request was denied. The staff was not willing to purchase the saplings from private nursery to save expenses both on transportation and cost of saplings.
Mukund Deshmukh, Assistant Programme Manager of Sabal suggested developing nursery of moringa sapling in the village through the farmers. The concept was shared and discussions at the village level and one of the farmer collective "Jai Mutwa Baba" of Biba village readily accepted to grow the nursery under the leadership of Mangal, Nutrition Health Worker.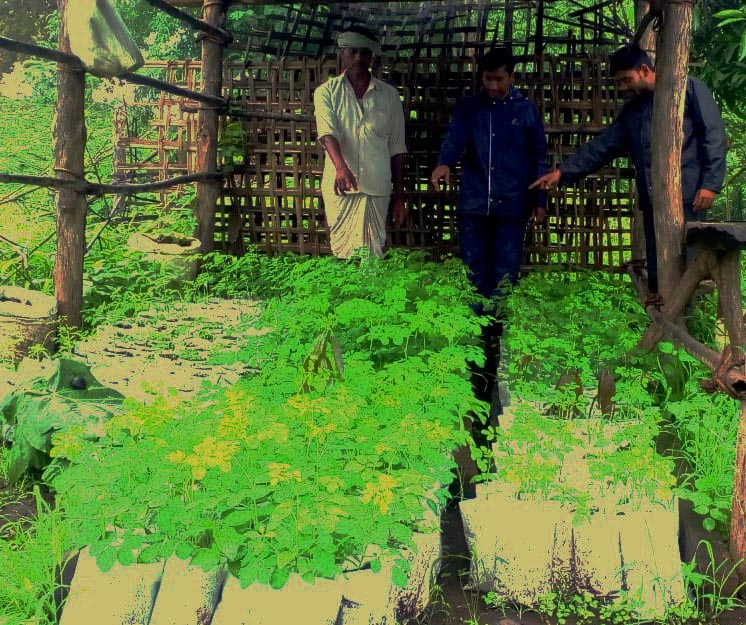 The nursery of 1200 saplings was developed in the field of Mungaji Lupu Betekar, one of the members of farmer collective which was nurtured and watered regularly by all the members. Mungaji also manured the saplings with the vermin compost which was prepared at the farm with the help of Sabal. Within 45 days of regular care; the saplings were ready for distribution to the community people.
"Humare gat ne shegav uga kar Sabal ko yogdan diya hai; mujhe bahut Khushi hai" (Our collective has contributed to Sabal by growing these moringa plants; I am extremely happy), says Mungaji.
This virtuous initiative helped Sabal to save approximately Rs. 31,600 (Euros 397) in both the sapling purchase and transportation to various villages.