Food sovereignty has remained the goal of FARM Northeast Phase II and with this endeavor, the programme has successfully worked towards bringing back millets to cultivation.
"We brought back millets and it feels good to see our indigenous food is back again", said Airilian Mukhim.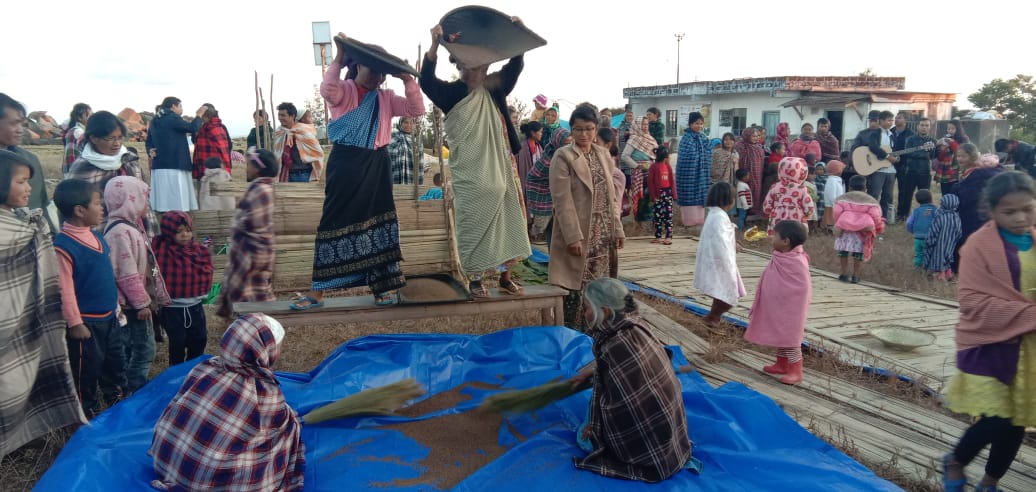 This piece of story dates back to March 2018 when farmers from the East Khasi Hills District of Meghalaya with motivation from Social Service Centre (SSC) started cultivating two varieties of millets that were long lost. SSC arranged the seeds with much difficulties from the farmer in some remote corner of the district. We tried to convince at least 22 Households (HHs) from two our project villages namely Mawpyrshong and Jongksha B to cultivate millet; It was difficult but finally the HHs obliged and carried out the cultivation in less than half an acre of land each said Ms. Aibimis, Coordinator. The cultivation was a not cake walk for at least 5 out of 22 farmers as their fields were damaged by grazing cattle and also rodents.
Meantime SSC kept on working on millets and went in doing the nutritional analysis for two varieties. With the help of these 22 HHs SSC tried and is still working on taking the millets beyond those two villages. SSC's hard work saw results pouring in with two more HHs following the suit in Jongksha B itself & one more in Jongksha C. Not only this 7 more HHs from a nearby non-project village also came forward and started the cultivation. Bringing back people to millet cultivate has been an uphill task for us as it has been pretty challenging to convince farmers to cultivate millets said Ms. Dakahipaia, Animator. During the cultivation season of 2018, SSC saw at least 32 farmers coming forward to cultivate millets. SSC is constantly working in association with the Zonal Office of Caritas India to continue the process of bringing back millets to more villages in East Khasi Hills.
During October 2018 all the HHs harvested millets for their fields. Though the yield was less yet it did not discourage them. Since my childhood, I can't recall when for the last time I saw millets for real said one of elated elder Bermen Songthiang from Jongksha B village.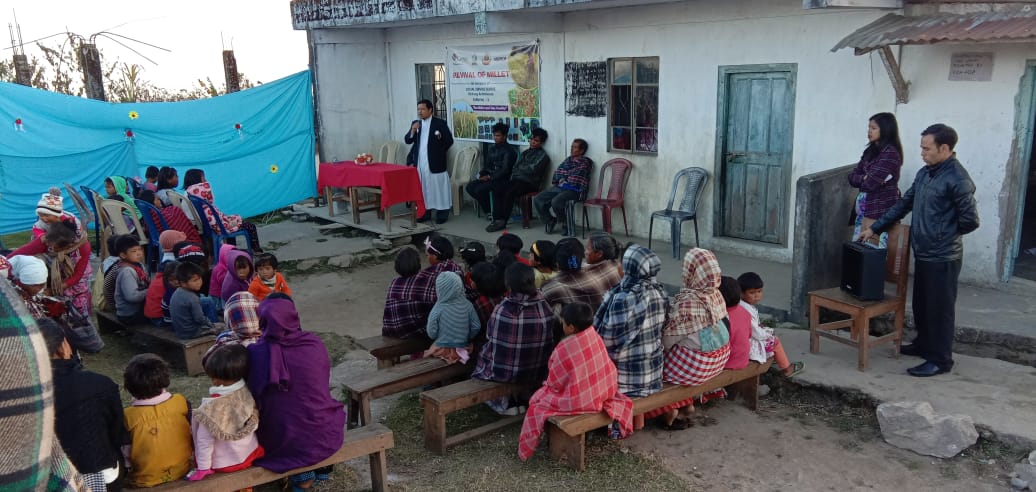 The real challenge was to provide a market platform for these millet growers as they were interested to sell their products. SSC made the way by providing them space in its monthly market during October 2018. For SSC it was important to introduce millet in the urban area and they selected the capital city of Shillong for the purpose. To add up more, SSC made value additions to millets by converting it to cakes. "It was a challenge for my organization to bring forward millet to Shillong for selling but I decided to give it a go and it feels so good to see that millets and its products have found a good market in Shillong", says Fr. Bernard Laloo, Director SSC.
SSC strongly believes that the movement will continue and another 20 more HHs would join the millet cultivation in the coming season. Food sovereignty has not been a major issue in North East India as a whole as farmers in the region are mostly cultivating indigenous seeds but Assam and a few others face the threat of seed sovereignty as indigenous seeds are fast depleting making way for expensive GM seeds. We need to look at the core issue of seed sovereignty of the region and this case has been a step towards attaining our goals.