Radha Devi, a farmer by profession lives with her family at Araha village of Supaul District in Bihar. Supaul is India's most flood-prone area where 76 percent of the population constantly lives under the recurring threat of flood. River Kosi, "the sorrow of Bihar" continues to bring a lot of misery through extensive flooding almost every year.
Like other farmers, Radha's family and livelihood depend on agriculture from the small cultivable land. The village falls under Kosi Planes which often get flooded by river Kosi that continues to bring a lot of misery through extensive flooding almost every year. Damage of crops and scarcity of edibles as well malnourishment cases are a regular pattern of the village. Most of the farmers only get one crop (Rabi) to feed their family as well sell the produce if available.
Resilient livelihood communities in koshi/Bihar Project is supported by Caritas India to integrate Eco-system restoration for the conservation of natural resources and combine DRR with ecosystem-based livelihoods of the community to achieve sustainability.
Long-term livelihood strengthening in Disaster Risk Reduction is a part of the pre-disaster mitigation strategy which is integrated into development work. Under the program, vegetable seeds were distributed to the farmers to promote practices of vegetable cultivation as a cash crop to increase the family income and better means of livelihood.
Radha and her husband rigorously worked in their field to get the fruit for their labor and pains. Time to time, program animators used to motivate Radha Devi and family with new ideas. They were specially asked to cultivate of Cauli Flower due to its higher market price.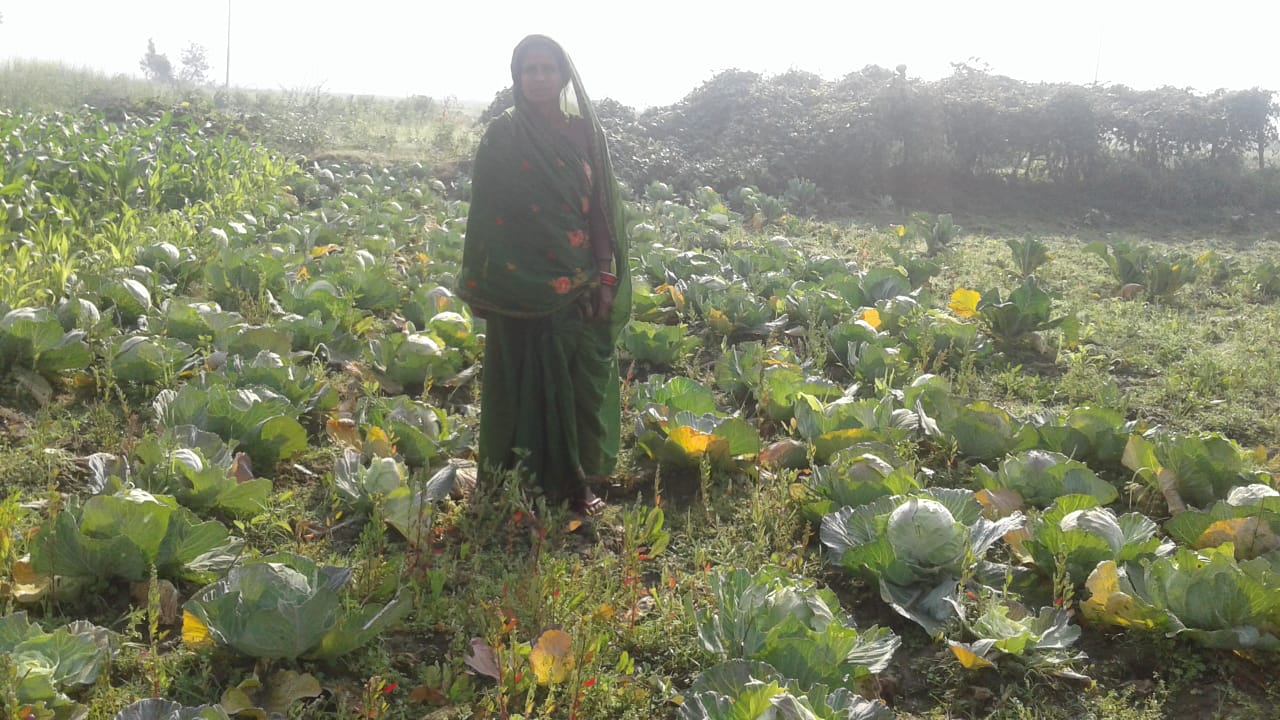 Radha Devi started to grow cauliflowers and sell it in local Mandi (local market) In a good way. Even sometimes sells the produce at the farm gate to local traders at a good price. The programme animators suggested her for organic farming and the good price of organic produces. He also told her about the dangers of chemical-based pesticides and fertilizers. Radha Devi worked as per suggestion and fetch a good price of the production. Last season, she earned more than Rs. 6000 By one crop of cauliflowers. Also, she is expecting Rs. 3000  For from next lot of cauliflowers under cultivation.
In recent years, poverty, sustainable development, vulnerability, social protection, and livelihood has coincided under the Disaster Risk Reduction arena. The vulnerability of the community can be reduced by strengthening the Resilient livelihood of the community.
Now Radha Devi Says, "Hamari Jindagi me bahut Badlav Aaya Hai", A significant change came in our life.  Radha Devi and her husband are looking for other practices of vegetable cultivation which are better rates in markets in next season.