The Catholic Church in India organised 'Lenten Campaign – 2019' as the campaign against hunger and disease with the theme ' Nutrition our Right – Unite for Healthy India'. The core objective of this campaign was to sensitise communities on poverty, hunger and malnutrition of the underprivileged and nurture the innate compassion of human beings to care for others.
The pastoral letter sent by Most.Rev.Lumen Monteiro, Chairman of Caritas India to the Church hierarchies gained significance in sensitizing the Lay Faithful about the plight of the poor of our country and encouraging them to make their voluntary solidarity contributions towards Caritas India's Lenten Campaign. It also contributed in the promotion of volunteers for the social cause and mobilizing enhanced local resources through innovative ways.
In Tamil Nadu, during the Lenten period, different dioceses had planned various set of activities to reach and influence the public so as to change their attitude and behavior towards issues concerning nutrition. Caritas India Manager, Dr.John Arokiaraj and TASOSS Directors Fr.Albert Thambidurai and Fr.Arockiasamy along with core team had periodical planning and follow up meetings so as to finalise and keep track of the activities at State level with the support of Diocesan Social Service Societies. But for the tireless efforts of the volunteers team the campaign would not have achieved the intended mission. Tens of thousands of people have shown their solidarity to the campaign in their own unique ways.
During the State Level Launch on 26/03/2019, a signature campaign was launched at Chennai by Most.Rev.George Antonysamy, the Archbishop of Madras -Mylapore.  Similar campaign was held at Trichy St.Mary's Cathedral on 12/04/2019. Mr.Ravi and Mr.Stephen members of TASOSS team were unanimous in saying that they never expected such a big response from the enthusiastic lay faithful. Before signing, the public were explained about the intended purpose and pamphlets were distributed to them. "As a proof of my identity and intent, I have signed on the banner. It is more than just a signature; it is my commitment to do something for the cause and I share my feelings with those who are suffering from malnutrition" said Mr.Joseph, an elderly person who was very much concerned about the issue.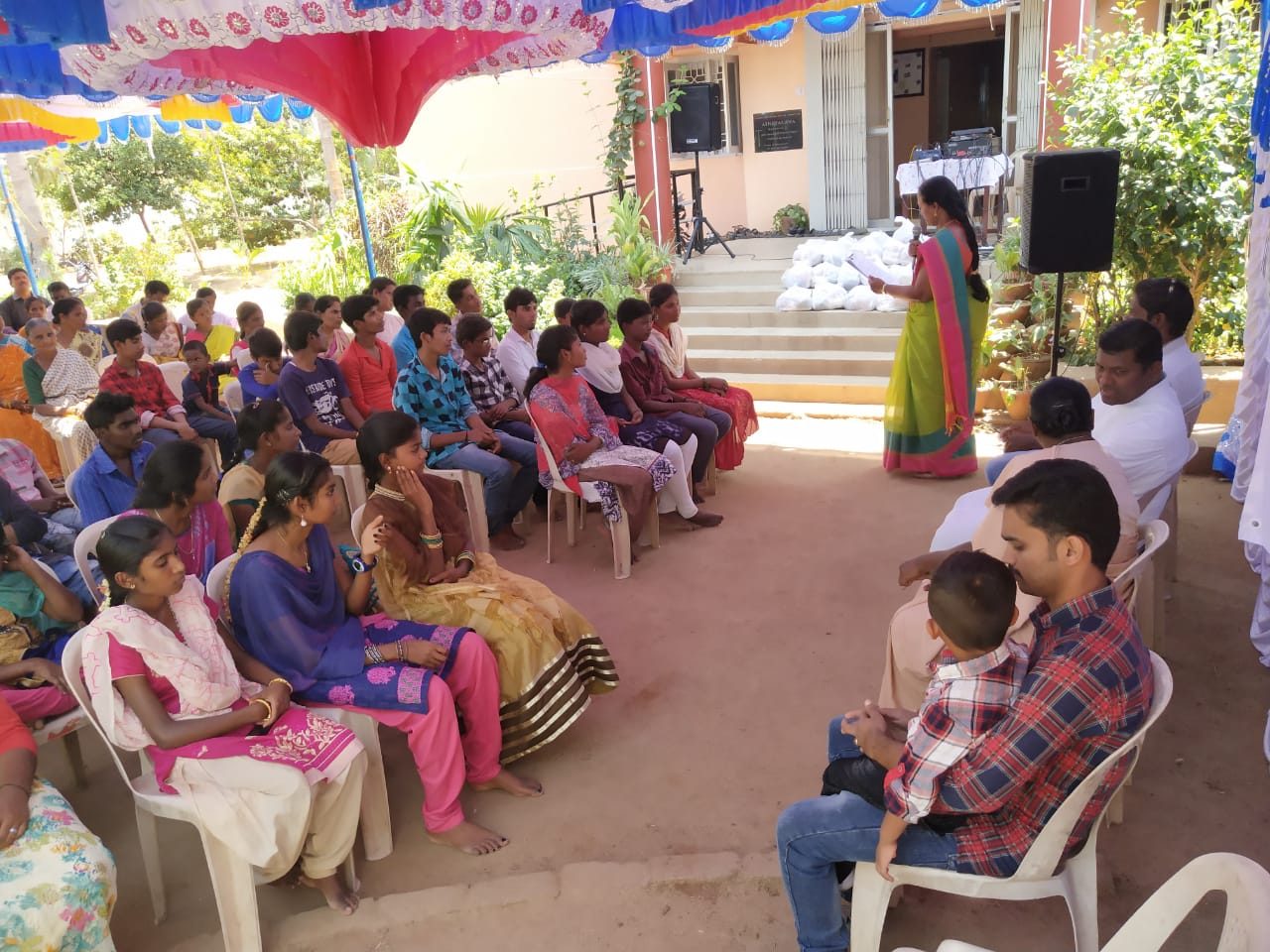 As part of Lenten campaign awareness creation among communities, under  Nutrition Assistance Programme, on 31/03/2019, Dharmapuri Social Service Society distributed  Nutrition Kit benefiting 30 HIV +ve families that consisted of 82 persons including 52 children.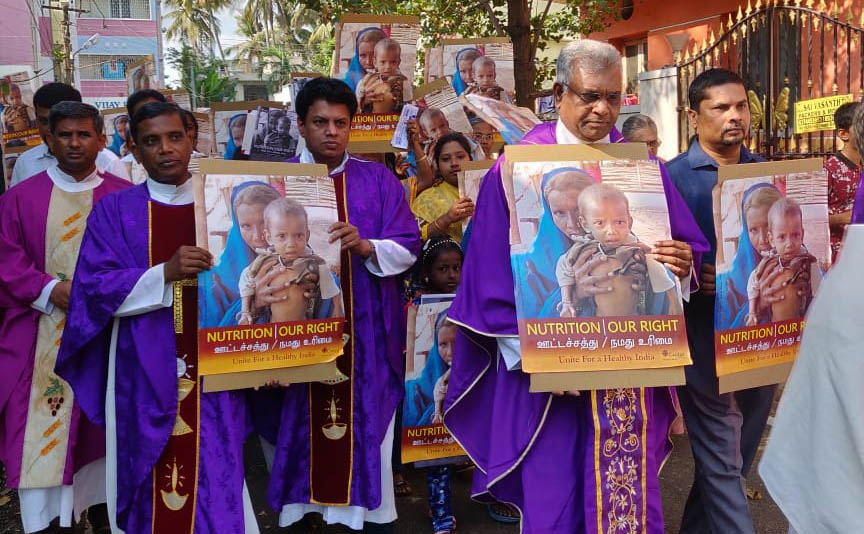 Most.Rev.Neethinathan, Bishop of Chengalpattu who led the Lenten rally at Selayur, Kancheepuram district on 07/04/2019 said that it is the fundamental right to get proper food and nutrition and the plight of those suffering hunger and malnutrition is often caused by indifference and selfishness. Caste stratified society where discrimination and dehumanisation based on descent and occupation practiced in India clearly depicts inequalities. As human beings, we must make ourselves responsible for the wellbeing of our fellow human beings. " Raise above caste and political constructs,"  the Bishop said.
On 19/04/2019, at St.Sebastian's Church Madhavaram, Lenten blood donation was solely managed by volunteers under the guidance of Fr.Simon and with the support of Madras Social Service Society, Caritas  Chennai Office and Lions Club. 87 volunteers donated their blood.
As Fr.Paul Moonjely, Executive Director of Caritas India very often quotes " The goal of achieving a hunger-free world is indeed an enormous but not an impossible one". A multidimensional approach is needed to address the issue of poverty-related hunger and malnutrition. Malnutrition is the cumulative effect of factors like poverty, inadequate access to food, illiteracy, the large size of families, poor environmental sanitation, lack of basic minimal health care, lack of personal hygiene, lack of easy access to adequate safe drinking water and lack of awareness. The manifestations of malnutrition could be seen in the prevalence of specific nutrient-deficiency disorders
Hence Caritas India facilitated cluster programmes implemented in Tamil Nadu are designed in such a way that the common issues are collectively addressed through a cluster approach. The Northern cluster (Udhayam) approaches the issue of malnutrition by addressing discriminatory practices through an inclusive rights-based approach giving a preferential option for the poor and vulnerable. The Central cluster (Thulir) through the protection of land and water tries to increase the employability and subsequent purchasing capacity and promote cultivation and consumption of traditional food crops. The Southern cluster through " Health and Wellbeing"  programme aims at a long term intervention for the promotion of holistic development of people more specifically the vulnerable by eliciting their subjective participation in governance processes. In this Lenten Campaign, all the partner organisations of Caritas India converge for one cause ' Nutrition our Right – Unite for Healthy India'.