With nearly one lakh people diagnosed with Cancer every year in Kerala, Caritas India is very serious to replicate its Ashakiranam cancer care campaign in all the dioceses.
Kids in Action is the new initiative by KAIROS, the official Social work organization of Kannur Diocese with CARITAS India in her Campaign against Cancer, Ashakiranam.
On April 22, 2018, at Poovam, Thalipparamba, Kerala, KAIROS launched this initiative where Kids unanimously joined to fight against cancer and create a healthy future. It is the new Ashakiranam Concept specifically developed for Cancer prevention with the support of kids/students in the Diocese as Ashakiranam interventions are completing 1 year in Kannur Diocese.
Around 50 kids registered themselves as Ashakiranam Volunteers for Caritas India. It is also a new phase of Volunteerism among the kids where minors of the society (Kids) are taking up major roles in destroying the killer disease. These kids are instrumental in various initiatives to build a greater wall against Cancer.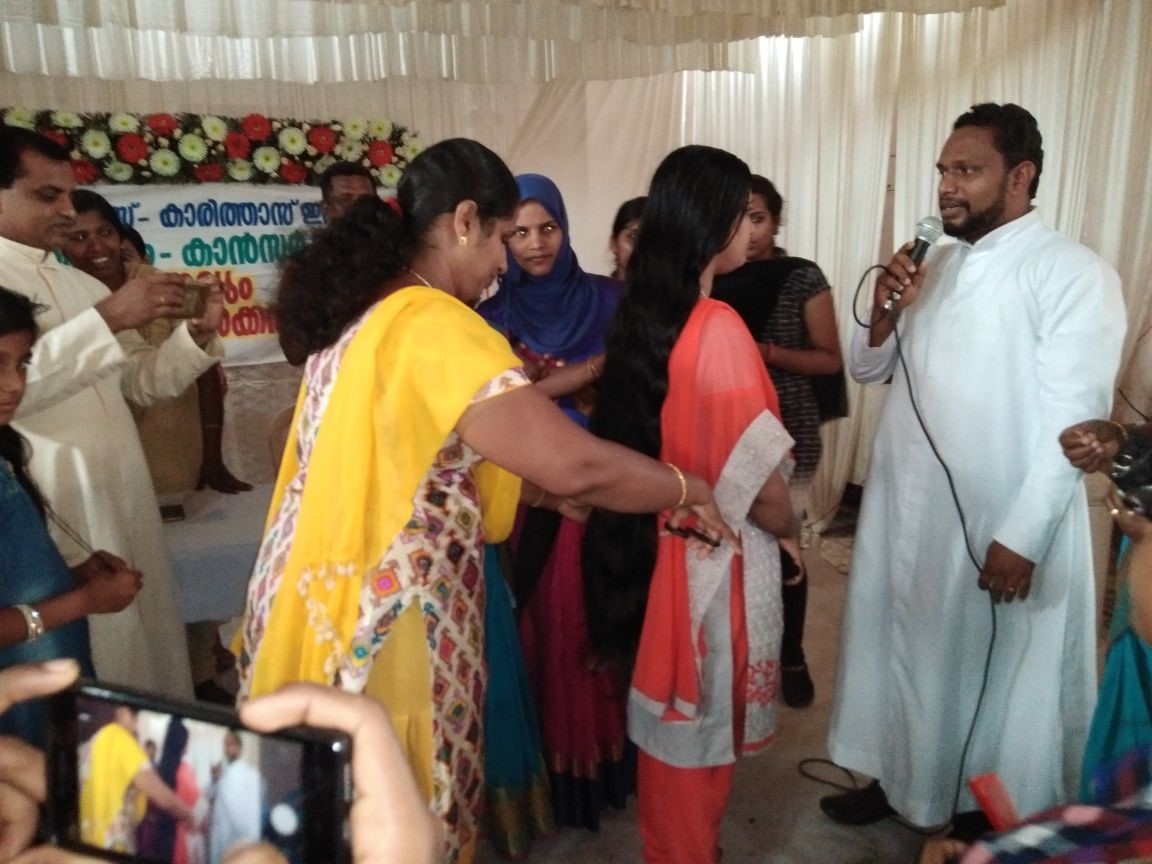 "Kids/Students are the vital as they are the catalyst of change in the Society", said Mr. Manimoonath Panchayath President of Chapparapadavu in his inaugural address. Mrs. Sheeja, Block Panchayath President, Thaliparamba inaugurated the Hair donation program where 15 Women Volunteers donated their Hair for poor Cancer patients. Cancer awareness pledge and Kids motivation session was taken by Rev. Fr. Baiju, the Parish Priest. Action Plan for KAIROS KIDS IN ACTION was released by Rev. Fr. Shaiju Peter, Director, KAIROS amidst 200 people participants.
Kairos Kids In Action functions at the parish level Catechism Units. The entire Catechism students in a parish will be divided into 2 groups for Ashakiranam activities. Every Catechism Units will be headed by a teacher in charge for parish level Kids In Action activities. Both groups in the Catechism unit will have student leaders and group teachers in charge to animate the activities. These Kids Volunteers will enact Ashakiranam Cancer prevention activities on monthly basis in accordance with the action plan formulated for Kairos Kids In Action.