Interstate One-day Consultation on "Tribal Livelihood and Challenges" was organized in Raipur (CG). It was hosted at Xavier Institute if Social Action( XISA). The Chief guest for this program was HE. Most Rev. Henry Thakur, Archbishop of Raipur, who gave the inaugural address. The keynote address was from the Joint Mission Director Mr Vinay Prakash Tirkey. For the inaugural session, other guests were Fr Kalyanus Minj SJ, Jesuits Provincial MP Province. Repsentating Caritas India at the Dias was Asst. Executive Director Fr Jolly.
The deliberations for the one -interstate consultation was divided into three sessions apart from the inaugural session. All sessions had a very strong message that carried for enhancing the livelihood of the tribal communities. From the context of Tribal Livelihood and Challenges, it revolved around the Governance issues in the tribal areas and role of forest resources and forest in agricultural pursuits of the tribal communities. Skilling of tribal youth was also brought out by the government official in his address.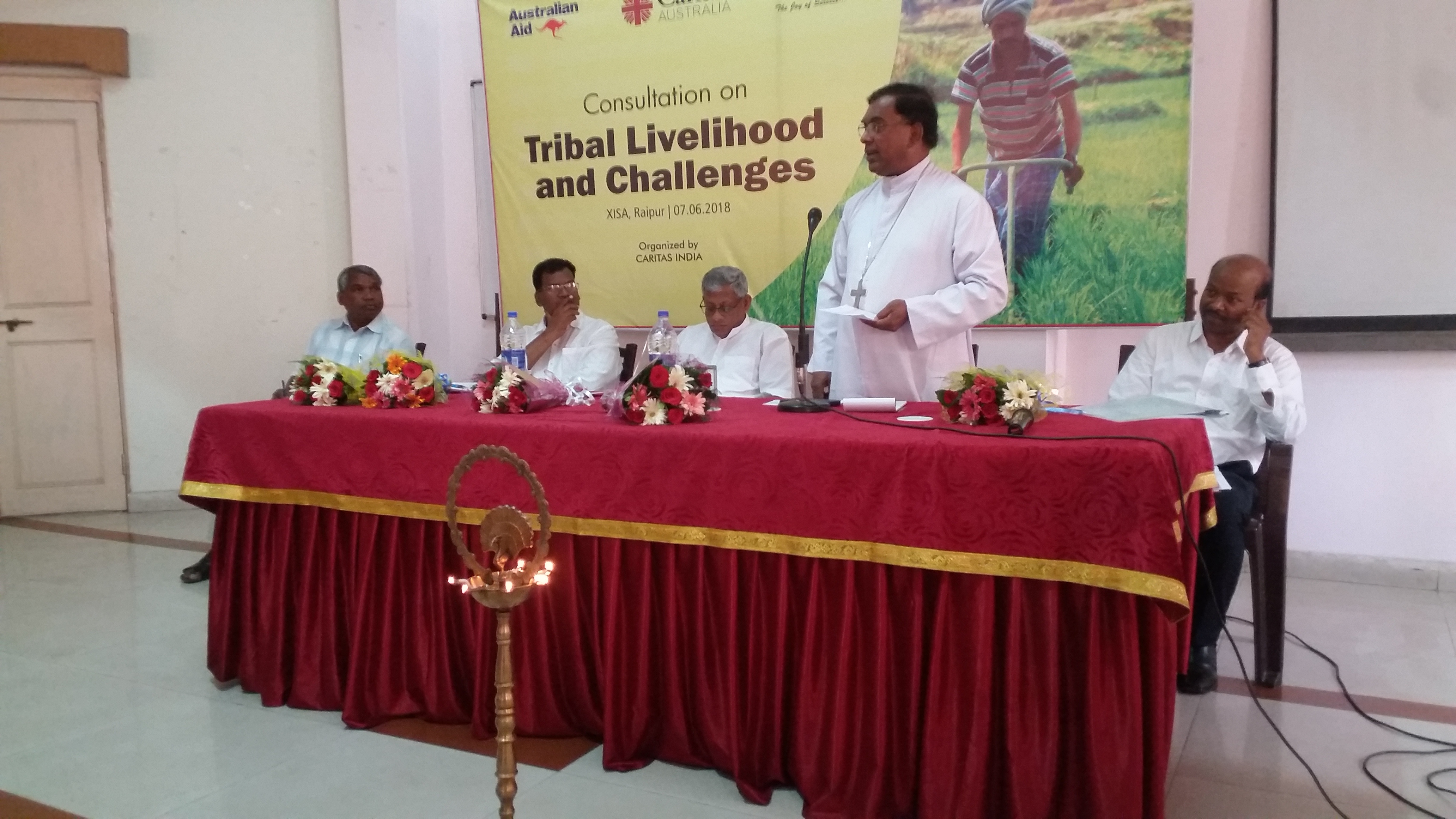 Specifying the Context of the tribal livelihood it was emphasized that the Tribals depend for their livelihood on their surrounding natural resources, the main source of livelihood of Tribals is Agriculture, Minor Forest Produce (Sal, Mahua, Amla, Harra, Behera, Char, Imli Tendu leaves, Mehul leave, Honey, forest roots, fruits, leaves and vegetables etc), Fishing, and Hunting. Earlier Tribals never used to bother about their livelihood security because during the season they use to cultivate multiple grains and store it for odd season and since most of the Tribals population habitats was in forest or within the vicinity of forest, they mostly depended on forest for their livelihood. Unfortunately, wherever Tribal population habitations are there-there are abundance of mineral resources, which eyed by the government and corporations of industrial mining to boost the economic growth of the country. In the process of Industrial development Tribals communities have been displaced and dispossessed of their habitation and livelihood bases. Scheme and policies that have been formulated for tribal development and empowerment are very strong on recommendation, however, weak on implementations and therefore still the tribals livelihood issues draw our attention specially of the Civil society.  Some of the Schemes have benefitted tribal communities where others have negatively impacted specially from the point of pursuance of livelihood endeavor.  Such as Food grain schemes – that has made them insignificant to produce food grains and diverse grains which was the part of their food basket and nutritional intake.
Tribals are agriculture practitioners but most of them have small land holdings for agriculture, when access to forest was limited their livelihood was badly affected, their asset formation is very much limited and confined. Tribals do not want to leave their community, they like to be united with jal jangal and jameen in their own area. But the entry of outsiders in through Industrial projects has disturbed their ecosystems, culture, ethnic and religious practice. It has forced them to move-out from the place. These have become the causes for loss of their livelihood. State government and central government are taking various steps for facilitating sustainable livelihood for Tribal communities in various sectors focusing on vocational training, formal technical education and upskill development initiatives for Tribal youths. As told by Mr. Vinay Kumar Tirkey (Joint mission director SRLM), Deen Dayal Upadhaya (DDU) Skill Development Scheme is one of the biggest schemes in Chhattisgarh in the area of skilling people. Under this the age group between 18 to 65 years of youth and people are given opportunity for different types of skill development training for 3 to 12 month. And after training 70% placement is ensured. At present 80,000 people are being trained. But one needs to see it how effective these schemes are, because the Tribal population are in remote areas and many officers responsible for implementing the scheme are unable to reach out. Further agencies associated for training and delivering services in these areas tend to exploit the Tribals by promising better jobs in cities and other states- which eventually does not yield as tribal communities are not willing to migrate to unknown places and work for longer durations. Even if they migrate initially after couple of months of work they tend to go back to their villages and never return to work. Hence there is critical need for review of such programs and need for educating tribal communities as well service support needs to be modified to suit to their needs to some extent.
Overall the Interstate consultation on Tribal Livelihood and  has thrown significant clarity on issues through deliberations provided by the resource persons and they have emphasized the need that there is ample scope for intervention. May of the speakers also brought out that the strong attachment of Tribals towards their Jal, Jangal, Jameen has started to fade due to various attempts by the Government policy implementation of schemes to improve tribal livelihoods. IN In the real sense the tribal habitation and new development paradigm introduced and propagated by the Government needs to be made conducive to the needs of the people or else the existence of tribal identity, their customs, cultures and languages will be on the verge of gradual decline. It is need of the hour for the CSO and the Government interventions to review and reinitiate process of participatory development of the tribal community that ensures their traditions and culture intact and at the same time their livelihood issues are resolved to enable they life with dignity where the association is maintained towards Jal, Jangal and Jemeen.
The Resource persons represented few of the leading CSO, Government representative, and Development agencies working with the tribal communities in Chhattisgarh like Oxfam, NABARD, Samarthan, CART, SAMRTH and Member of state planning commission.