A team of Inter Faith delegation comprising Global Interfaith WASH alliance, Interfaith Humanitarian Network, Brahmakumaris, Islamic Relief, World Vision and Caritas India travelled to Assam to review the flood response and express solidarity with the affected communities. The delegation was led by former founder member of NDMA, GoI and present consultant of Caritas India for DRR, Prof. Vinod Chandra Menon.
The visit was aimed not only to review the current flood situation but also plan joint intervention in future. It helped in strengthening the IAG Assam in its coordination effort for flood responses in Assam along with strengthening of civil society organisations relationship with Assam State Disaster Management Authority (ASDMA).
It was for the first time that under the initiative of Caritas India such delegation from different faith based organisations came together to review the flood situation. The delegation had a combined meeting with Inter Agency Group (IAG) Assam with 23 members from different organization to get informed about their relief activities in Assam.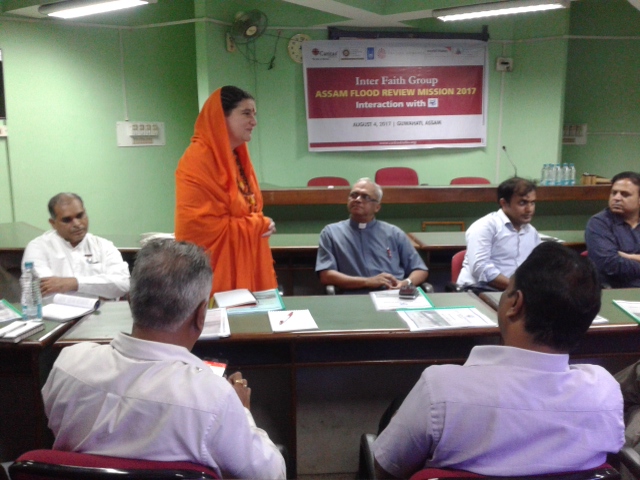 "The purpose of our visit is to Assam is to review the current flood situation in Assam through interaction with IAG members, govt organizations and community people and to strengthen the IAG Assam in the long run in its coordination mechanism and its relationship with government", shared Fr. Frederick D'Souza, Executive Director of Caritas India with the IAG members during the three days visit from August 4-6, 2017.
"Among the NGOs in Assam Caritas India was the first to respond in Assam with its hygiene kits in 12 villages of Nowaboicha block of Lakhimpur district", shared IAG Coordinator, Mr. David Kujur during the interaction meeting.  Every NGO representatives shared their flood response activities, detailing their geographical area of operation, household reached out and sectors addressed. The purpose of IAG and its usefulness in reducing duplication of responses in terms of area and sector was shared with the delegation.
The interfaith delegation met the Chief Secretary, Government of Assam Mr. Vinod Kumar Pipersenia and the Commissioner and Secretary, Revenue, Government of Assam Mr. Rajesh Prasad who is also holding a charge of the CEO, ASDMA. The two-hour meeting at Assam Secretariat gave overall understanding of Assam flood situation from the perspective of Govt. and it gave mileage for the team and Caritas India for future collaboration with ASDMA.  The team visited same day Caritas India team visited Bharaltup village in Morigaon district to interact with the flood affected community.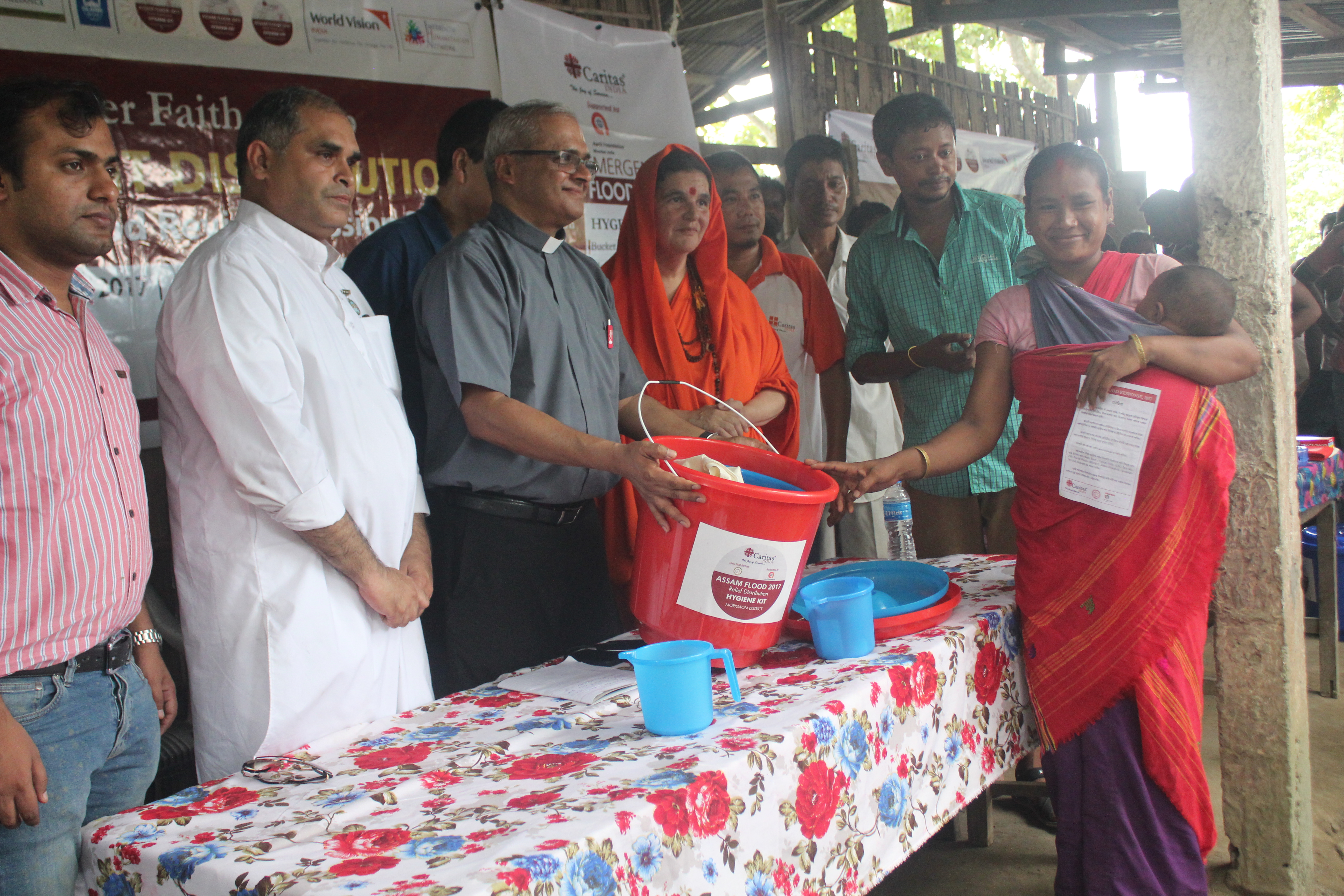 The delegations on August 6, 2017 visited Sukatiputa village, Morigaon district to review the flood situation and witness the relief distribution by Caritas India. The team interacted with the affected community and took stock of the flood impact situation. The interfaith groups appreciated Caritas India for its effort in reaching out to the flood affected people in the remotest villages of Morigaon district.