Today's world population is experiencing frequent disasters than before caused by both natural and man-made hazards. Such condition has resulted in widespread human, material and environmental losses causing destabilization and disruption of society. Gains of development in countries of Asia, Africa, and Latin America is facing a serious challenge towards establishing sustained progress due to the failure of reducing risks from hazards.  Consciously recognizing the link between disaster and development is now crucial.
"Community Managed Disaster Risk Reduction (CMDRR)' is now being recognized as an important approach to bridging disaster and development. CMDRR refers to a process of disaster risk reduction in which the community is actively engaged in the identification, analysis, treatment, monitoring and evaluation of disaster risks in order to reduce disaster risk and enhance their capacities to overcome difficulties brought about by hazards. This means that the people are at the heart of decision making and implementation of disaster risk reduction activities. Over the last two decades, the discourse and texts of disaster response have made its gradual shift from 'relief and rehabilitation' to disaster risk reduction with a central focus to community participation in the processes. There has been a growing realization that the top-down approaches to disaster management are inadequate to address the local needs of vulnerable communities, harness potential of local understandings, resources, and capacities towards establishing a sustainable process. While the Community Managed Disaster Risk Reduction paradigm emphasizes the role each member of the community is crucial to the success of any DRR initiatives thus, the community's central role in program implementation and management is important, it also underscores the importance of the 'facilitating role' of development practitioners. The current lack of capacity among development workers to effectively assume this role constrains the application of people-centered development.
Responding to the growing needs of learning and capacity building opportunities on the CMDRR approach to disaster risk reduction a 3-day training programme was organized for Caritas India and IGSSS national/ regional/ state level staff to adapt to this approach in their respective programs.
 The training aimed at the following two objectives:
To develop a growing common understanding of philosophy, principles and practices/ processes of Inclusive Community-managed disaster risk reduction (CMDRR) -working framework.
To develop confidence collectively through mapping out what needs to be done at the Community level (integrating DRR) and at the Community level (project with the community) to shepherd the process of DRR with the end view that community will manage disaster risk reduction initiatives (Action Plan).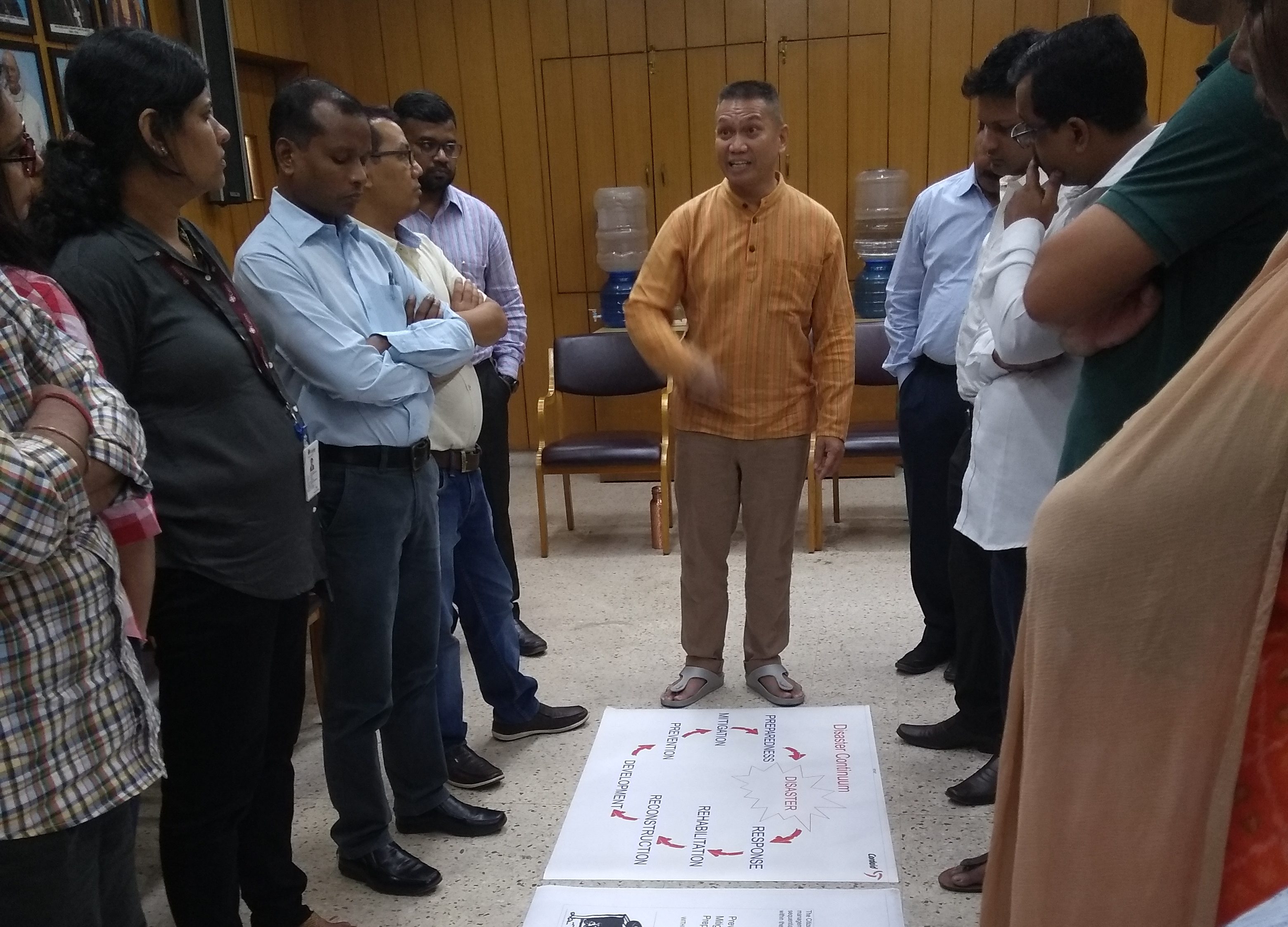 Mr. Rusty Binas from the Philippines was the facilitator for the training who guided the participants throughout the module on various aspects of DRR – such as definitions of common terminologies used like hazard, capacity, vulnerability, risk, etc. Also, various elements of hazard assessment, risk assessment, etc. were unpacked for improved conceptual understanding of the participants. The training ended with the development of the action plan and subsequent follow-up plan.