Information, Education, and Communication (IEC) play a vital role in behavior change communication of development work, as it determines the level of awareness building and sustained behavior change.
It is a journey which starts from shifting in knowledge, then attitude and ultimately change in behavior. Field coordinators and community mobilizers of Swaraksha, Anti Human Trafficking programme came together to learn and discuss the behavior change communication through IEC materials in Lucknow from April 5-6, 2018 in a training organized by Caritas India.
The programme with the support from Scottish Catholic International Aid Fund (SCIAF) is operational at the Indo-Nepal Cross Borders through Purvanchal Gramin Seva Samiti (PGSS), Gorakhpur, Diocesan Social Work Society, Lucknow (DSWS) and Developmental Association for Human Advancement (DEHAT) Bahraich. It focuses its activities based on prevention, protection, prosecution and partnership at 25 bordering villages in Maharajganj, Behariach, Gorakhpur Districts and 5 slums of Lucknow.
New Concept team Rajiv Dhyani, K.K. Singh, and Sanjay Tiwari engaged all the participants during the two-day session to enhance their understanding of communication and process of developing visual communication materials.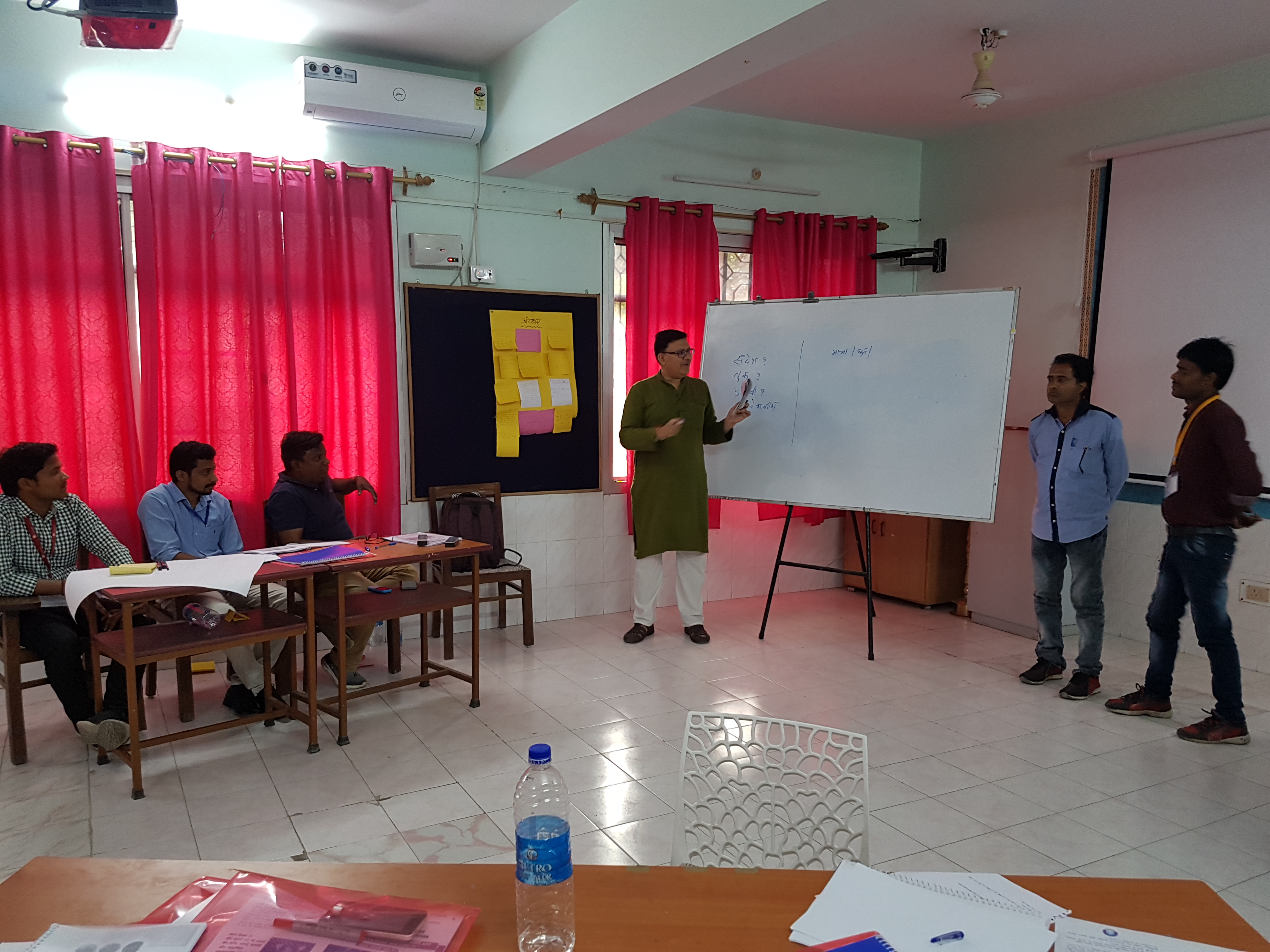 "Concept of Information, Education, and Communication has gone through transformative change over the years", shared Rajiv. Initially, IEC had one-sided and centralized communication approach which could not serve the purpose. The approach was shifted to Behaviour Change Communication with focus on changing people's behaviors through interpersonal communication and decentralized structure. In the Social Behavioural Change Communication, social factors affecting the behavior was targeted by removing barriers and taking favorable and conducive environment to change the scenario.
He shared that behavioral change is possible if efforts are done at individual, interpersonal level, Community level, institutional and policy level.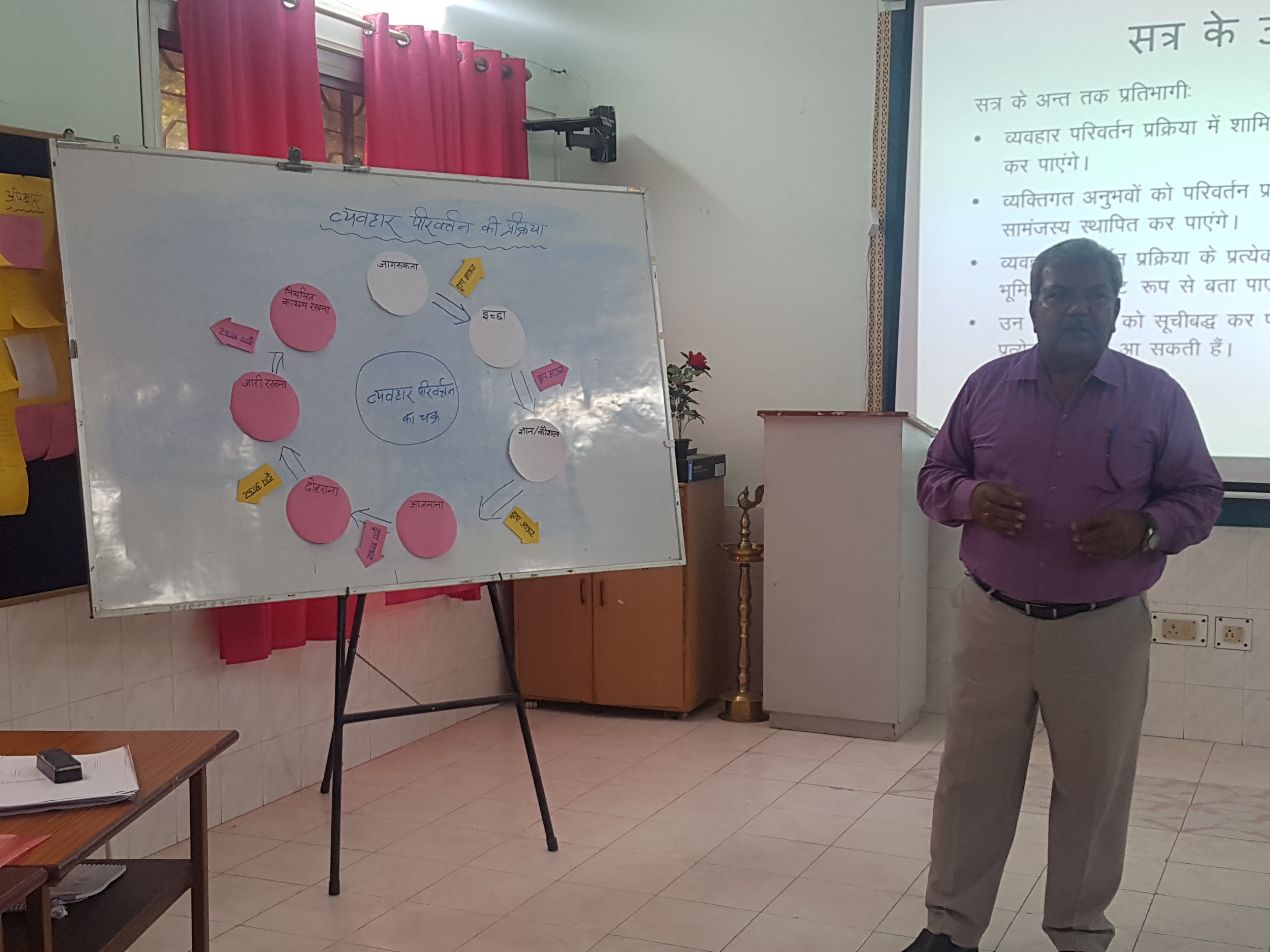 Through a group exercise, K.K. Singh explained that image is more powerful than 1000 words, but the interpretation of the visual is different for different people. Therefore, as a communicator, it is imperative to encourage two-way communication to understand the other perspective. He also explained the importance of open-ended and close-ended questions along with Behaviour Change process.
Concepts of communication, interpersonal skills of communicators, behavior change process, types of communication, its process and development of communication materials were explained through interactive, individual and group activities.
Participants were encouraged to develop some communication materials keeping in mind the project objective and outcomes. The major thrust was given on developing concrete project posters, slogans, local songs, pamphlets and skit which can help in spreading awareness on prevention and protection aspects of human trafficking.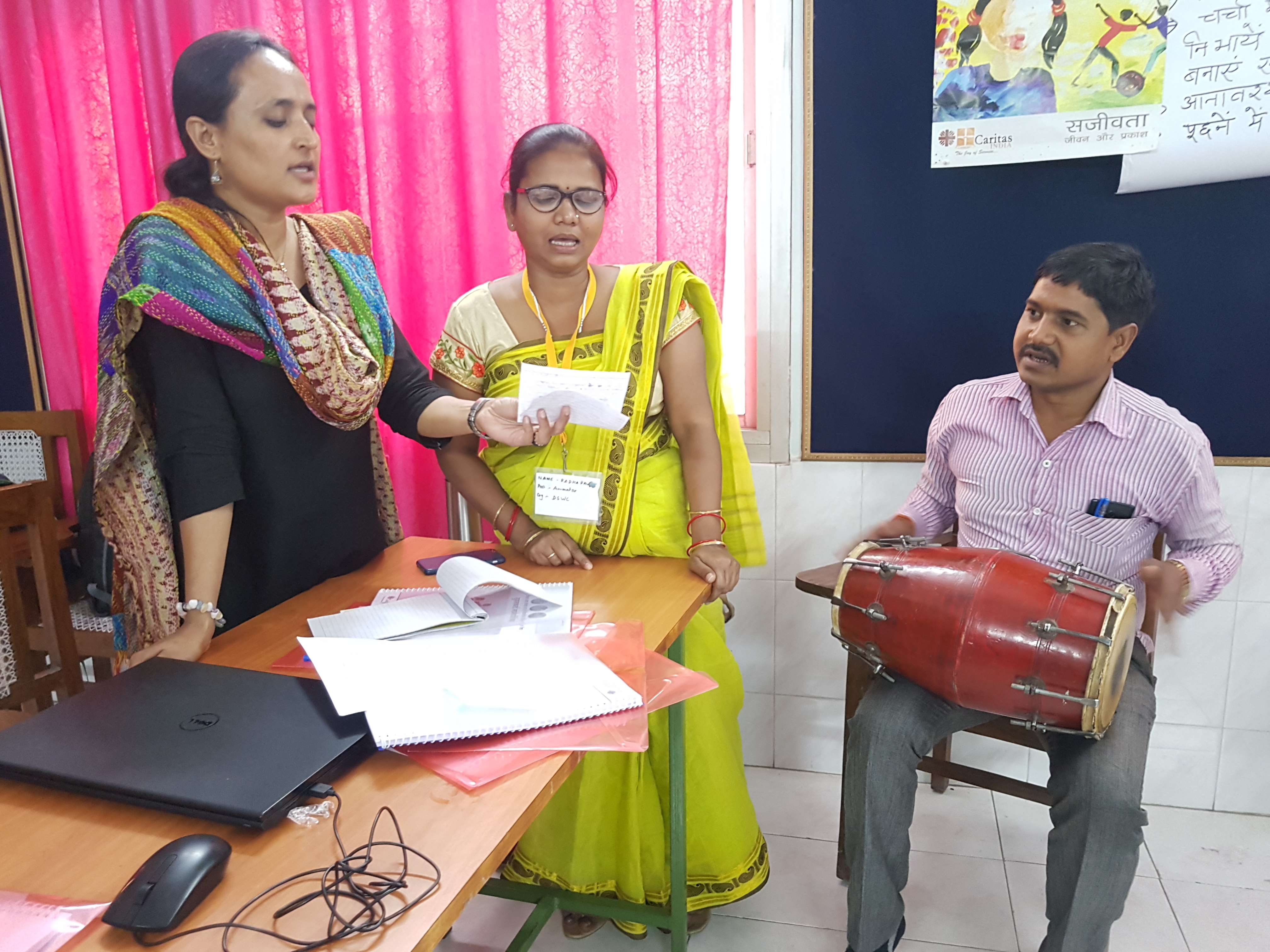 Singing traditional local songs, skit demonstration and slogans were emerged as some of the popular medium of community mobilization and spreading the message of prevention and protection against human trafficking. Individual skills in developing songs and script writing were capitalized by developing some innovating materials out of the training.
This training is quite beneficial as it will help me to train the local team to prepare skits keeping the overall objective of communication", said Shravan Kumar, Community Mobiliser from PGSS, Gorakhpur who is associated with the Swaraksha team since 2017. He added, the focus of local context helps much more for people to accept the local colloquial dialects.