Pema Lepha grew up in the Toong Naga GP, North Sikkim district, was still in his adolescence when his father died. he had to drop his dream of pursuing higher secondary to support the family and education of his sisters.
Toong Naga GP was selected by Caritas India to enhance the adaptive mechanism of the communities to disaster through Improving Disaster Risk Reduction Environment (IDRRE) and policy advocacy programme.
The programme conducted various activities like School Safety programmes, awareness and mapping on waste management, Earthquake Resistant Structure (ERS), mason trainings, awareness on Retrofitting training and survey, orchard development, disaster management training like task force and promotion of livelihood and animal husbandry to build the resilience in close collaboration with the Gram Panchayat, Block and District Officials and other key stakeholders.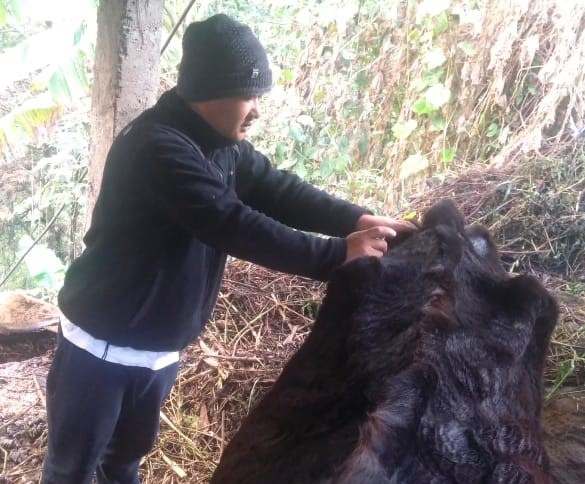 Pema showed his interest in animal husbandry and attended the first training in 2018. His interest in the subject helped him to learn more and soon he started volunteering as para-vet volunteer in the village. He also attended the second level of refresher training to gain hands-on experiential learning and started catering services beyond the GP. In a few days, he established a good rapport with the community and the animal husbandry department at the block level through his dedication and hard work. He was soon recognised as Block and GP level resource person for animal husbandry and started conducting training programmes at the village level in the whole of the GP.
In 2019, the state government of Sikkim expanded the ministries and various positions were created in the department. A vacancy of Life stock Development Assistant (LDA) was opened in the livestock department under Toong Naga GP. Pema was taken as the permanent employee for the position from April 2019.
Pema expressed his heartfelt gratitude towards the organisation for providing him the opportunity and building his skill to help him equip for a sustainable life. The training's and knowledge gained through IDRRE programme has greatly helped him to learn the skill and excel. Now, he is supporting his family in a much better way and helping his two younger sisters to pursue their studies without being fear of dropping out of schools due to a lack of resources.