India has committed to end hunger and poverty through sustainable development goals. A great deal of effort needs to be put in rural areas to promote the food and nutritional security of the people.
According to the Food and Agriculture Organisation (FAO) report, almost 1 billion people suffer from chronic hunger and almost 2 billion are under- or overnourished. In the Indian Context, Malnourishment cause 69 percent of death of children below the age of five in India says the UNICEF report.
Caritas India's (SAFBIN) Smallholder Adaptive Farming and Biodiversity Network programme in Madhya Pradesh is working to Double Farm Production and Income, ensure Food and Nutritional Security, develop Multi-Level Cooperation and Partnership, promote Access and Control over Knowledge and Resources, develop Resilience to Climate change and create Access to Value chain and Market between Urban Middle-class Consumers and Small-Farm-Agri-Food.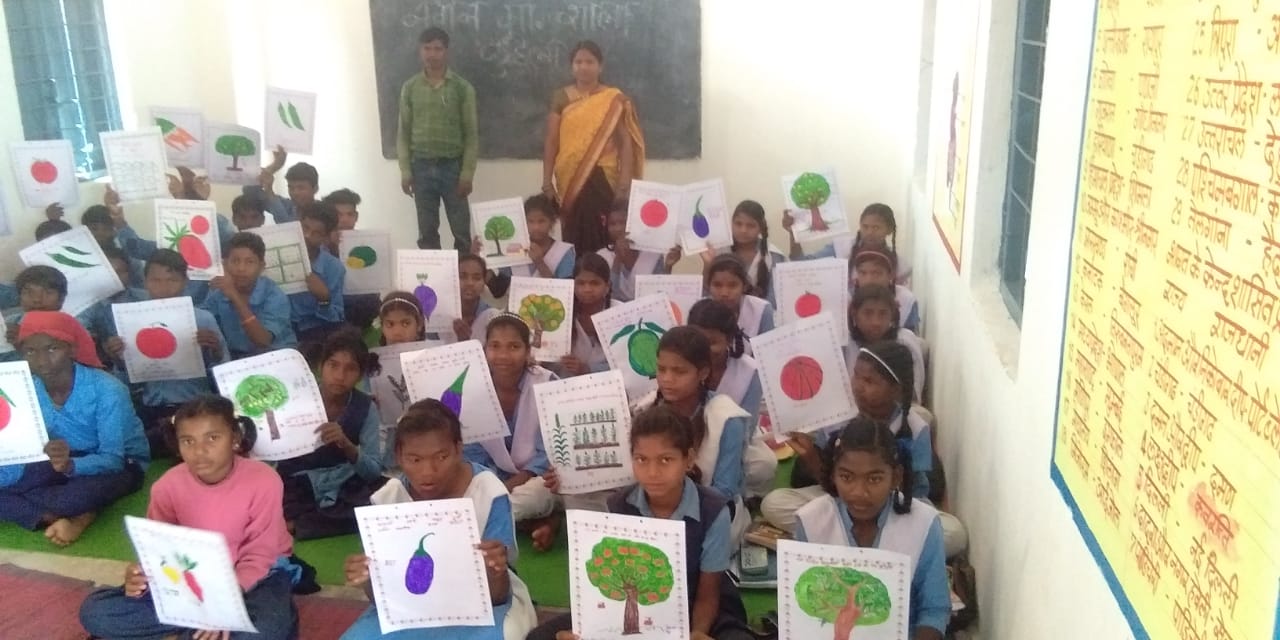 Children are the most visible victims of nutritional deficiencies, therefore the SAFBIN programme strategized to make them the advocate of their development. Art and drawing competition was organised in five government schools of Mandla district to empowers children with the knowledge to make more informed food choices about the indigenous food. This competition encouraged children to create artwork and drawings that express why and what nutritious foods are important in an everyday meal. Children came up with beautiful drawings depicting green and leafy vegetables and fruits which also helps in influencing the parents to cultivate the traditional food at their homestead.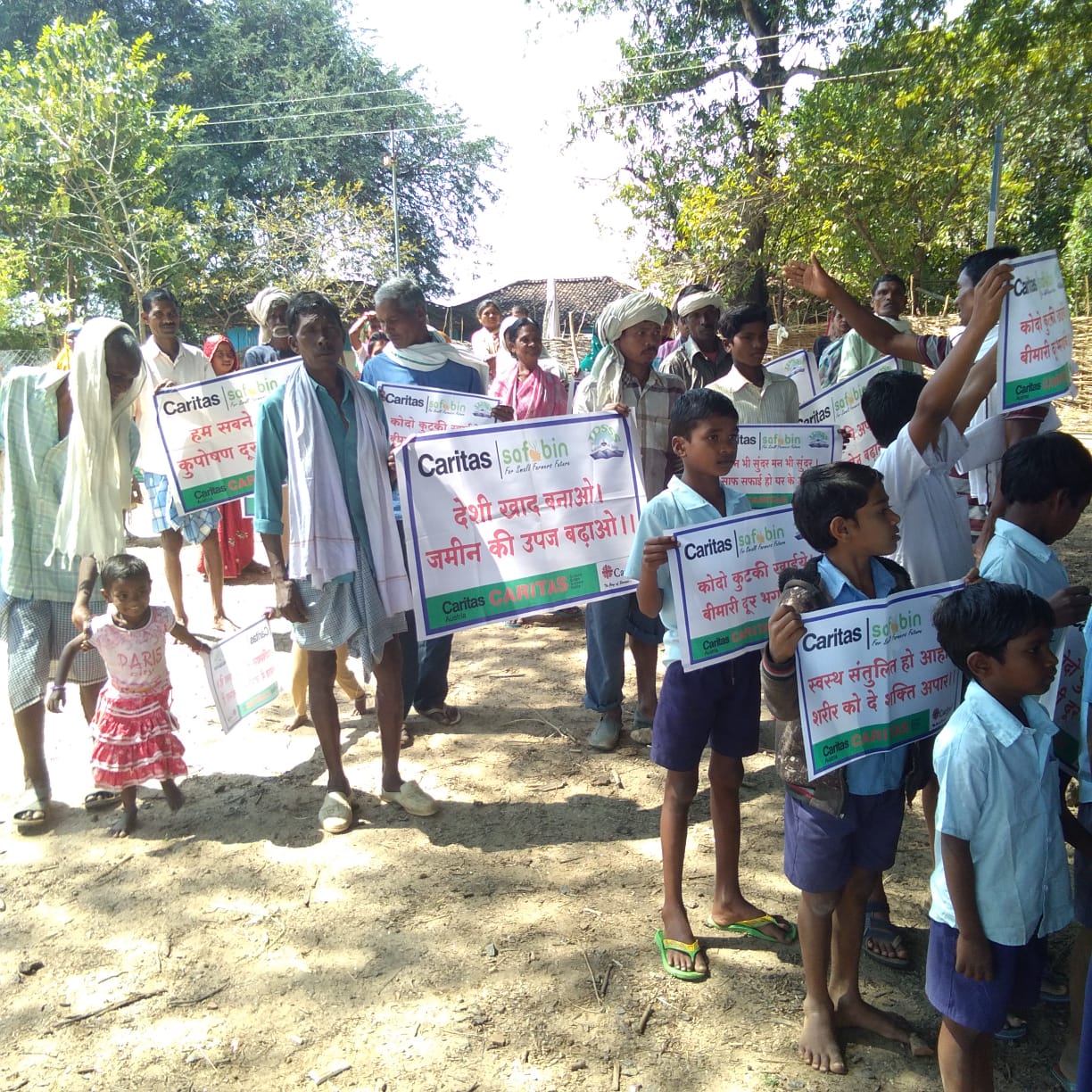 To promote the "food security & balanced diet" in the community, an awareness drive was organised by Caritas India together with Jabalpur diocesan social service society. 655 people including 390 children, 160 females and 105 males were covered by the awareness drive through various drawing competitions, awareness rallies & seminars. Chairperson of ICDS along with ASHA and ANM also participated in these awareness drives. The participants of Middle school (Ghota, Kudela and Tikariya), primary school (Baigakheda & Badwar), Aganwadi centre (Kudela, Katigahan, Khamariya, Ghota and Jaitpuri) made these drive more meaningful.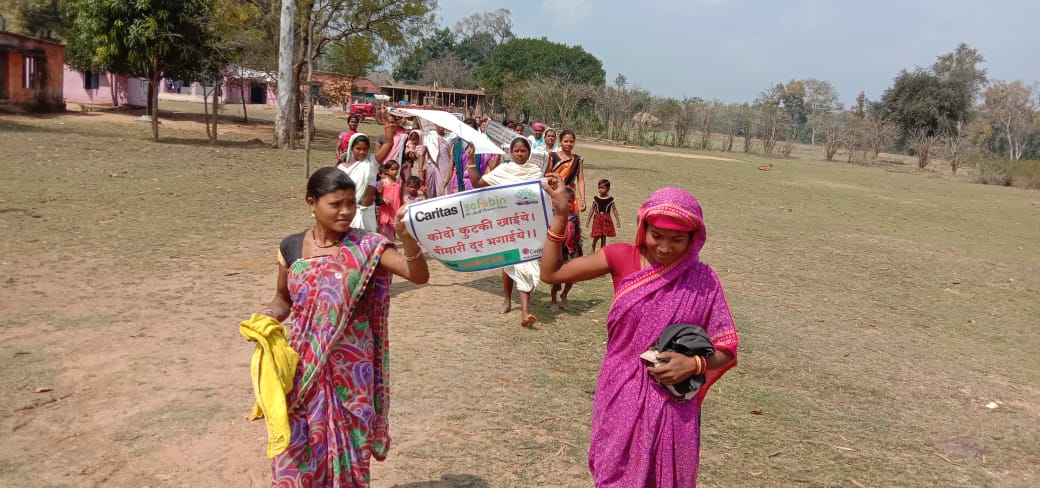 Women also took part in the Cooking competition and training on hygiene to prepare a healthy and balance dietary chart for smallholder farmers collective. The focused objective of the programme was to enhance the knowledge of local food diversities and emphasize the community-led recipe from naturally grown indigenous food products.
The traditional nutritious food like kodo & kutaki ( Minor Millet) is revived in more than 400 smallholder farming families. The families used to have a challenge to process millets and as a result, they reduce the consumption of millets. Somehow the awareness of the nutritious quality of indigenous food makes them increase the consumption of locally grown food. They diversified their food basket and reduce the consumption of market products.
The prime objective of the initiative was to promote locally available food and grain for a balanced diet. Smallholder farmers cultivate nutritious & hygienic food through sustainable agriculture practice but due to lack of awareness, they used to trade the commodity in the local market at a very nominal price. Through various awareness campaigns, families were encouraged to consume locally available food, fruits, and vegetables. The food pattern of Children in the village is influenced by maize, carrot, mango, and papaya. Though some children want to eat Kodo and Kutki but their parents used to sell to the nearby market to buy grains for the family. The drawing competition encouraged children to eat Kodo, Kutki maize moringa and papaya. "It was unexpected by the small children to convince us to add nutritious food in regular food patterns. Thanks to the team of SAFBIN for organising such an awareness drive for school going children" says one of the parents.