Football enthusiast from Thrissur, Kerala cheered their players on the ground with "Let us play and fight against cancer" slogan during the Ashakiranam Sevens Football Tournament conducted by the Social Apostolate of Trichur Arch Diocese (Santhwanam) with Caritas India.
642 professional football players from 52 Parishes of Arch Diocese of Thrissur participated in the tournament to give their support to a campaign for raising awareness on cancer.
Msgr. Thomas Kakkassery, Vicar General of Thrissur Arch Diocese reminded the audience about the prevention aspect of cancer and its realization through the tournament like this during the tournament inauguration on December 28, 2017.
This is a new face of Ashakiranam for its Cancer preventive approach. The statistics show, hike in the number of cancer patients in Kerala requests a rethinking in the lifestyle of the people. This model shows how to regain and maintain good health through a daily workout. This is an invitation for all to adopt a cancer preventive lifestyle through daily games and workout.
The 3 days tournament was conducted in 2 pools consists of 26 teams each. The Oullur Forane team won the title by defeating Mattam Forane and St. Mary's Church Vendoor. The winning team received Rs. 25,000, Trophy and Medals which is the highest ever in the history of Sevens Football tournament in Kerala. The first and second runners-up teams received Rs. 15,000 and Rs. 10,000 respectively along with Trophy and Medals with Caritas India and Ashakiranam branding.
"It is beyond a football tournament in the aspects of its spirituality, improved health and happiness for better living", said Mar. Tony Neelankavil, Auxilary Bishop of Trichur Arch Diocese during the closing ceremony and prize distributed ceremony.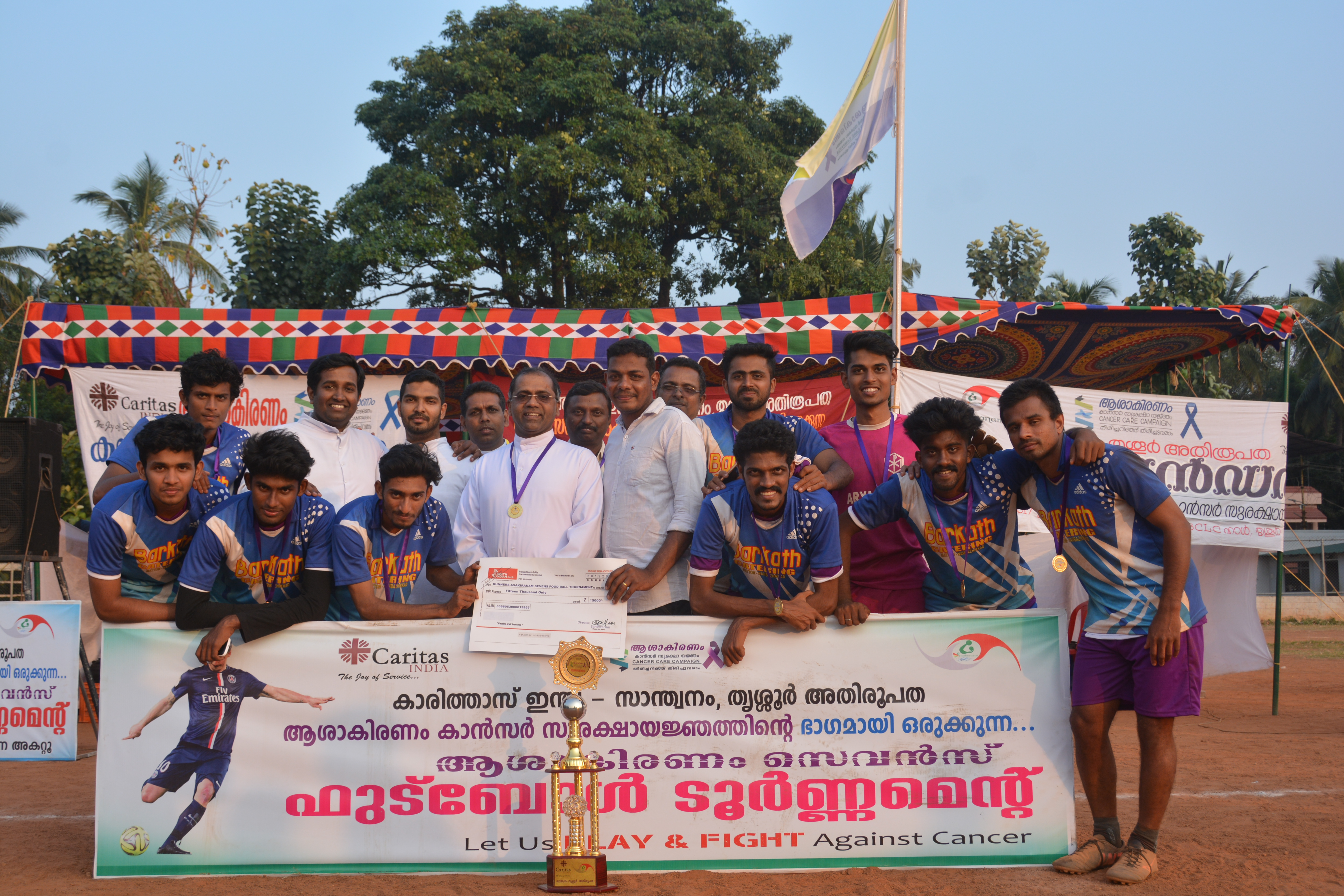 Caritas India Assistant Executive Director Fr. Paul Moonjely gave the message on Ashakiranam and preventive lifestyle during the event. Caritas NRM Thematic Head Dr. V. R. Haridas and Santhwanam Executive Director Fr. Thomas Pooppady also attended the event.
Ashakiranam plans to organize this tournament every year and elevate it to the state-wide tournament by including other districts of Kerala.