Over the years, recurring droughts and frequent crop failures have driven the farming community of Central India to despair for several years on the trot. During the current period, a major part of Central India is reeling under the spell of drought that has created the severe water crisis. Farming communities of Marathwada and Vidarbha regions of Maharashtra and Bundelkhand that straddles Madhya Pradesh and Uttar Pradesh have lost their livelihoods to the cruel vagaries of nature.
Drought takes the shape of humanitarian calamity every year, the Catholic Church in India considered it her call to respond positively to the miseries of farmers. In line with Pope's exhortation in Laudato si', Church needed to endeavour for identifying lasting solutions to chronic droughts that have rendered farmers destitute on their own land. More importantly, the Church needed to respond as a 'single team' for achieving effectiveness and relevance in the life context of a huge population that found itself in misery.
With the patronage of Church leadership, Caritas India had initiated reflections at various levels for developing strategies of drought intervention which culminated in the formulation of a mission called Water and Agriculture Resilience Mission (WARM), a Solidarity Response of the Church to Farmers' Distress in February 2017. The initial phase of the mission which has come to its completion in July 2018 calls for a review for further perusal.
From July 30 to September 02, 2018, a four days WARM review cum proposal finalization write-shop organized by Caritas India at Nagpur to empower CBOs as advocacy agents for addressing water security and community mobilization towards water governance and sustainable and climate resilient agriculture practices in around 30000 households in Marathwada, Vidarbha and Bundelkhand region. Majority of these households come under the category of marginalized farmers, women and youth from SC, ST and OBC communities. The eighteen months first phase of the programme has revealed eye-opening factors like it was instrumental in getting functionalized 310 Water Friends, digging/ renovating or cleaning 55 open wells, making or cleaning 165 soak pits, 79 farm ponds, renovating 39 damaged water bodies, making 3555 compartment bunds, besides nala bunds, check dams etc. On the agriculture front, it has inspired 409 households to start organic farming, 1064 households to start mix cropping or traditional farming using traditional seeds, 488 families to start kitchen garden beside getting planted 3710 fruit/ deep-rooted trees. All the more it is interesting to note that it has helped 3509 households/ people to mobilize Rs. 6,81,86,243/- through various govt schemes and programmes.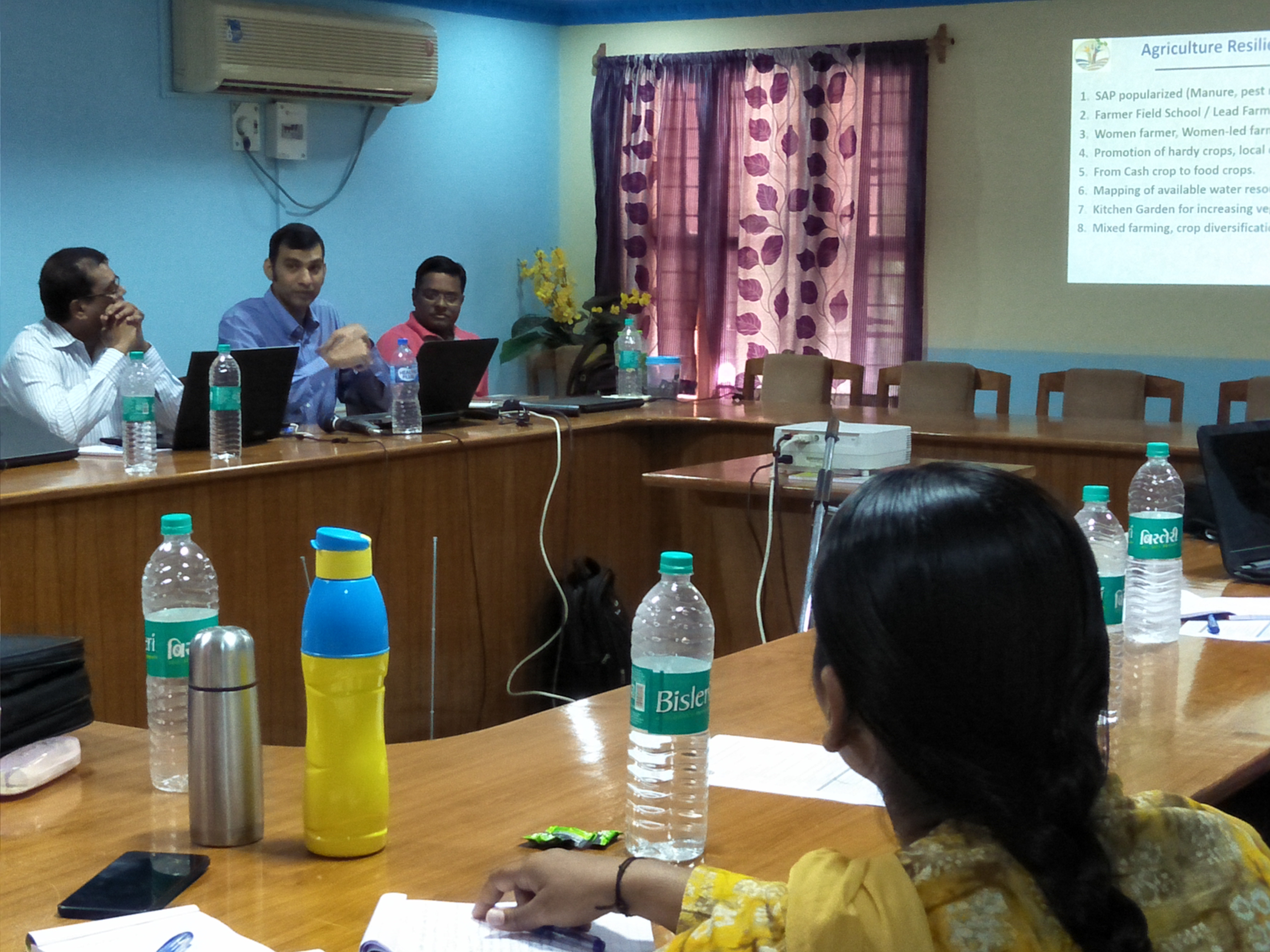 "The primary aim of the programme is to make available the right quantity of water required by the people for drinking as well as for traditional agricultural practices in each WARM village', said Dr. Saju, Zone Manager of West Zone to the participants. In other words, "Gaav ka paani gaav mei hai our kheth ka paani kheth mei hai".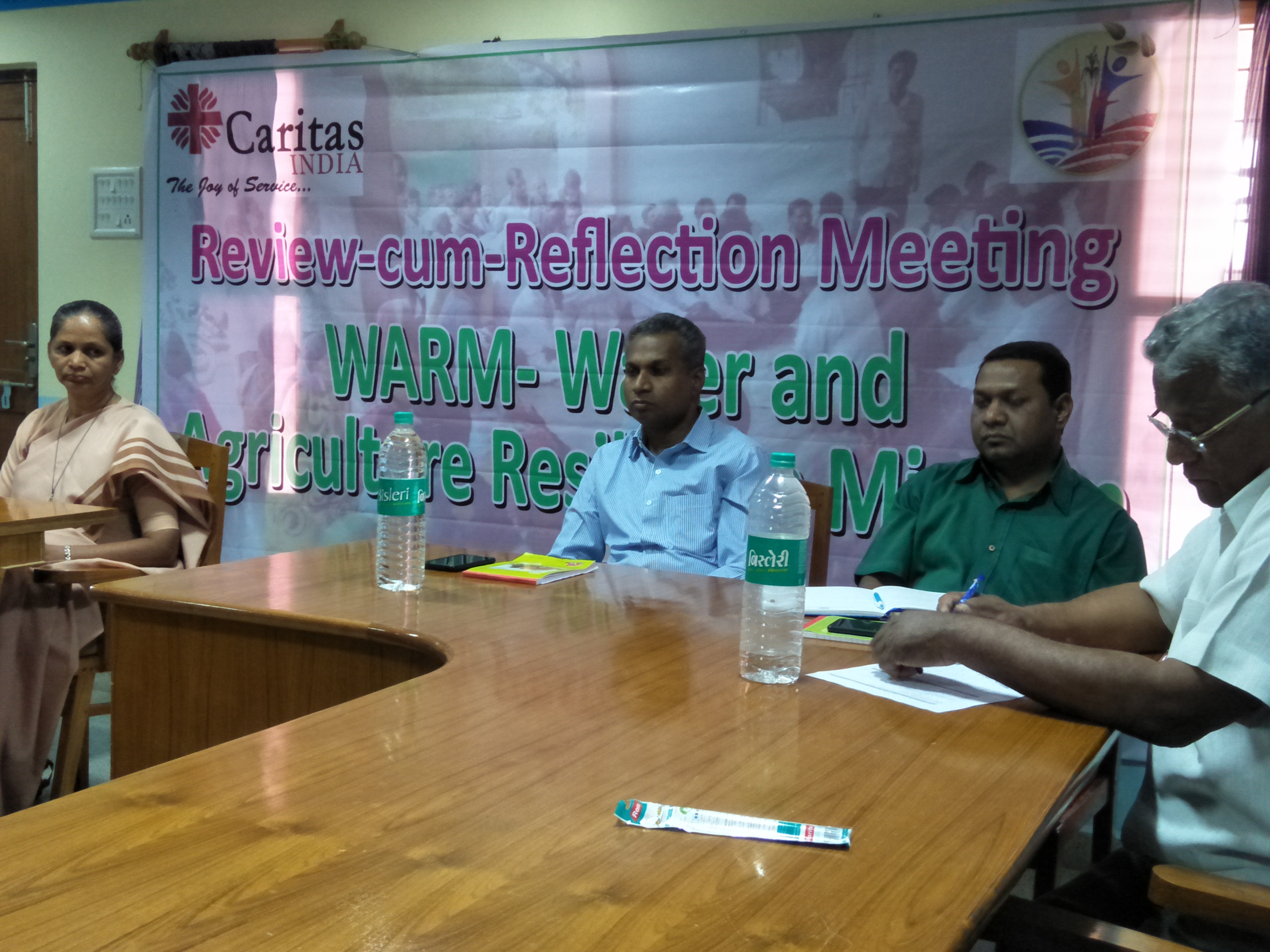 The meeting reviewed the progress of the first phase and worked on proposal development through write shop. The partners were given ample clarity on WARM Strategy which is based on 'Empowering Animation'.
All the six partners were able to evolve the new continuation proposal for WARM. The review cum write-shop was facilitated by Caritas team headed by Dr. Saju M.K., Zone Manager, West zone with the support of Mr. Joseph Fonseca, Finance Manager, West Zone, Mr. Melvin Pangya, State Officer, Maharashtra, Mr. K. A. Sebastian, State Officer, Madhya Pradesh and Mr. Mukund Deshmukh, Asst. Programme Manager, SABAL. All the six diocesan partner organizations of Social Work participated in the review cum write-shop either with the representation of director and project coordinator or programme officer from Amaravati, Aurangabad, Chanda, Nagpur (Maharashtra), Satna and Sagar (Madhya Pradesh).