"Don't let anyone tell you, you're weak because you're a woman." This inspiring and strong words has been turned into reality by one of the women boxers, who is representing our country in boxing globally and she is none other than Ms. Mary Kom. These lines were lived by many women of our country belonging to various sectors.
"International women's Day (IWD) is celebrated on March 8 every year globally with various motives and intentions some celebrate it as a day of protest and some celebrate it as the day of womanhood".  The day also marks a call to action for accelerating gender parity.
The earliest Women's Day observance, called "National Woman's Day, was held on February 28, 1909 in Unites States.
The UN theme for International women's day 2019 is "Think equal, build smart, innovative for change" and theme focus is on innovative ways in which to advance gender equality and the empowerment of women.
Caritas India an organisation strongly believe and admire the importance of this day, hence all the regional offices celebrated the women's day and extend the gratitude towards their women employees.
Delhi office also marked the day, a special holy mass was organized for all the CI (Head Office) women staff. Soon after that all staff gathered in the CI conference Hall for cultural programme. Mr. Alexander Kerketta, the moderator for the event welcomed all the employees. The programme started with a brief introduction about women's day and why its celebrated and its importance.
'It should not stick with just a day, but women should get respect and men need to take care her morality every moment' He said.
The short video was shown of Butros Ghali, an Arab world's foremost thinker taken from one of his speeches delivered at the conclave of women parliamentarians, portraying the various character of a women, video also talks about the role and strength of women. The message received from the presentation is that: 'The human race will not be able to fly unless both the wings (here wings represent men and women) are fully developed'.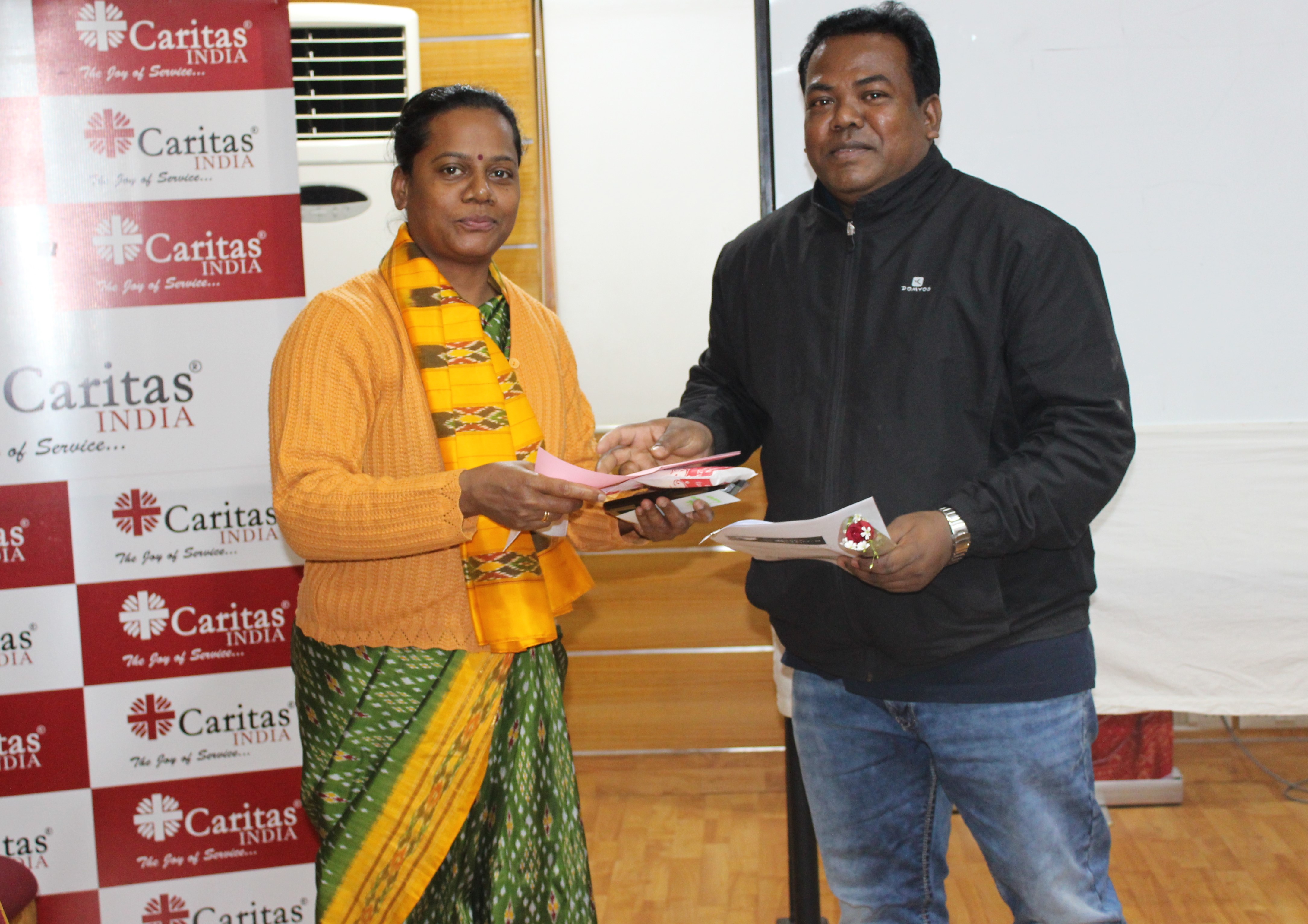 To honor all women, the men's brigade gave them flowers, greeting cards and other gifts to them, this was a beautiful way adopted by all men to express their love and affection to all women staff.
Fr. (Dr) Jolly AED, caritas India, in his introductory speech wished all the women's a very happy women's day and said that the organization is always looking forward to bringing balance between the female and male employee ratio. He further said that not a single woman is weaker than a man, there is no work which women cannot deliver, Women's are equally contributed and still contributing in the progress and success of the organization. We all need to give respect and encourage them. Always look forward and create opportunity for women to walk along with men.
Caritas India strongly adhere the "Women dignity, healthy environment, safe work place, women right and respect at workplace/organisation. And to add on this, the organization recently reformed the 'anti-sexual harassment committee' for women staff, headed by Ms. Shimray M and other members includes Ms. Meena Minj, Mr. Bobby   Koshi, Mr. Rajesh Upadhyay, and Sr. Rani.
There was a panel discussion moderated by Mr. Rajesh Upadhyay on role, importance and how a woman can be an asset for any organization and could contribute in the personal as well as organisational development.
Father Sushil Modi, administrator extended a concluding vote of thank and wished all women's, once again a very happy and fruitful women's day.