The Cancer Care campaign' Ashakiranam' has been already introduced in the southern parts of Kerala under 4 clusters is moving ahead on its own way towards the goal through its various innovative developmental activities. Caritas India now extends this New Way of Being Caritas in the northern parts of Kerala.
The new Ashakiranam Malabar Cluster was launched among 1800 people at Bethel parish auditorium, Ulickkal on 10th September 2016.
Ashakiranam Cancer Care Campaign is a comprehensive project for prevention and care of cancer envisaged by Caritas India, the official national organization of Catholic Bishop's Conference of India (CBCI), for social services and implemented through Diocesan Social Service Societies in India. This new way of being Caritas is a remarkable intervention, since Kerala is reported as the highest number of cancer patients in the country.
Six Diocesan partners of Caritas India under Malabar cluster participated in the programme namely, TSSS (Tellicherry), COD (Thamarasserry), WSSS (Manathavady), JEEVANA (Calicut), KAIROS (Kannur) and SREYUS (Bathery).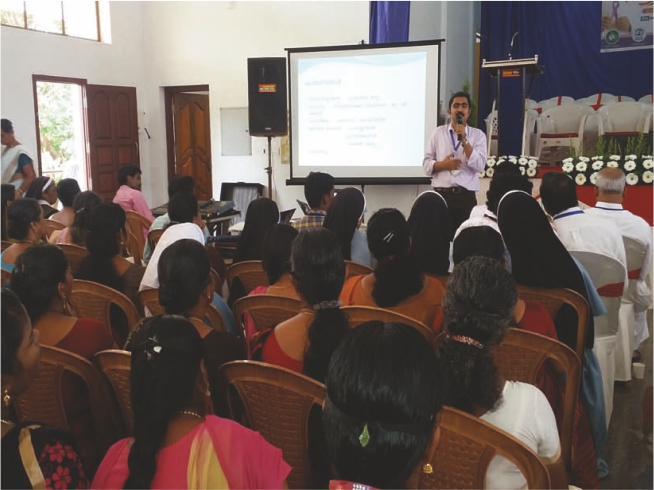 Apart from the cluster launch, awareness classes were conducted on cancer along with distribution of Lakshmi Tharu plant to the people.
"It is only through organic farming and prevention cancer disease could be controlled" said Archbishop Mar George Njaralakkattu of Tellicherry during the launch.
The campaign largely accounts for a cultural and behavioral change in the society, which would focus on the roots of cancer and work around prevention, building fences on many fronts.
"Children especially in schools and colleges must be well acquainted with preventive aspects of Cancer disease" said Bishop Dr. Alex Vadakumthala of Kannur. The aim is to promote cultural change for better food habits in preventing cancer by generating awareness among children and community at large.
"Food culture and life styles in Kerala are the major reasons to proliferate the killing diseases like Cancer" said Mr. K.C Thomas MLA while inaugurating the launching function.
Cluster launch was attended by Mar George Njaralakkattu (Archbishop of Tellicherry), Dr. Alex Vadakumthala (Bishop of Kannur) Shri. K.C Joseph (MLA), Fr. Frederick D'Souza (Ex. Director, Caritas India) Dr. V.R Haridas (Zonal Manager, Caritas India), Adv. Sunny Joseph (MLA), Mrs. N.P Rosamma (Block Panchayath President, Iritty) Shri. Thomas Varghese (District Panchayath Member) Mrs. Sherly Alexander (Panchayath President, Ulickkal), Shri. K.S Jayamohan (Managing Trustee, HOPE Charitable Trust, Pilathara), Fr. Alfred V.C (Director, JEEVANA), Fr. Joseph Mukaleparambil (Director COD), Fr. Tony Kozhimannil (Director SREYUS), Fr. Bijo Karukappallil (Director WSSS), Fr. Philip Irippakkattu (Vicar, Ulickkal), Dr. Jilson Panackal (Director KAIROSE), Fr. Joseph Anithanam (Forane Vicar), Fr. Philp Irippakkattu (Vicar, Ulickkal), Dr. Phinis Philip (Malabar Cancer Center, Tellicherry) along with Ashakiranam Programme Officers.