[hupso]
Oli Nag struggles to meet end for survival
Kolika, 11, bites her lips whenever she sees other children eating. She comes home and demands food from her Grandmother Oli Nag, but arranging two square meals a day is a distant dream for the family. Kolika in her growing stage needs nutrition like any other child of her age but she is deprived of this luxury because her grandmother cannot manage what she wants.
She was only 2 months old when her mother Krishna Das (first daughter of Oli Nag) expired, and from then her grandmother and her visually impaired aunt Kalpana looked after her. Kolika's father does not stay with her. According to villagers Kolika's father is mentally challenged and doesn't really care about his only daughter. He sends a meagre amount to the family but that too on rare occasions. Kolika helps her aunt to fetch drinking water from the nearest source and guides her to return home.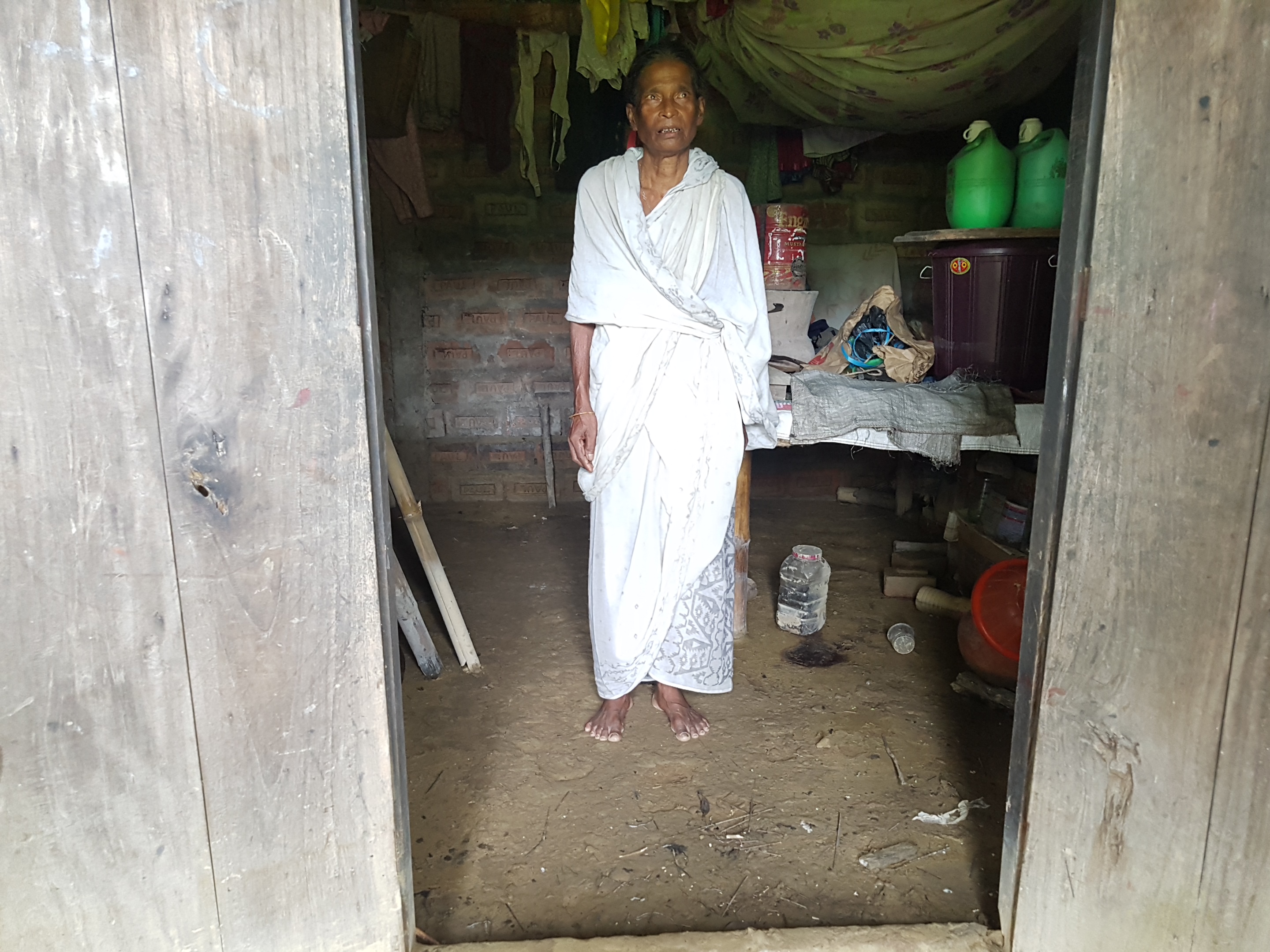 Oli Nag at an age of 75 is a skinny and frail woman with a responsibility of feeding her visually impaired daughter Kalpana and granddaughter Kolika. She does the cleaning of utensils and floor at different houses and sort potatoes and onions for the village shopkeepers for a handful of rice, dal or just a cash of Rs. 10 or 20 and this is the only source of income for the family. She only gets 10-20 days of work and rest of the month they survive on people's mercy or go to bed with an empty stomach.
Indira Awaas is the only thing that I could manage somehow against the name of my daughter said Oli when asked why is she not able to benefit from the government schemes. She further adds that to avail government scheme I need to go to the office, get photocopies of my documents and provide photographs, which require money which I do not have.
Sometimes seeing their deplorable condition, villagers come to their rescue by giving away grains and vegetables, but the population of the village is itself poor and their help though counted, is not enough for the family. Even the local Lower Primary school where Kolika studies provide them rice or peas from their ration but that too is very irregular. They are surviving on the mercy of the people of Baithakhal Basti.
Recent floods in Baithakhal Basti under Karimganj district in Assam amplified their miseries when water started entering their house and rendered them homeless. The rising water level made Oli Nag anxious about the safety of her blind daughter and Kolika. They evacuated their house and begged villagers for refuge. One good Samaritan from the village gave them the much-needed shelter.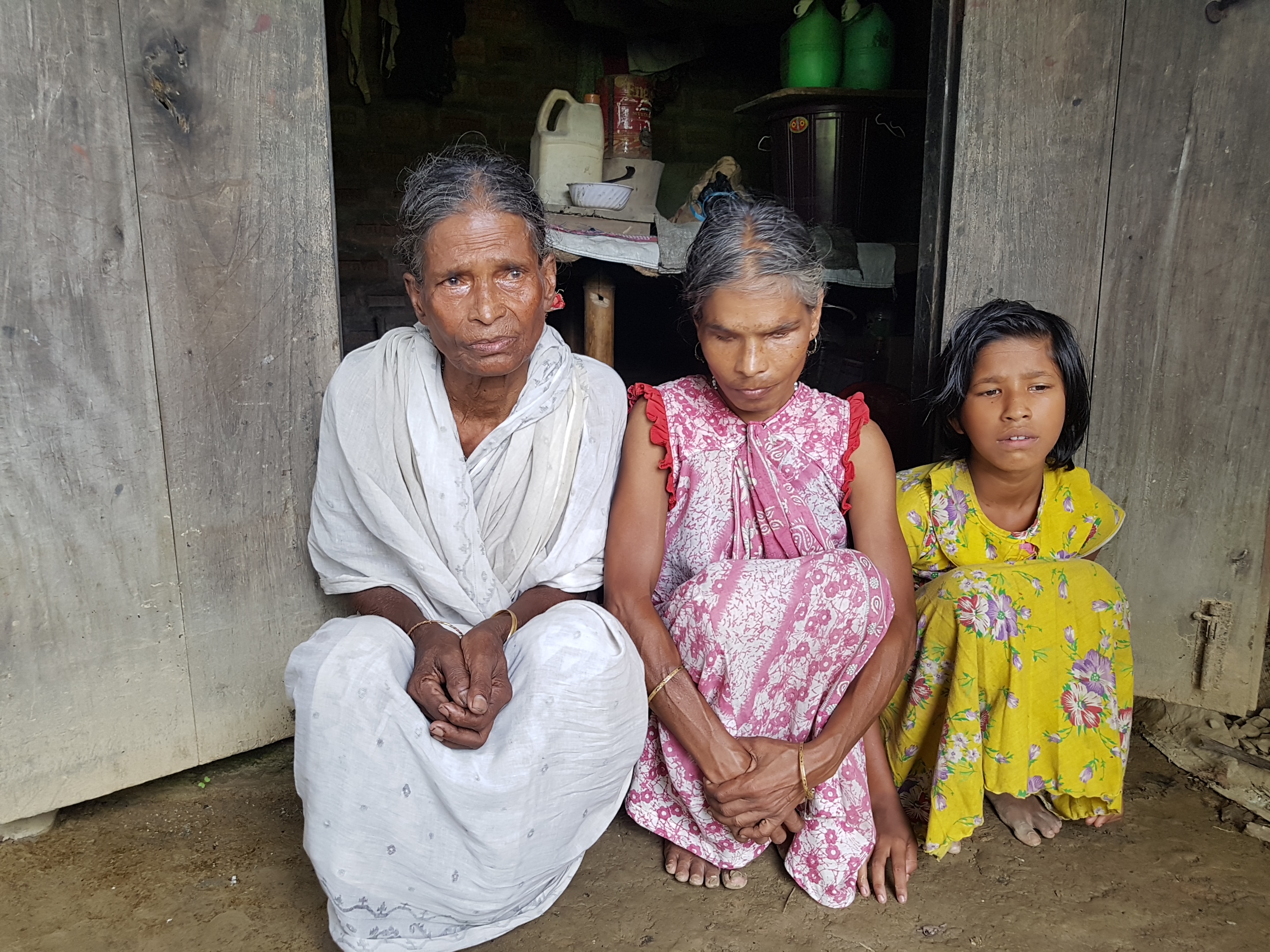 After 12 days when they returned, everything except the ceiling was full of mud and slush. Flood water has taken Utensils, clothes, bed and even the books with itself. While being asked how they are going to live in that devastated house, Oli replied with laughter and said we have to manage as we can't be choosers. This laughter in adversary, distress and helplessness was enough to shake the emotions of the people visiting her. Somehow, Oli managed to borrow Rs. 70 from the villagers to buy kerosene for lighting the lamp in the dark house.
The darkness of the house is gone but the darkness of their future still haunts them. Their survival is a challenge because they do not have any food nor any source of livelihood.  The family is exposed to multi-layered vulnerability now. They are landless too in terms of agriculture. The need for food, nutrition, security, health, hygiene, protection and livelihood is prominent for the sustenance of this family.
---
The North East states of Assam, Manipur, Mizoram, and Tripura continue to reel under the impact of the torrential rains. As of June 18th 2018, 6,50,000 people have been affected in 1064 villages in 21 districts. Through different sources, a consolidated number of 16 deaths have occurred out of which 5 of the reported deaths were from Assam and 6 from Manipur. The incessant rain has triggered landslips and breaching of flood water on the highways which has disrupted rail and motor connectivity of the four states.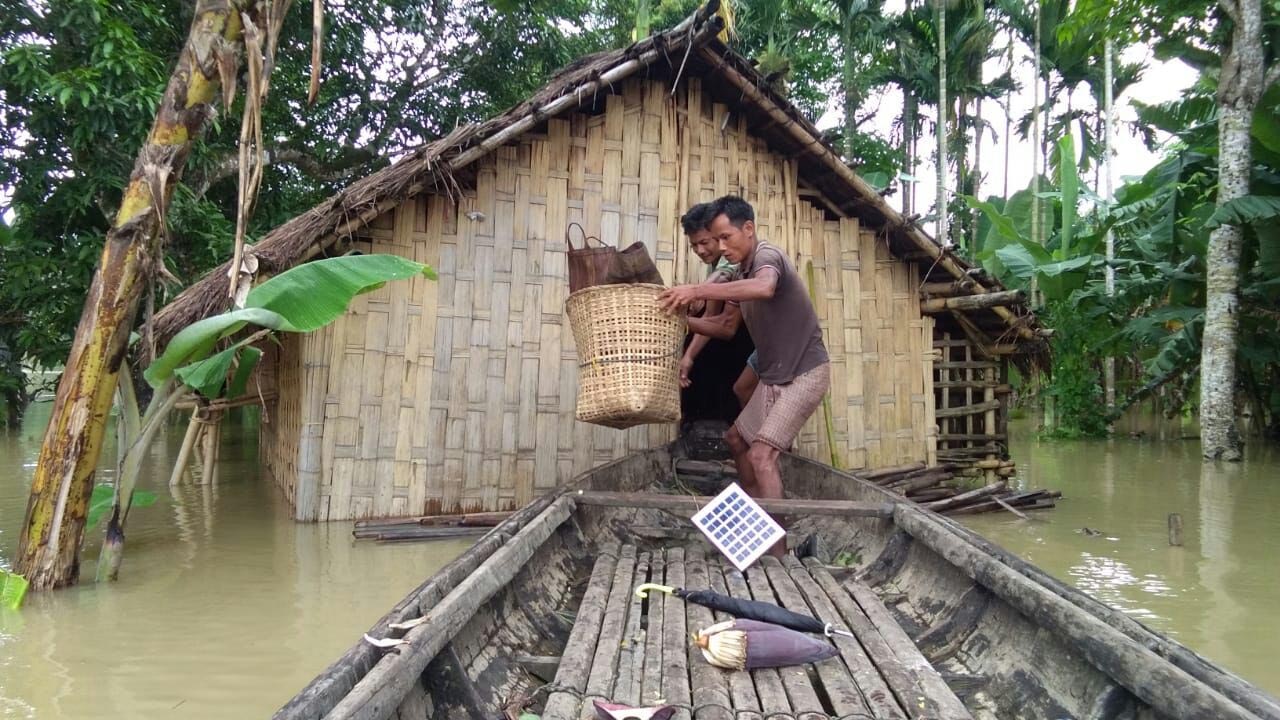 Water, Sanitation, and Hygiene facilities have been hit the worst, as handpumps, ring wells and streams continue to be submerged under water. Water sources have been contaminated and the available sources for safe drinking water are difficult to access. The health of the affected community is under serious threat as there have already been some reported cases of Diarrhoea, fever, skin infections etc due to the waterlogging.
Meanwhile, down south in the state of Kerala, the incessant South-West monsoon rains have triggered landslides, floods, and overflowing rivers. The State Disaster Management Authority has issued a red alert (indicating severe hazard situation) for Kozhikode, Malappuram, Wayanad, Kannur, Kasaragod, and Palakkad districts till June 18 and directed the administration to be on standby for emergency operations in the hilly and flood-prone areas. An orange alert (moderate hazard) has been issued for Idukki, Kottayam and Alappuzha districts.
The Central Water Commission has issued a warning stating the rivers in Kerala are likely to overflow their banks. According to the Met Centre Advisory, fishermen have been advised against venturing out to sea due to strong winds and rough sea off the coast.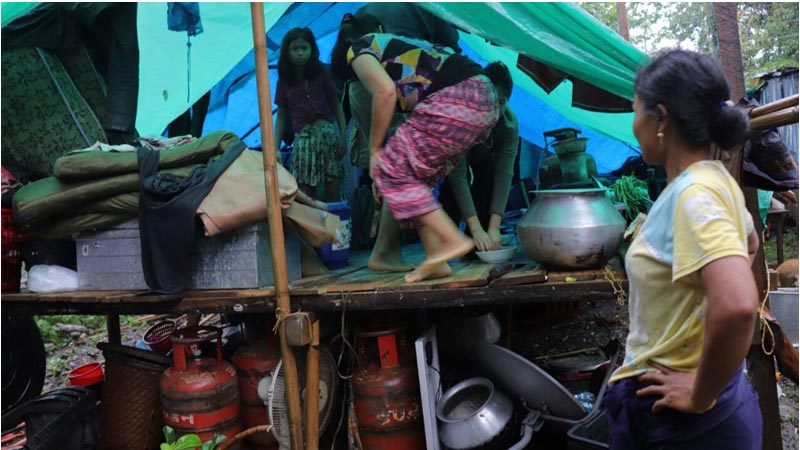 As many as 12,398 people have been shifted to 133 relief camps across the State. A total of 199 houses have been destroyed and 3,736 have been damaged by the rain. The government has sanctioned free ration to those put up in the relief camps. But there are many people who are stranded at these camps can only house limited numbers. The landslips have cut off road access to several districts.
The main concern is the impact of floods on the poor and vulnerable daily wage labourers. Among them, women, children, and persons with disability are even more vulnerable. Caritas India's presence and assessment in the flood-affected regions shows that these communities have not received adequate assistance from government response.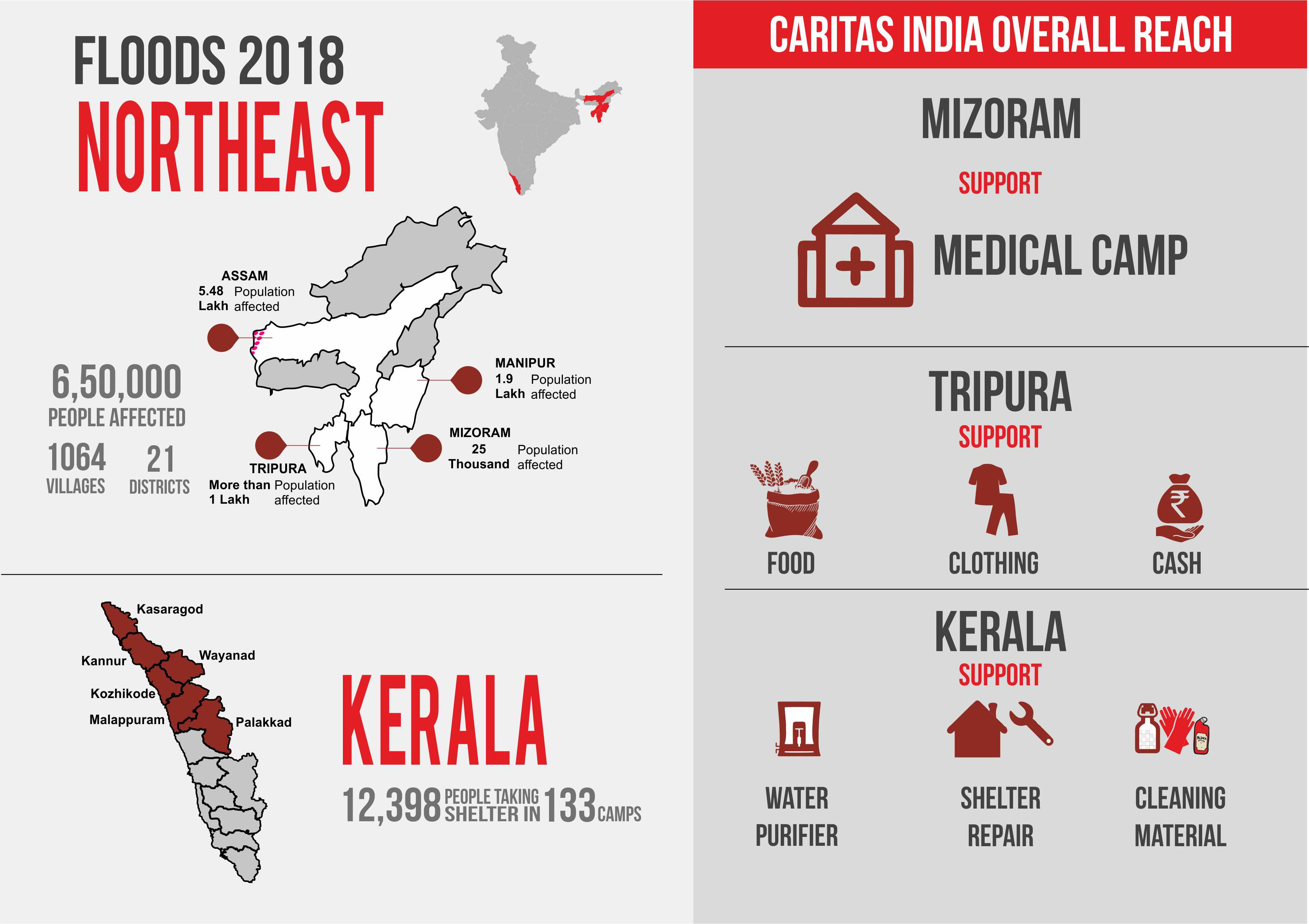 Caritas India has already begun response in the areas of WaSH (water, sanitation, and hygiene) and, Health in Tripura, Assam, Mizoram, and Kerala. Caritas India's present reach is at 3925 families with plans to reach 15,425 families.