[hupso]
It is 8th day and no one has come to our help
The flood water has receded, and the rain stopped substantially, Bindu Ajeesh, 41, contemplates her loss which she suffered due to the flood which was experienced after a decade.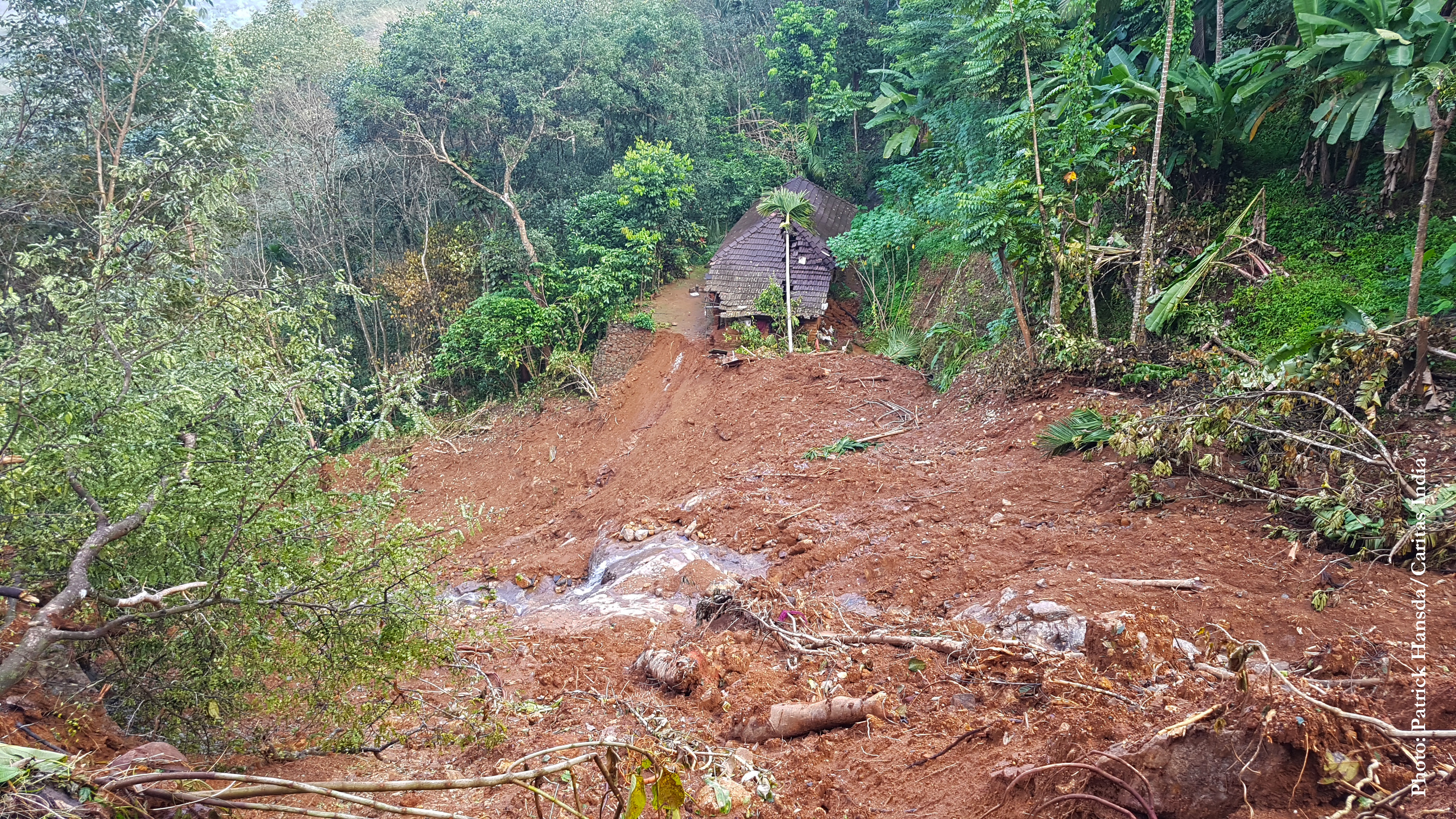 The landslide triggered by heavy rains has swept her house. She has lost food, vessels, clothes, utensils, furniture and even her children's study materials. She is staying at Theklaummoodu village, Seethatodu panchayath, Pathanamthitta district of Kerala.
Bindu and six other families have taken refuge at Renny Abraham's house after losing their houses in the flood. Renny runs a rubber plantation business and was safe during the flood.
Bindu's husband Rajesh is an Autorickshaw Driver and the only bread earners of the house. His Auto is trapped 2km away from the main road, snatching the only source of their earning. Her Son's Anand, 18, and Abhiram, 11, have lost their books and study materials.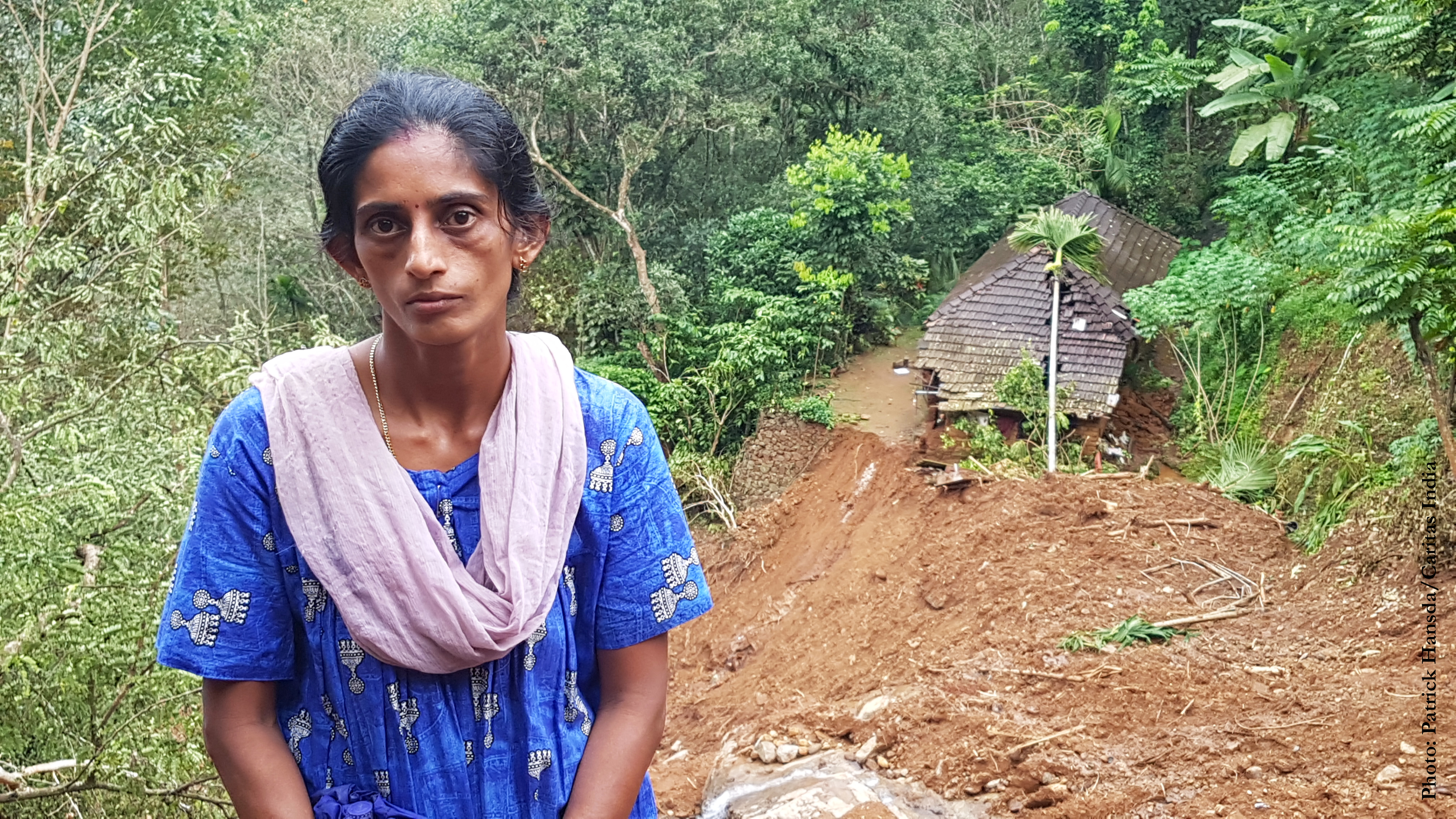 "It is 8th day and no one has come to our help, not even the panchayat and other authorities", says Bindu. "Many times, we informed them, but none has come to our help till now". Showing towards the hill she says, "We are totally isolated, without road, electricity and food. Children are also not able to go to school." Five households are fully isolated has totally dependent on the mercy of others.
"We cannot live even for one day by ourselves. It is very difficult for bedridden people and infants to access hospital facilities like medicines as there is no road. The situation becomes worst during the night as there is no electricity and we are living under constant fear.
25 houses are affected by the landslide and shifted to the relief camps. The landslide happened during the day time so the lives could be saved otherwise there would be more casualties.
Panchayat President, Lekha S. says, "They are busy in clearing the debris and mud from the field and 500 mtr road is already cleared for the villagers. It is important to save lives and Government will find ways to provide temporary shelters to the affected."
The situation will take another one or two months to get better as the rains are still on and it is difficult to take heavy vehicles on hilly terrain to clear the road and debris. The need of food, health, hygiene and Sanitation, and temporary shelter are mounting high.
---
Kerala flood victim is anxious to stay in the same house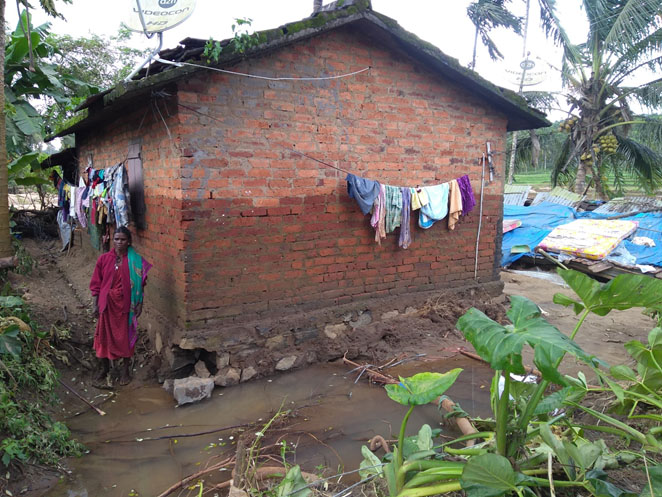 The only house of Chikki Babu, 60, was battered badly by floods. It showed no mercy, destroying clothes, utensils, mattresses and hit so badly that the foundation of the house started breaking down.
Situated at less than 100 meters away from the banks of Kabani river at Payyampally village, Mananthavady Municipality, Chikki and his family along with 45 other families took refuge at the St. Catherine Higher Secondary School relief camp at Payyampally on August 9, 2018.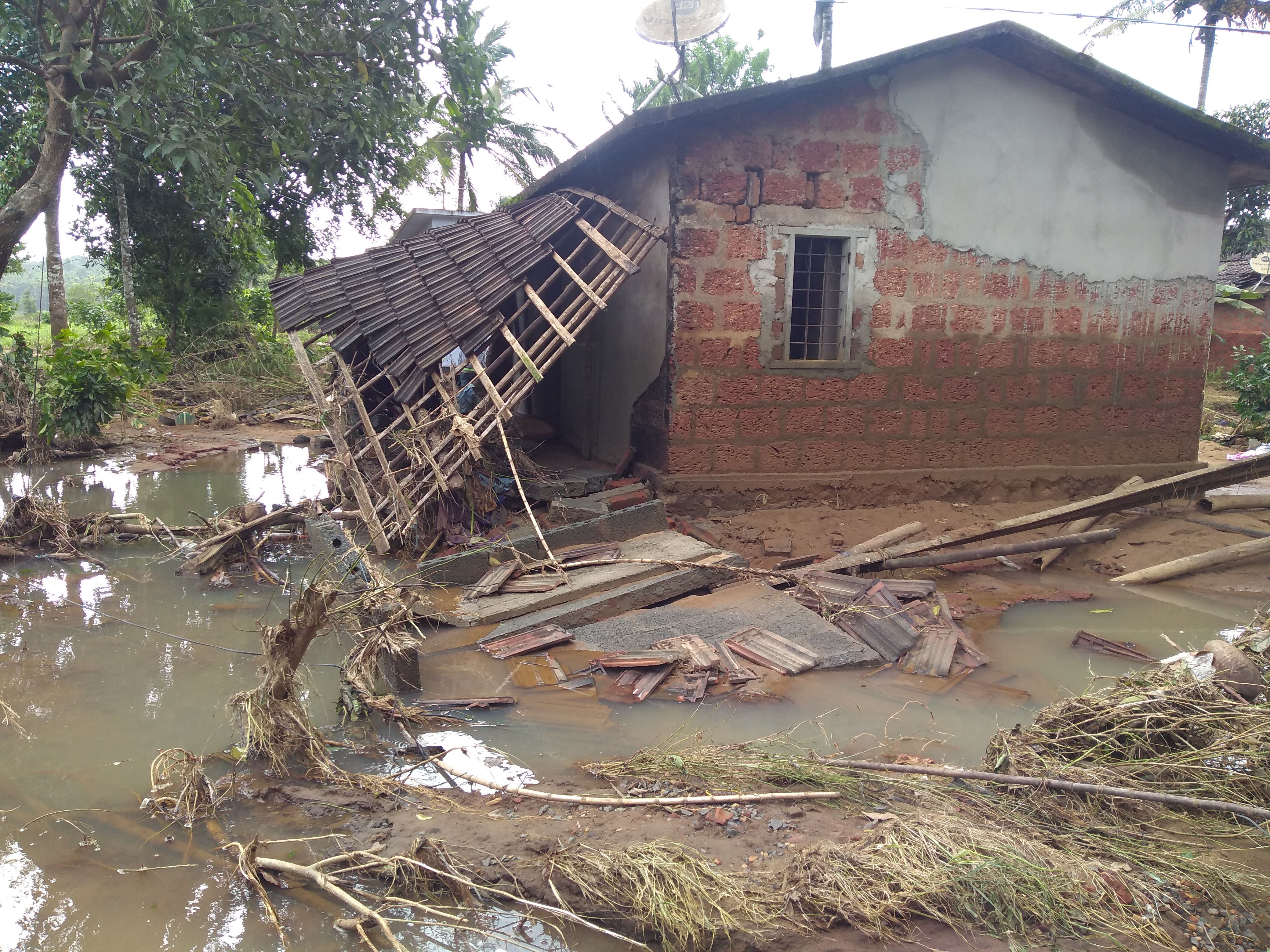 The water has receded, but its marks of devastation can still be seen. Chikki and his family are busy in removing the silt/ mud from the house so that they can return back as soon as possible because the Government is planning to reopen the schools post-Onam festival on August 24th. They only have a handful of days to vacate the relief camps, though not announced officially.
Belonging from Adiyaar community, Chikki is staying with her son, daughter-in-law, and granddaughter in the house provided by Kerala Government under E.M.S Housing Scheme in the year 2017. Sudhi, her son is the only earning member in the family who works as an agricultural laborer to sustain his family. Sometime Sudhi's wife also assists him in labor work but she hardly gets very good income or no work at all.  The land holding of the family is around 5 cents which is a non-agricultural land and the only source of income is through labor work.
The major and the only source of drinking water for Chikki and villagers are open well, which were submerged during floods. No action has been taken by the Government to provide safe drinking water in the village. As the water receded, families have started moving back to their villages and access to basic amenities like safe drinking water and toilets is still a big question for them. protection of women and adolescent girls is another major issue in the village after floods.
Apart from the service received in the relief camps, Chikki has no idea of any compensation, be it relief or for reconstruction from the Government. The news of compensation was announced by the State Government but due to illiteracy, she could not access this information.
Caritas India personnel informed Chikki that she can demand compensation from the Government. Chikki for once was relieved but at the same time, she became apprehensive to receive the compensation as she didn't know the process of how to apply for it.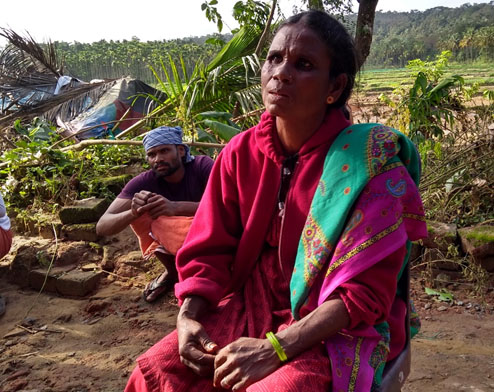 "I am very fearful of staying in the same house though being a pucca (concrete) house as the soil beneath has loosened up and the structure can come down any time. In such a situation how can we sleep inside peacefully?", she says. Anxious about future, she says, "I don't know whether such incidents will occur in the future or not".
---
August 24, 2018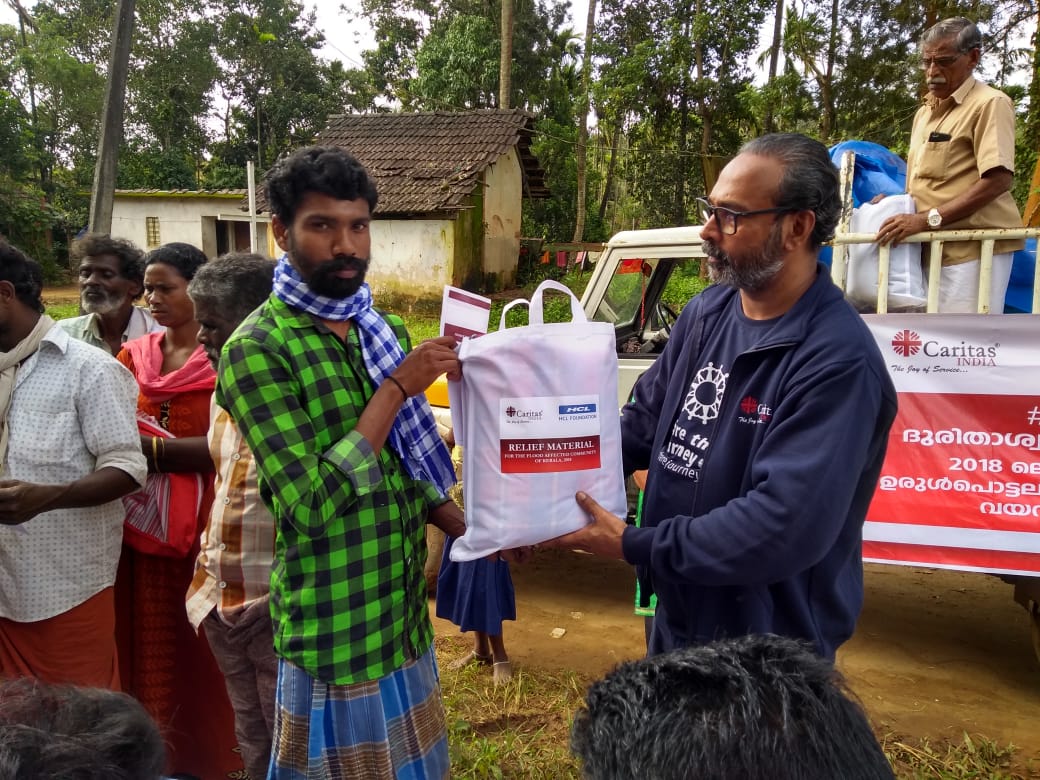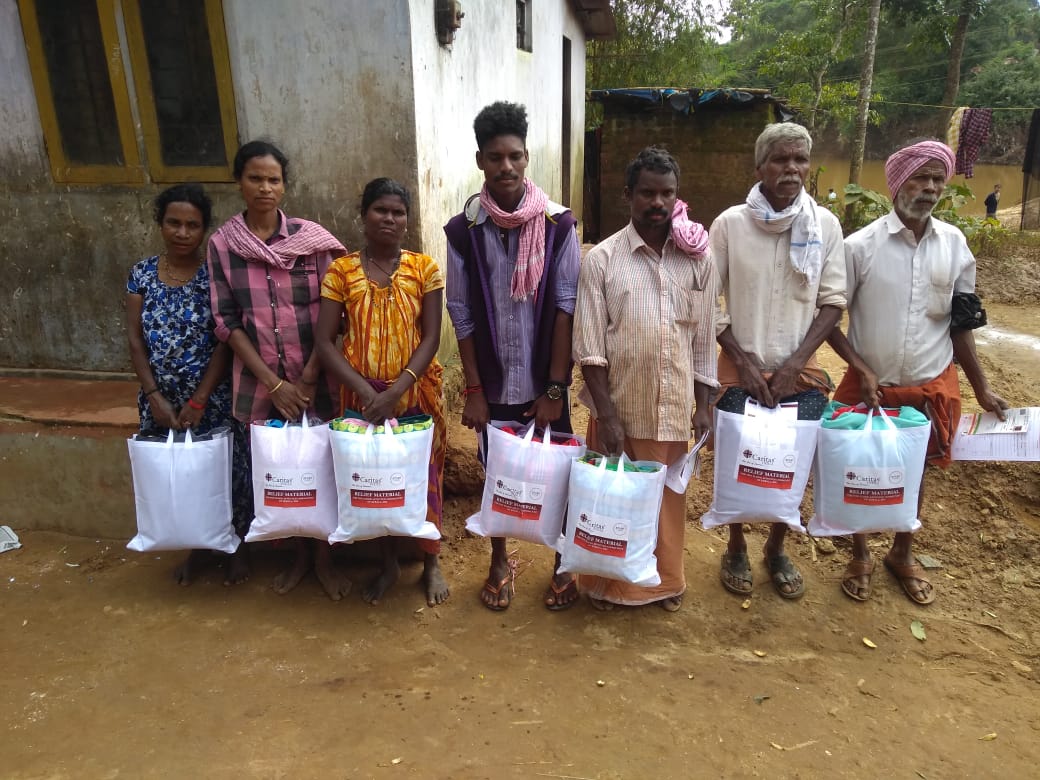 First Relief distribution of START and HCL was initiated by providing Non-Food Item (NFI) Kits to the most deserving 34 families of  Nelloorandu Village under START and 28 families of Arattuthara village under HCL.
---
Caritas Humanitarian Response to Kerala Floods 2018 – India
August 22, 2018
It's being called the flood of the century. Torrential rains & strong winds over three weeks have devastated God's own country, Kerala. It has already received 30% more rain than its annual average; rains in the state often last till November.
34 dams are spewing water, 44 rivers are in spate. 12 of the state's 14 districts are submerged. 36 locations are battling landslides. Such devastation was last seen in 1924, long before Indian Independence.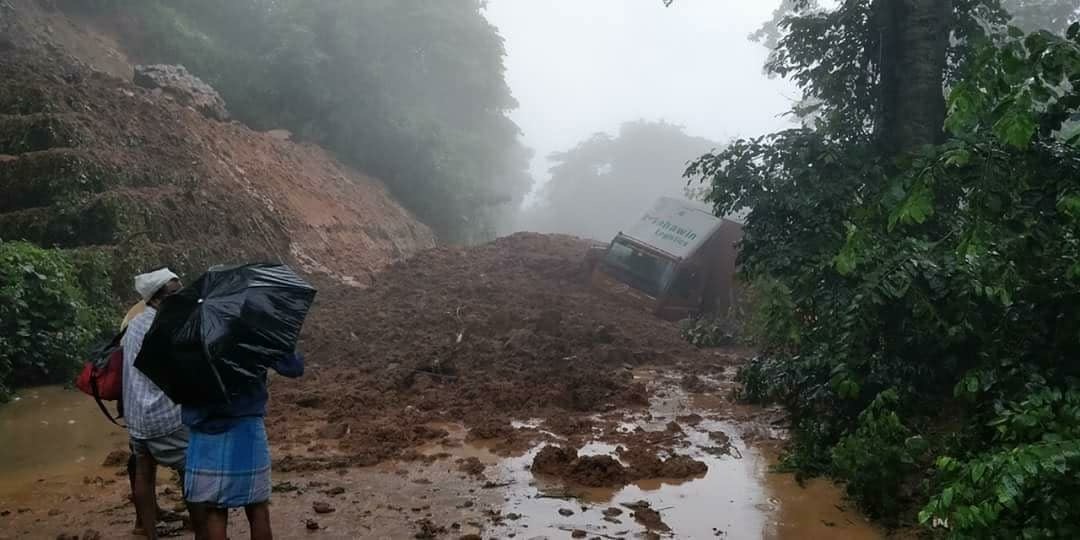 Till date, 389 people have died, 38 are missing & 133 have been hospitalized. 21,000 houses have been damaged, 46,016 cattle, 200,000 poultry & 40,000 hectares of crops have been lost. Total loss to agriculture has been estimated at Rs. 1,500 crore.
98, 000 kilometres of roads & 134 bridges have been damaged. Transport via road, rail & air is seriously affected. Out of 1,553 villages in Kerala, 1,287 have been affected. 14,21,000 people have been displaced and are currently living in 8,877 relief camps. In many districts, access to clean drinking water has completely broken down. All this has added up to a total economic loss of
Rs. 20, 000 crore to the state. (*All figures estimated, on date of release)
Farmers, daily wage workers & agricultural labourers won't earn anything for the next 2-3 months. Thousands have no homes to go back to. Lakhs need food, clothes, beds, mosquito nets, medicines, drinking water supplies and temporary shelters. Sanitation & hygiene has been severely compromised, the risk of epidemics is at an all-time high.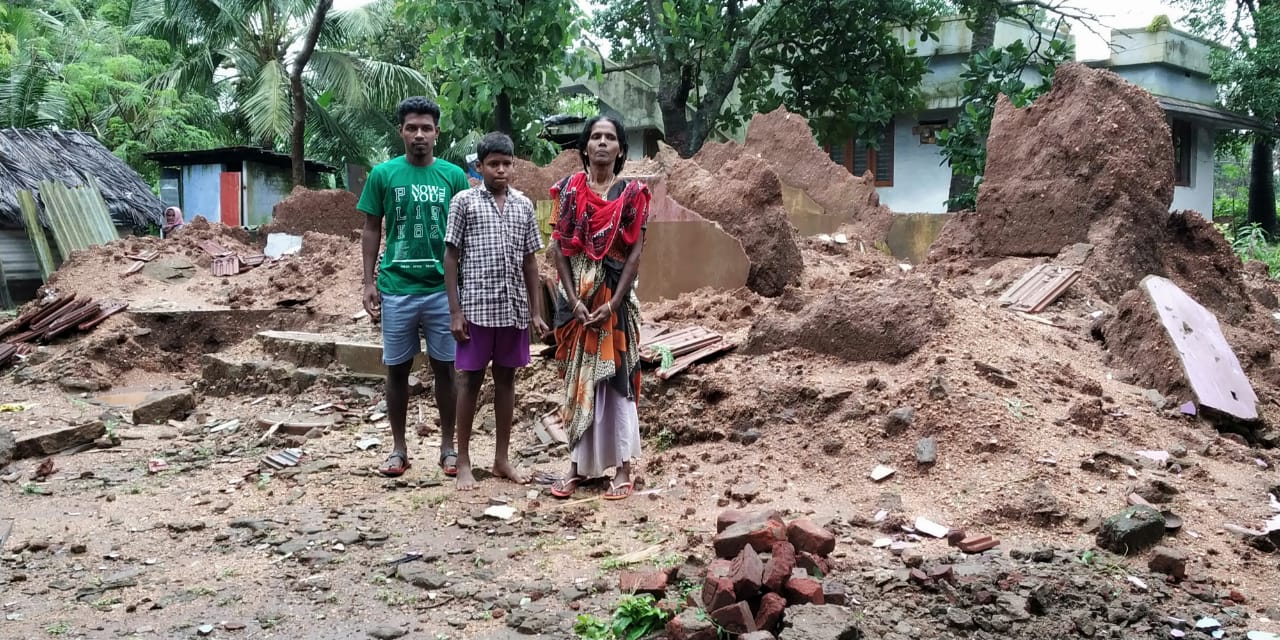 After all these needs are met, there is a need for longer-term rehabilitation, reconstruction and livelihood support for affected families.
Scheduled caste and tribal-dominated areas in Wayanad & Idukki are completely cut off. Caste biases often lead these groups to be ignored even during relief efforts, something not always reflected in media reports. Women, children & the aged too are extremely vulnerable in such situations.
Emerging Needs & Work plan over the next few days & in the near future
Caritas India plans on reaching 20,000 families with its response and relief interventions. The Response Plan is as follows:
Food Support: Immediate food support to 20,000 most deserving tribal households in Wayanad, Pathanamthitta, Thrissur & Ernakulam.
"Cash for Work" scheme to clean Debris:  Immediate "Cash for Work" scheme to support 10,000 households from tribal & low earning communities.
WaSH (water, hygiene, sanitation) support: WaSH kits will be supplied to 10,000 tribal women & girls. Awareness about the importance of clean water, hygiene & sanitation will also be provided.
Shelter support in the long term: A special design will be done based on the locally available materials. The estimated cost per shelter is Rs. 100,000 / house
---
Kerala reeling under water – SOLIDARITY IN NEED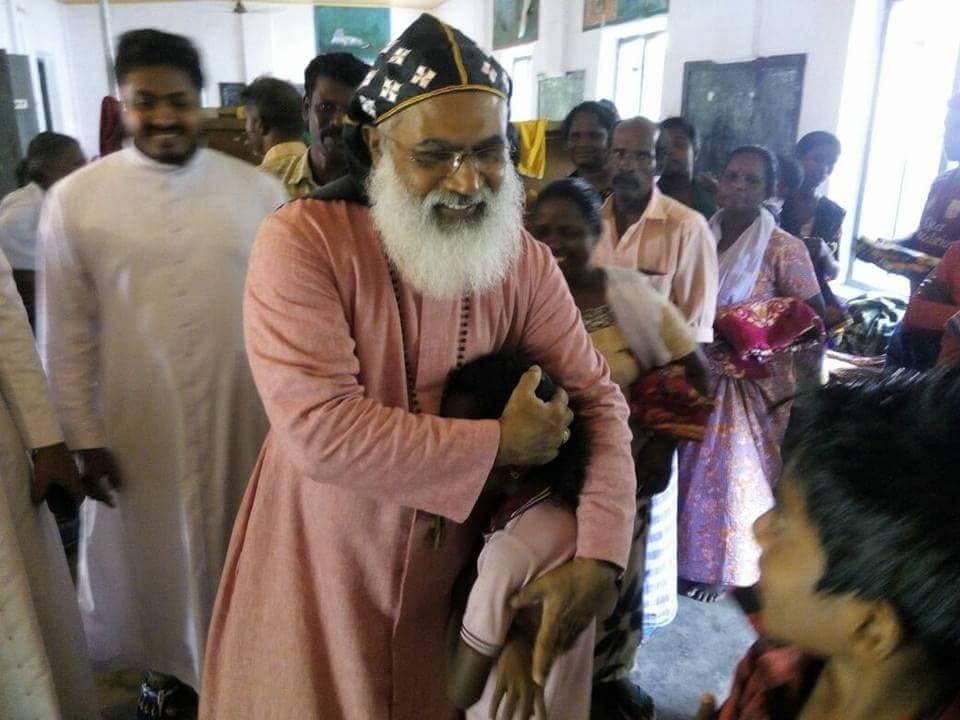 Archbishop Thomas Koorilos Chakkalapadickal of Tiruvalla comforting a child at a relief camp in Kerala. Caritas India has released an amount of Rs 3 lakh to the archdiocese. It is being used to provide food to the displaced. Torrential rains have led to massive flooding in the state of Kerala.
---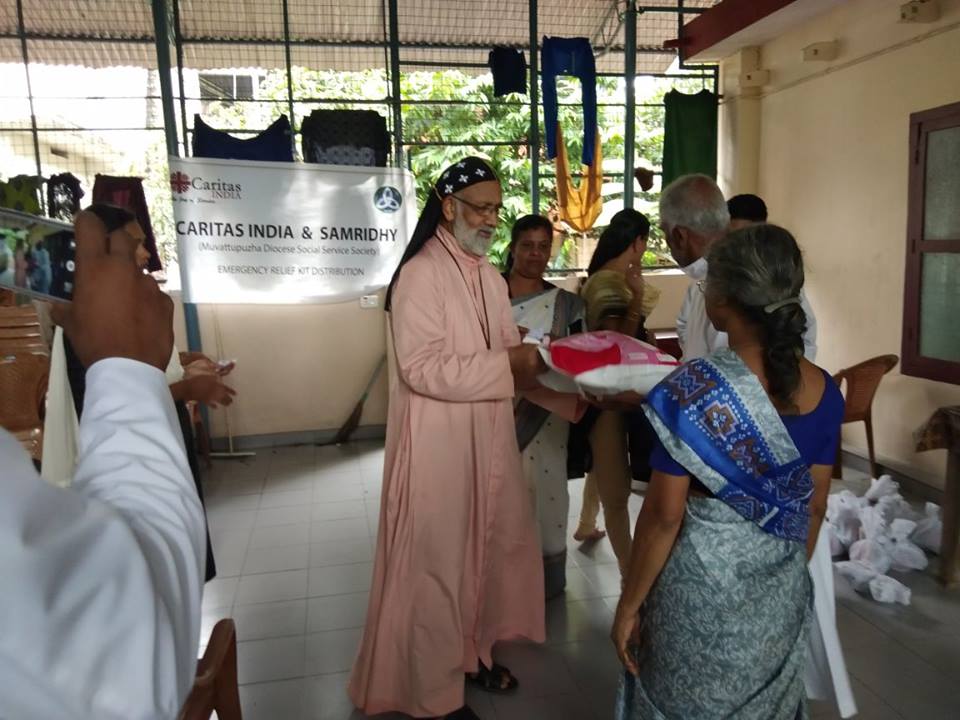 Caritas India & local partner Samridhy, completed the first phase of relief material distribution in Muvattupuzha diocese, Kerala yesterday. The Bishop of Muvattupuzha, Most Rev. Dr. Abraham Mar Julio, inaugurated the programme. Municipal Chairperson Mrs. Usha Sasidharan inaugurated the kit distribution, in the presence of municipal councillors.
---
Rains have devastated people and disrupted property and livelihood. Donate now to provide urgent relief.
Heavy rains have brought Kerala to a standstill. Areas of Kuttanad, Kavalam, Kayalpuram, Mambuzhakkari, Muttar, Vezhapra, Veypuram are isolated due to waterlogging. Many areas in Muvattupuzha, central Kottayam, Western Idukki, eastern Ernakulam are marooned. Coastal erosion has been reported at Ambalappuzha and Cherthala. 900 Acre of paddy cultivation has been destroyed in Kuttanad. Landslides have been reported in Poonjar and Thhekoy in Kottayam, and Poomala in Idduki district.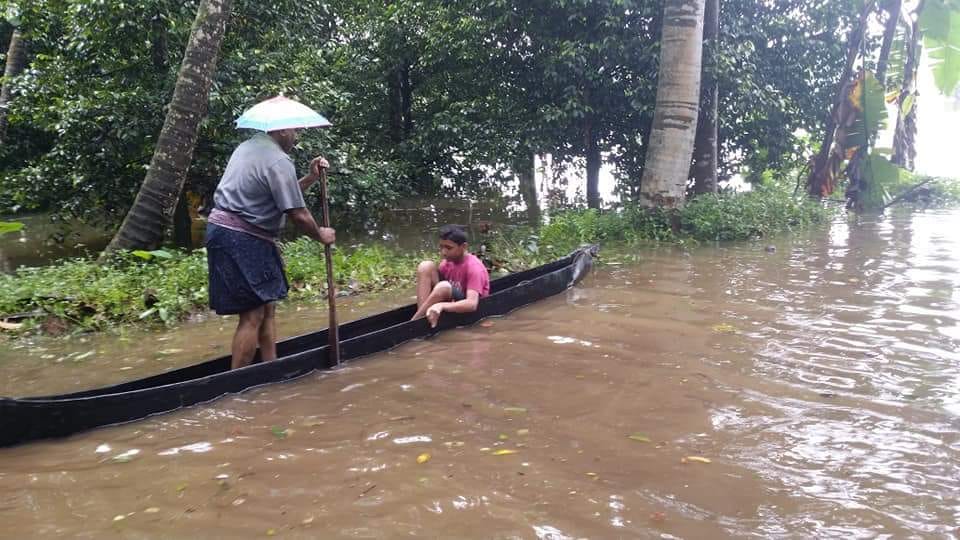 102 people are dead & almost 60,000 are in relief camps, as torrential rains lash the state of Kerala. 25,000 homes have been flooded. 1000 acres under rice cultivation are completely submerged. Government offices, health centres, schools & colleges are non- functional. Landslides are being reported from various places. Seven out of fourteen districts in Kerala are struggling to cope.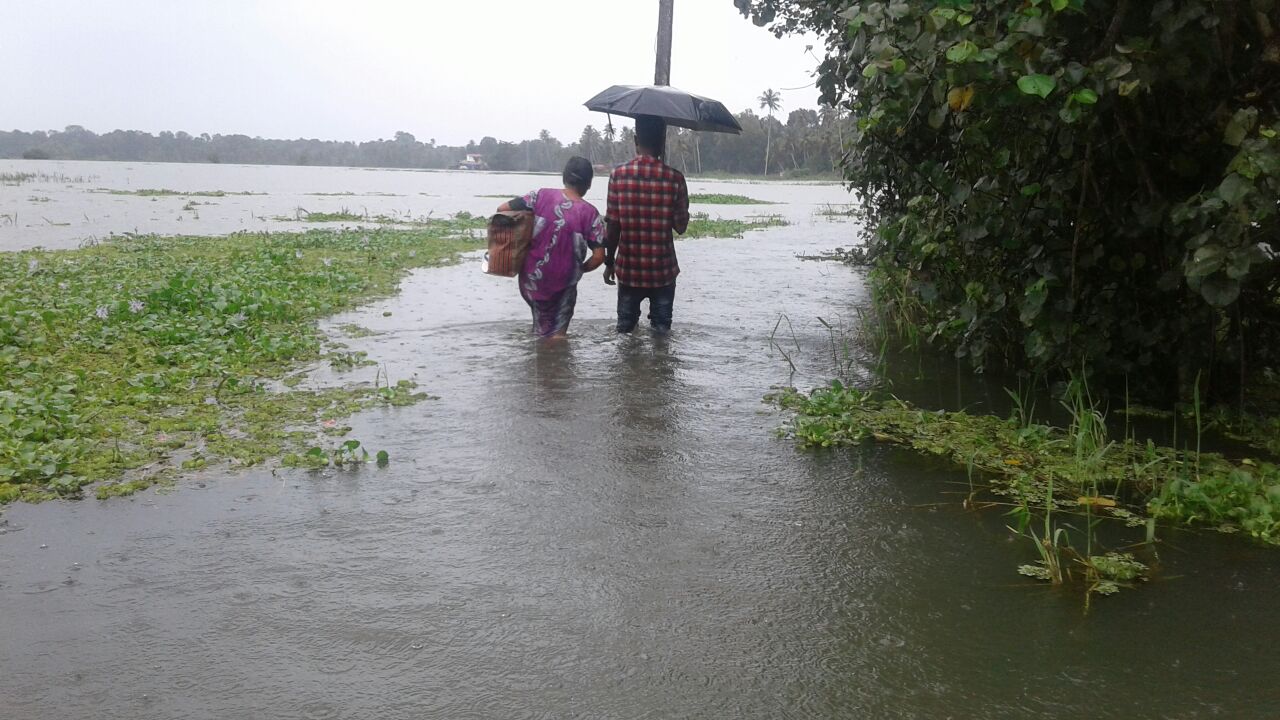 Kuttanad region, the major rice producer in the state is flooded with almost 2-meter-high water. 95% of crops are destroyed in Cherthala, Kuttanad and Kottayam region. West side of Kottayam, Idukki and Pathanamthitta districts are flooded as rain continues in central Kerala. The number of camps in Pathanamthitta has increased to 74.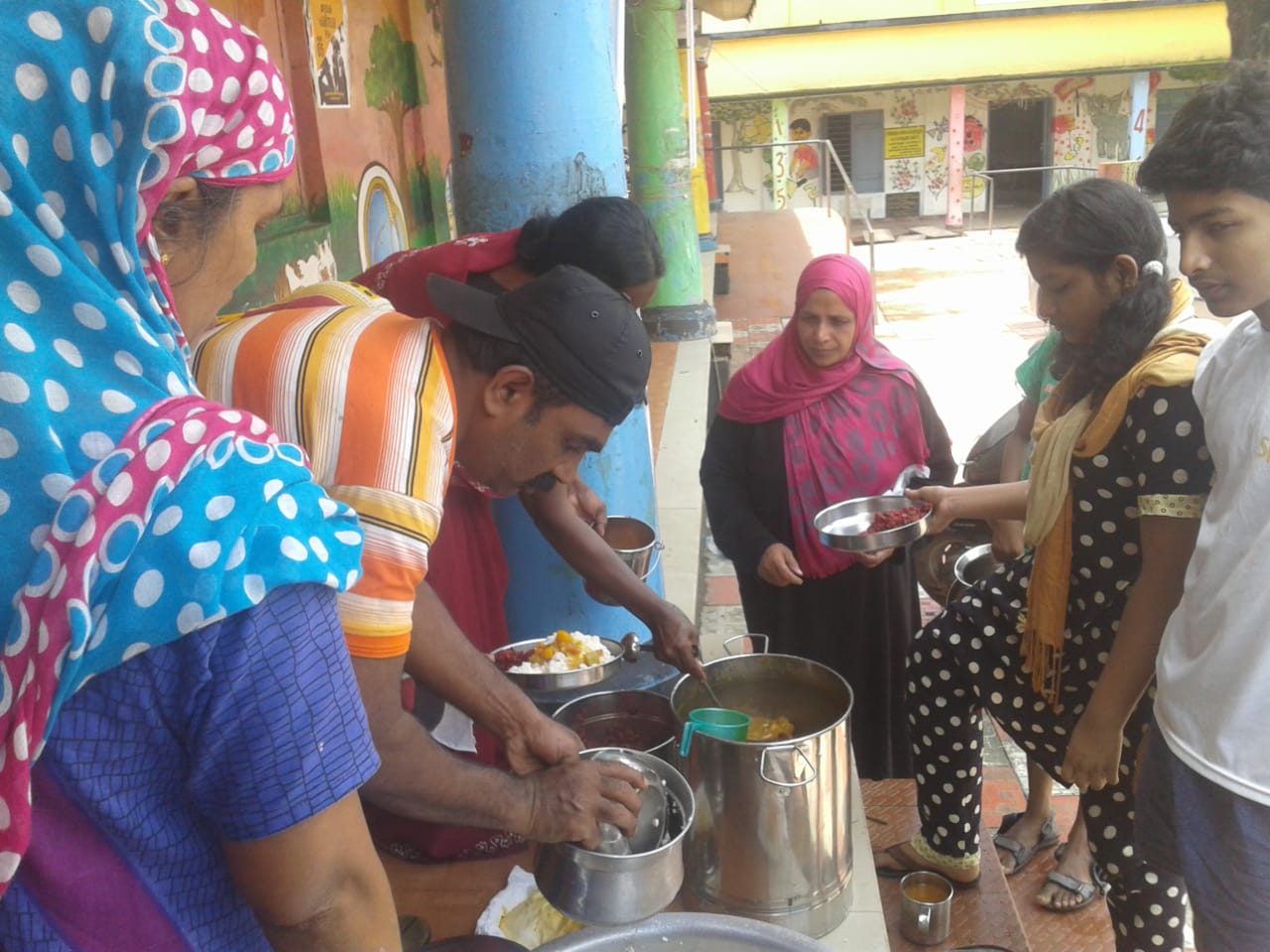 Caritas India has sanctioned Rs 26 lakh for immediate response to the crisis. An Emergency Response Support Team (ERST) has been activated. We are coordinating with the Red Cross and multiple Diocesan Social Service Society (DSSS) partners to provide succour to the needy.