Sundarbans delta in the Bay of Bengal is facing ecological threat and at the brink of slow extinction. Spread across 16,700 square kilometres between India and Bangladesh, the Sundarban is the world's largest mangrove ecosystem. The climate change has put lot of pressure on the ecological balance of this unique physiography and endangered the flora, fauna and the habitat.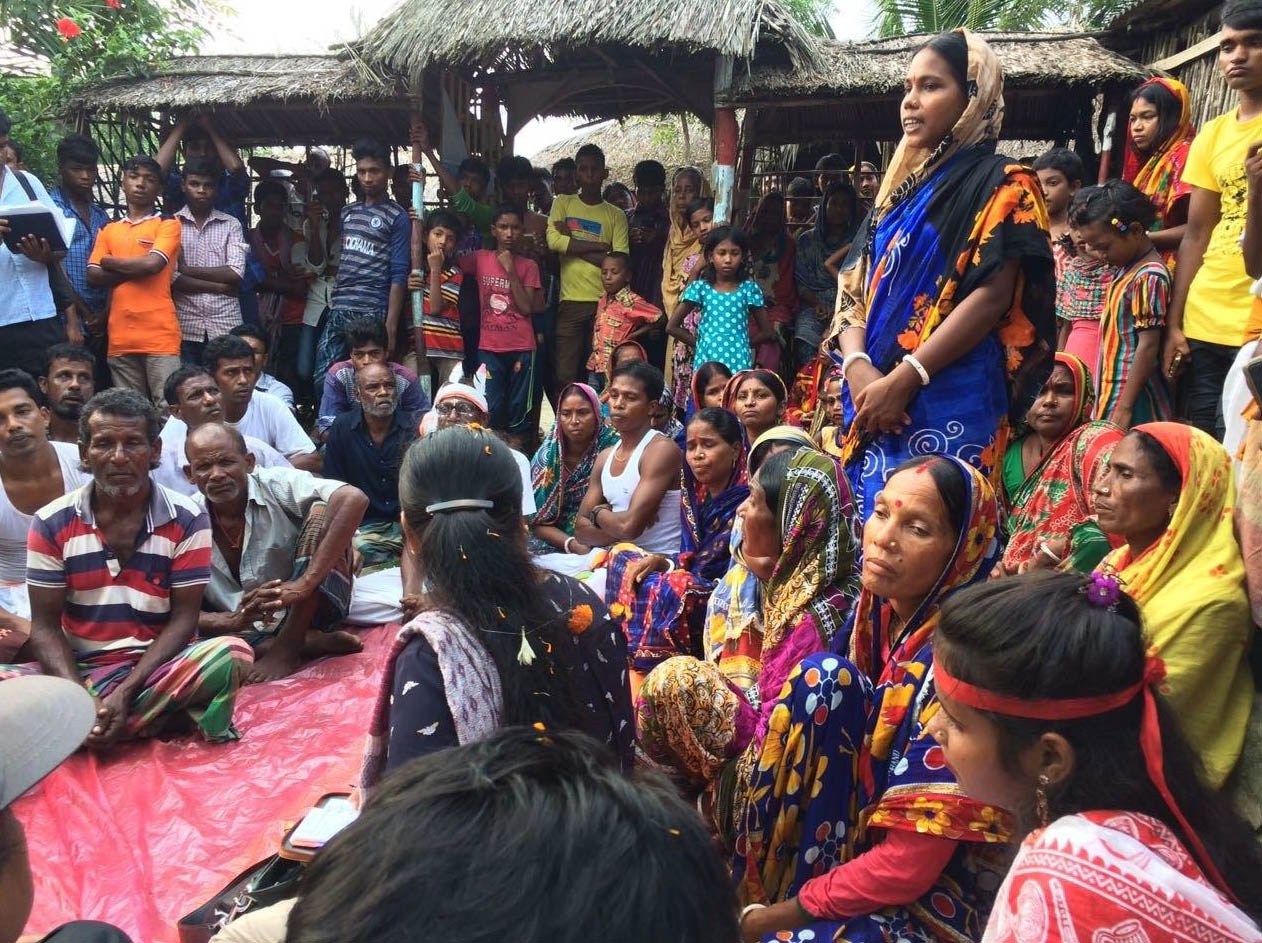 A team comprising thematic experts on Climate Adaptive Agriculture & Livelihood, Advocacy, Emergency & DRR and Programmes along with Executive Director of Caritas India made an exchange cum exposure visit to Sundarbans in Bangladesh and India. The visit was aimed at exchanging learning on volunteering and understanding the impact of Climate Change on Sundarbans' ecosystem and develop possible intervention to reduce the impact of climate change on the vulnerable communities and ecosystem of Sundarbans.
While interaction it was observed that inhabitant of Datinkhali village of Satkhira district in Bangladesh belongs to Munda tribe who were brought from India to clear forest for shrimp and crab cultivation. Until 1982, they practiced agriculture on the land, which over the time, got converted into land for shrimp and crab cultivation for commercial interests. The community depends heavily on Sundarbans forest based resources like oak, honey, crabs etc. Several threats and risks endanger their precious lives in terms of tiger attacks, abduction and extortion by local forest goons; and penalization by Forest Department. But, being remotely placed, they lack alternative means of safe and regular livelihood.
"We steal from the Sundarbans", is what the community members of 9 no. Sora Purbapara village remarked haplessly. The Gabura union was worst affected area during Aila cyclone, and remains extremely vulnerable till date, with hutments dotted along the embankment. The population is predominantly Muslim in the village. They continue to live on the embankments amidst deprivations and isolation. They feel the Sundarbans have become less resourceful now owing to over-exploitation. They get honey, oaks, fish, golpatta etc. from the forests, risking attack from the tigers.
Diversification of livelihood into livestock rearing sounds good, but is not a feasible activity owing to high water salinity, unfit for drinking by both humans and animals. Moreover, instances of crab deaths in the ponds pollute and make water even more unsafe for consumption. However, poultry, handicrafts, and rainwater harvesting for enabling agriculture can help reduce their dependence on Sundarbans forests.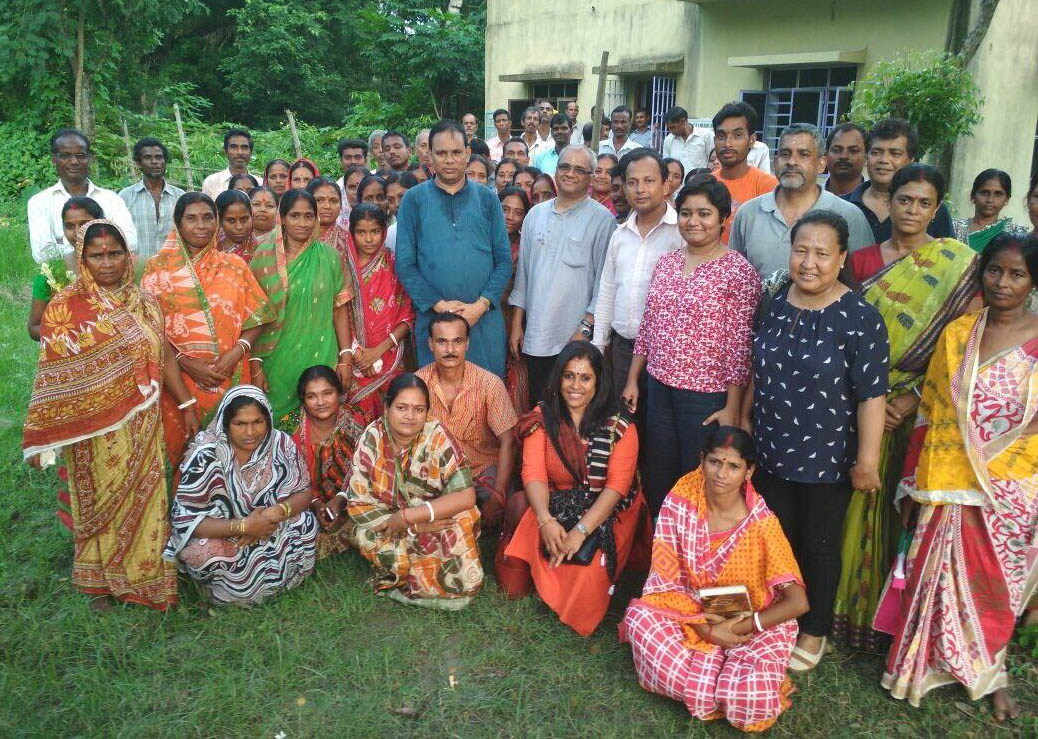 Women walk at least 3 kilometers every day to fetch drinking water from handpumps installed in far off locations by the Government. Water salinity and general living conditions have exposed them to the risk of waterborne diseases, which was visible in the form of skin diseases among village members. Women and men here were found to be suffering with fatal skin diseases akin to Epidermodysplasia verruciformis in appearance.
Predominantly a Muslim community of Singhartoli Primary School (Shelter), Shyamnagar, Satkhira district, Bangladesh have diversified their livelihood to some extent, and reduced reliance on the Sundarbans forests. Men are into apiculture, farming and daily wage labour. About 26 people were trained in bee-keeping, of which, one member started practicing apiculture and inspired other trained members also to take up the vocation
The situation of Indian counterparts of Sundarban in Village Chandipur, Gosaba (PS), Dist- 24 South Parganas is not very different. "Sundarbans forest is our mother, because we depend on her for our survival. She provides us honey, wood, fish/crab etc.", echoed the people of Chandipur village. Here too, fishermen end up catching the small fish unintendedly harming the ecosystem.
Many lives have succumbed to tiger attacks but there is no other alternative to Sundarbans. Crocodiles too are a threat when the people venture into forests for fishing, besides snake bites. It is difficult to enter the jungles illegally due to strict Government regulations. People sell the honey to middlemen at the rate of Rs 250 /kg; and often they get exploited due to loans they take from these middlemen. This makes them give away honey for lesser price.
When asked how many depend on Sundarbans for livelihood, they all raised their hands at once! At Trideepnagar village of Jharkhali, Basanti Block. The village comprises approx. 500 families, of which 150 belong to Adivasis and remaining are Dalit families, mostly into fishing, migrated from Bangladesh. This village is also known in some sense as 'widows' village', for many women who lost their spouses to tiger attacks in the Sundarbans forests.
To save Sundarbans and protect people and reduce shrimp/crab farming to reclaim agricultural land in Bangladesh and India, few recommendations were suggested in terms of short-term interventions and long-term strategies:
I. Immediate service oriented measures (short-medium term)
Income generation activities for men and women
Rain water harvesting
Tagging of trees to mark the date on which honey was already extracted
Stopping intoxication of water to save the fish
Largescale mangrove plantation along the river banks; and repairing of embankments.
Forming women's and men's collectives such as farmers' collectives/cooperatives for better bargaining and pricing of honey
Activating public services, and realisation of entitlements to children, women, widows, elderly, working members etc. including health and education
Cyclone/flood/ multi-hazard relief shelters
Stop crab collection from inside the forests which is where the tigers eat from, as they don't eat crabs on the riverside to protect human life
Reclaim agricultural land from shrimp/crab aquaculture
Dedicated income generation activities (sewing, handicrafts etc); skilling for women, men and youth
Market linkages for agricultural surplus, and goods produced with Governments as primary procurers of goods and services
Long term strategy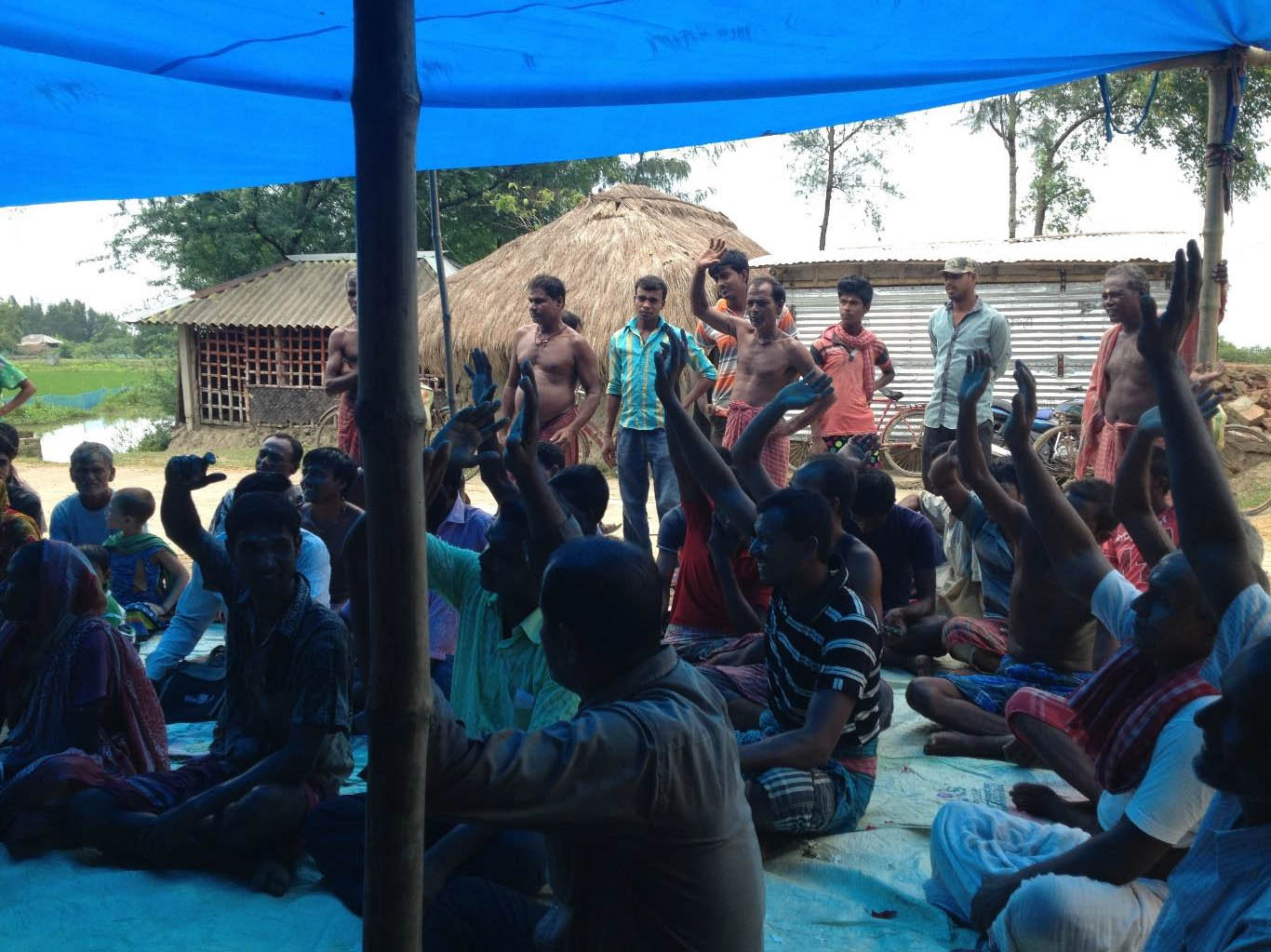 People's organisations
– multi-stakeholder analysis (Govt., NGOs)
– Promote Convergence
– duty bearers and rights holders
– Including Dalits in interventions/ studying Dalit discrimination and access and control of resources; recognizing different occupational groups
– Promote identity and dignity promotion among the Adivasi community
– Policy and programmes of Govt to ensure people and Sundarbans are protected
Programmatic Approach
– Facilitating community participation and ownership in the development processes (people led approach)