The outbreak of Covid-19 is a public Pandemic of international concern and has posed significant challenges. As Caritas Confederations, we are united to work together as one human family to face the outbreak. Expressing compassion and solidarity is the need of the hour.
Caritas India, established in 1962, has evolved with its decades of experience as a front-running organization working in the sectors of Humanitarian Aid, Community Empowerment, Climate Justice, Migration & Anti-Human Trafficking & Peace Building. Caritas India is present in twenty-nine states and seven union territories of the country, reaching out to the hard-to-reach geographies and communities in collaboration with 200 civil society organizations.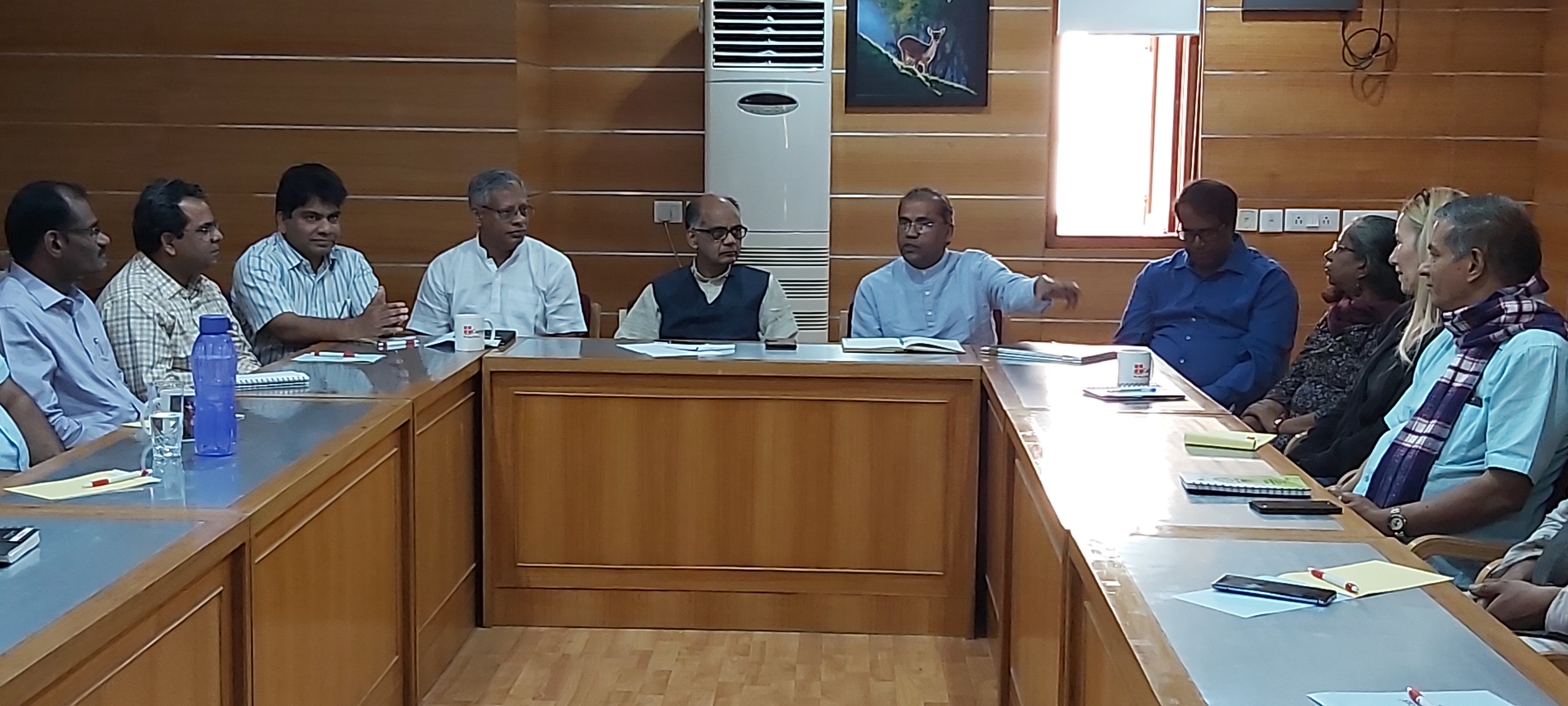 During this strained environment, there is a high need for promoting and building trust and upholding peace in order to curb further panic and fear. Hence, Caritas India had organized a meeting with the Regional Forum Directors, CBCI Commissions and CRS to take stock of the COVID-19 and come up with National Plan of Action on 19th March 2020 at Caritas India Head Office, New Delhi. The reflection during the stock taking meeting with various regional representatives (Regional Forum Directors), CRS and CBCI Commissions secretaries highlighted the situation of the pandemic and the efforts that has been taken up by the church and various faith-based organizations across the country. Caritas India as a collective response proposed a strategy in line with Caritas Internationalis strategy that comprises of the following steps: "Be Informed, Be Trained, Be Cautioned, Be Connected & Be Compassionate".
Be Informed calls us to have authentic information and communication from the Government, National and International organizations for the dissemination of information to the communities. There is a need to create virtual platform for awareness generation and sensitization on COVID-19. It entails developing awareness communication materials, drawing from authentic sources and reaching out to young people and mass population through the institutions and faith-based organizations.
Be Trained is to equip oneself with the required knowledge and skills for preventive and protective measures of COVID-19 and capacitate others.
Be Cautioned is to take preventive measures to arrest the virus and to be mindful of the fake news being circulated through different mediums.
Be Connected would mean remaining in touch with the needy community, collaborating with other faith organizations, local government machineries/ institutions to support and to amplify their response through engaging volunteers. Collect and share best practices from our partners on the portal and through mailers.
Be Compassionate is to stand in solidarity with the suffering humanity and promote peace and harmony to prevent violence erupting out of racial discrimination. It also means to reduce the ill-impact of social disconnect through helpline for psychosocial support.
In times of emergency and disaster the migrants and the poor become the most vulnerable. COVID-19 has compelled thousands of internal and overseas migrant workers to return to their hometown without any future security, sometimes leaving them in limbo and at risk. In line with "Share the Journey" campaign of Caritas Internationalis and the call of the Holy Father to welcome, to promote, to protect and to integrate migrants, Caritas India with her partners is going an extra mile to show solidarity and support to the migrant workers in their plight. Some of the partners have set up information centres at the bus stops and railway stations to provide information to the migrants who are leaving to their villages. We are also collaborating with local faith communities to protect the migrants from being discriminated by their own communities.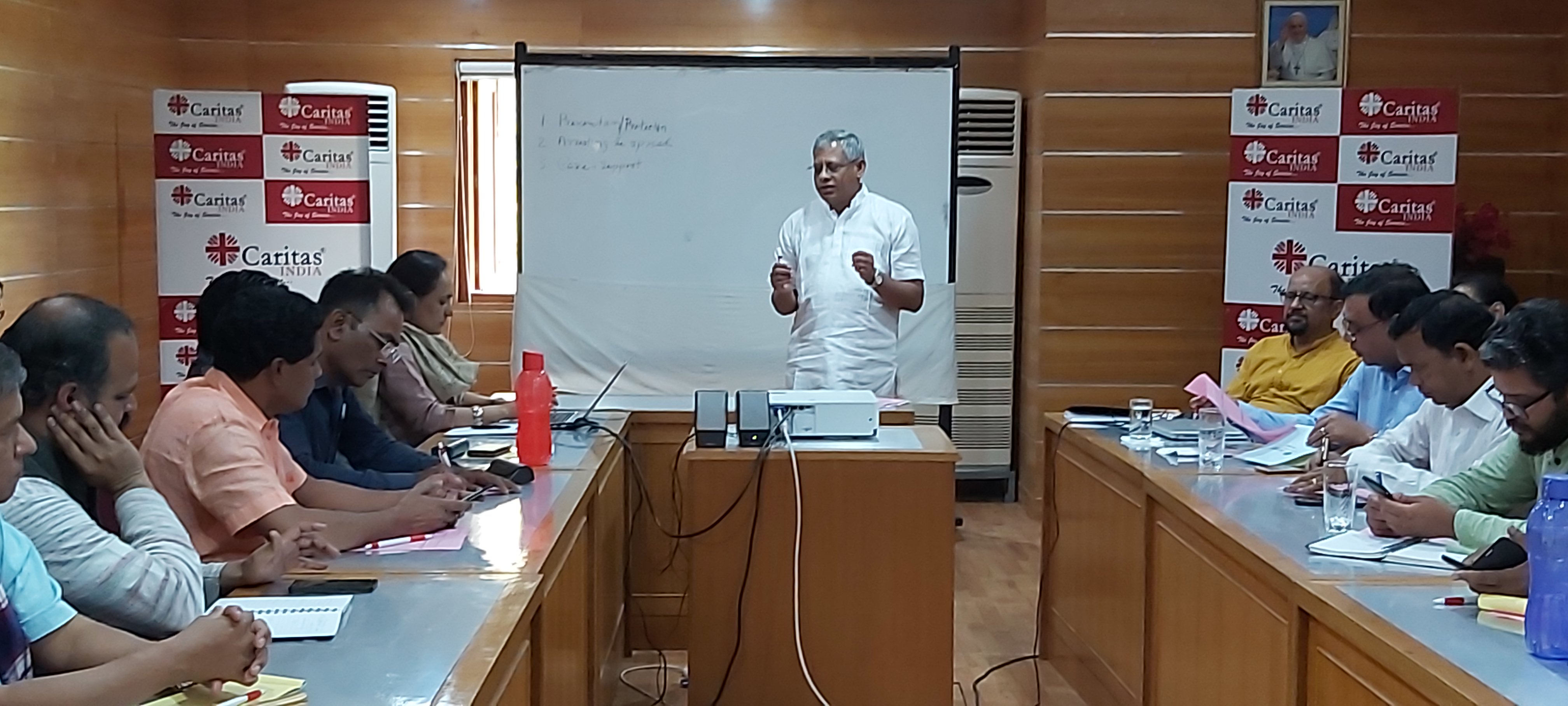 To conclude the discussion on the COVID-19, Church has taken multiple positive steps to address the issue at large. The daily services have been closed for the moment in most of the parishes. The partners are working closely with the government departments at the district and local levels. As part of the Church response the members have proposed a set of focused action points to address the outbreak of COVID-19 collectively suggesting different roles at various levels.
Caritas India has set up an emergency dedicated task force in collaboration with the Regional network and Diocesan partners and has also developed a tagline #Caritas@MissionCovid19.
National Level
Caritas India will be developing National Plan for COVID-19 in coordination with Regional Fora and other stakeholders
Develop a virtual platform for sharing information on weekly basis for the partners
Prepare training modules on COVID-19 to be used by the grassroots organizations
Establish Helpline numbers to provide care and support to the needy
Facilitate linkages of Regional Fora with the Corporate donors wherever possible
Coordination with various CBCI commissions, CRI and sister organizations for COVID-19 mission
Regional Level
Regional Fora will develop regional plan of action for COVID-19
Translate the information and community education materials into local vernaculars & disseminating it to the local diocesan partners
Engage in the capacity building of local partners
Networking with the concerned government agencies at State level
Diocese Level
Diocese Social Work Centre will develop their plan of action for COVID-19
Capacitate volunteers for the dissemination of information on COVID-19 to the institutions and communities
Connect with affected people to provide care and support
Provide essential materials depending on the situation
Coordinate with various commissions at Diocese level
Members present dedicated themselves to contribute in breaking the chain of spreading COVID-19 through sharing knowledge, resources and reaching out to the vulnerable and marginalised communities.
As one human family, let us lookout for one another. We need to let the information and measures be made accessible to the remotest corners, communities and common people to stay healthy and adopt day to day protection.
#Caritas@MissionCovid19