The first wave of flood water has started receding in Bishnupur and West Imphal districts of Manipur and Karimganj and Hailakandi districts of Assam, but health issues are looming large in these flood-affected areas.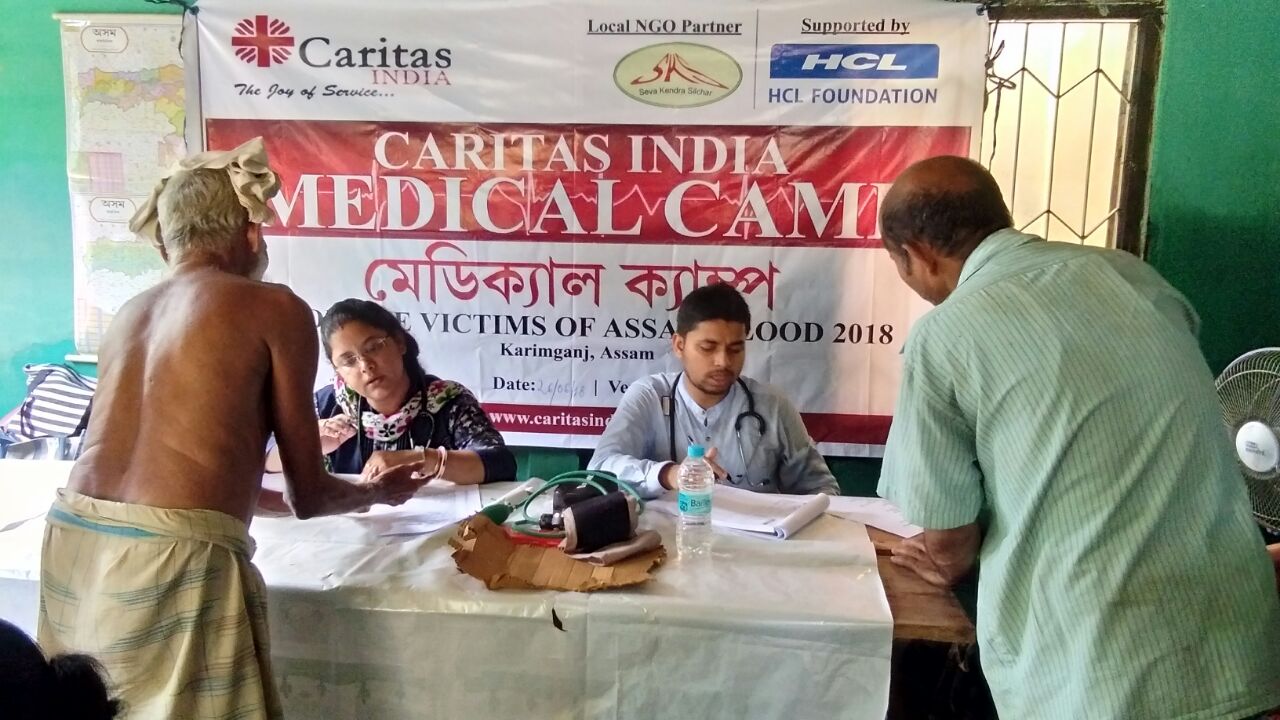 Caritas India along with HCL foundation and Caritas Germany has been conducting medical camps in Manipur and Assam to support the sick. So far, around 3939 affected patients were treated in the flood-hit areas of Manipur and Assam with the support of District Administration and Camillian Task Force members.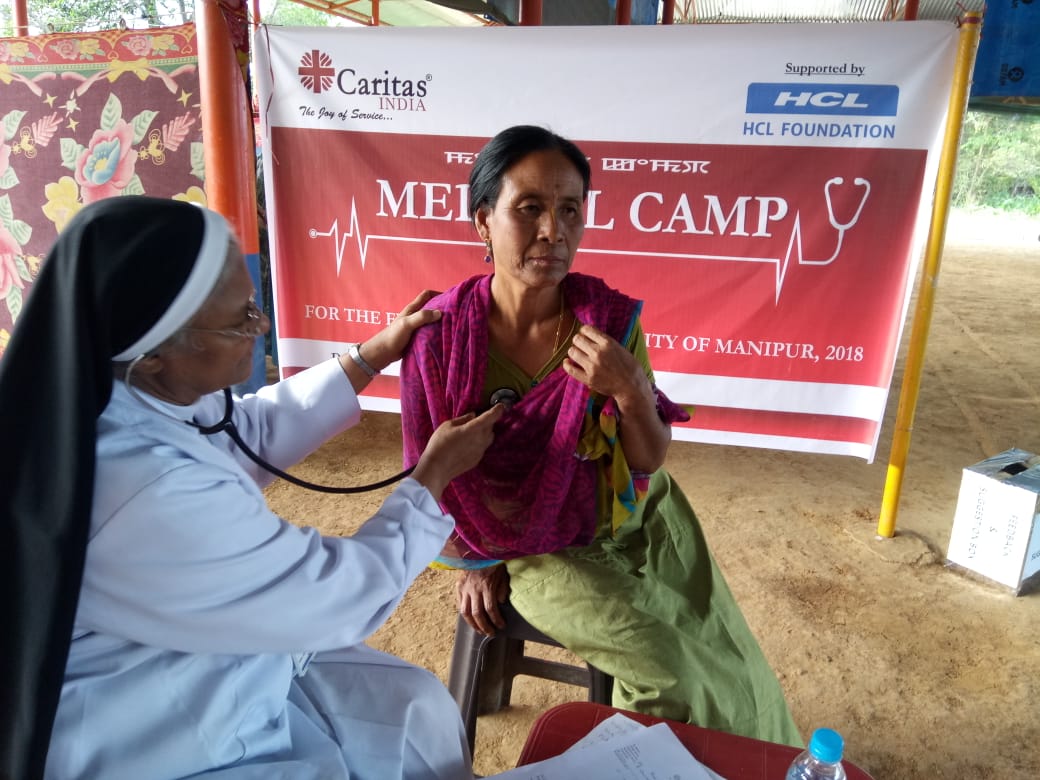 More than 70% cases of skin allergies, diarrhea, gastrointestinal, fever and blood pressure problems were diagnosed by the doctors. The cause of these ailments was reportedly due to stagnant water and consumption and use of untreated water.
Floods are often related to larger risks of epidemics during the time of displacement or when water sources are compromised. There is a high probability for a sudden increase in the number of water-borne diseases. In most of the areas there was no outlet for the flood water to drain,  leaving people with no other option but to use the same water for their daily routine including direct consumption.
"Doctors and sisters were very helpful and they have properly examined my problem", says Rupali, a seven-month pregnant from Maligaon village under Karimganj District who was suffering from a skin allergy.
Another patient Poritosh Malakar from the same village shared that last medical camp was conducted many years ago. Through the current medical camps conducted by Caritas India his wife, father and nephew who were suffering from stomach ailments were also treated.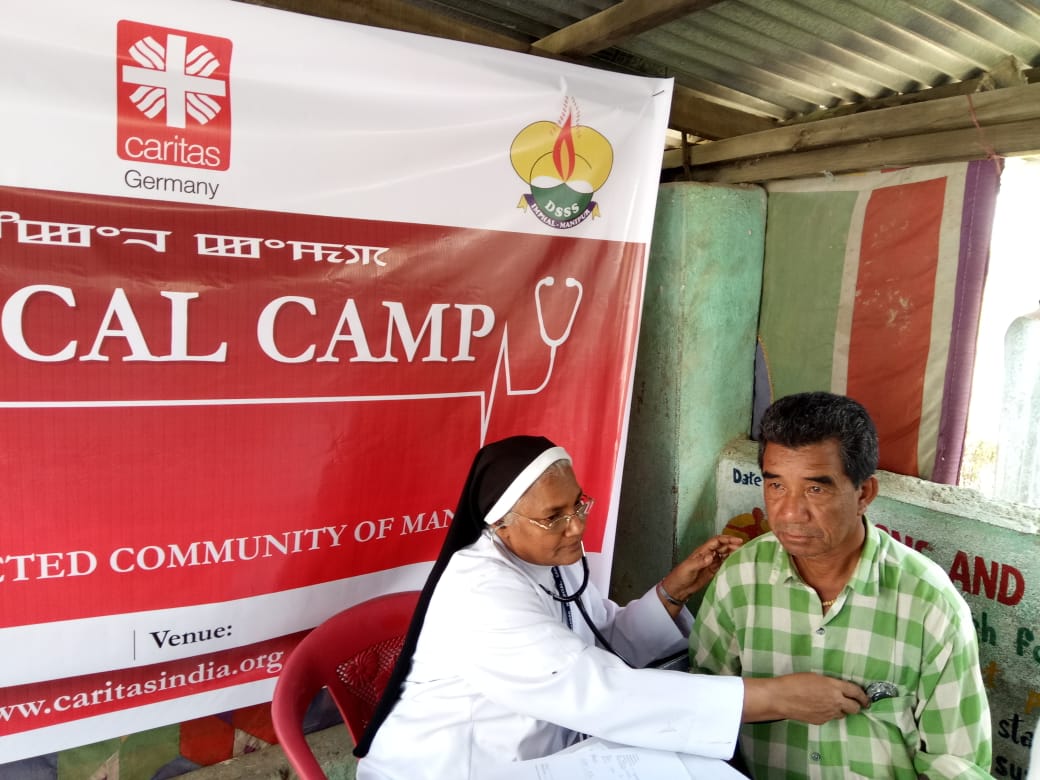 Efforts on the ground are organized using a systematic method for beneficiary selection, families belonging to socially and economically excluded communities were prioritized for relief and special focus has been given to women (especially women-headed households, pregnant and lactating mothers), children, adolescent girls, persons with disability and the elderly.
Apart from providing medical support, Caritas India will extend its relief interventions to include Food, Water, Sanitation & Hygiene (WaSH) in Manipur and Assam to the most marginalized families. 2000 households will be supported with food items including Rice, Dal, Salt, Mustard Oil, Soya beans and Glucose biscuits. Under WaSH, 6100 families will receive Buckets, Mug, Liquid Antiseptic, Bathing & Washing Soaps, Chlorine Tablets, Colored Cloth, Toothpaste, Toothbrushes and Markin cloth.